Gun Control and the Tuscon Shooting
Should we limit the number of rounds guns can hold in order to minimize shooting sprees?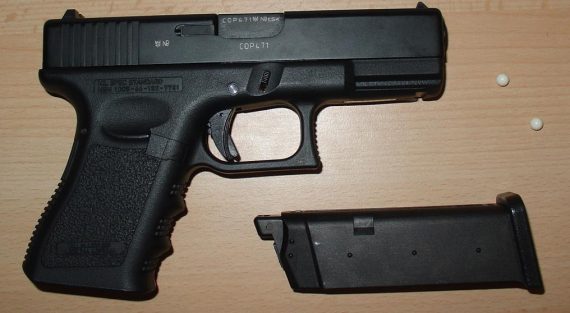 Balloon Juice's mistermix offers a plan for "sensible gun control" in the wake of Saturday's tragic shooting spree in Tuscon.
In these kinds of mass shootings, the shooter is most vulnerable when he's reloading. It's simple logic that the more times he has to reload, the better chance bystanders have to tackle him, which is really the only defense that unarmed bystanders have. (And the notion that armed civilian bystanders could have gotten off a clean shot in the chaos of humanity surrounding this shooting is a fantasy. )

Since Arizona is one of a few states where extended magazines are legal, the killer was able to walk into a gun store and purchase an extended magazine along with his Glock pistol. It's clear that the easily availability of extended magazines contributed to the loss of life on Saturday.
I'm not a 2nd Amendment absolutist.  There's no plausible reason why private citizens ought to be able to own bazookas, much less nuclear weapons, for example.   Nor do I oppose registration requirements, so long as they're not particularly onerous.
But I've never understood the "assault weapon" rationale.  If citizens can own semi-automatic rifles and handguns — and we've rather firmly established that they can — the notion that we should limit them to, say, a 15-round magazine rather than a 30-round magazine strikes me as absurd.
Is it a good thing that Jared Loughner didn't have a 31st round to fire?  Sure.  But, if you take Loughner as your model for limiting the rights of the 99.99 percent of gun owners who aren't homicidal maniacs, we'd ban clips altogether.  Surely, we'd have been even better off if he had to manually load each round into the chamber individually?
Indeed, the notion that we'd say, "We're fine with nuts being able to easily kill 10 innocent civilians before people have a chance to jump him but, goddamn it, we draw the line at 20!" is absurd.  The maximum number of people it's acceptable to murder in any given situation, I'd think, is zero.   Which is why we make it against the law.
Thankfully, we don't sell guns — any more than we do cars, knifes, or other things which could be used by an evil person to create mayhem — with the psychotic in mind.