Hagel Hearing Farce
My latest for The National Interest, "Ignoring the Hagel Hearing Farce," has posted.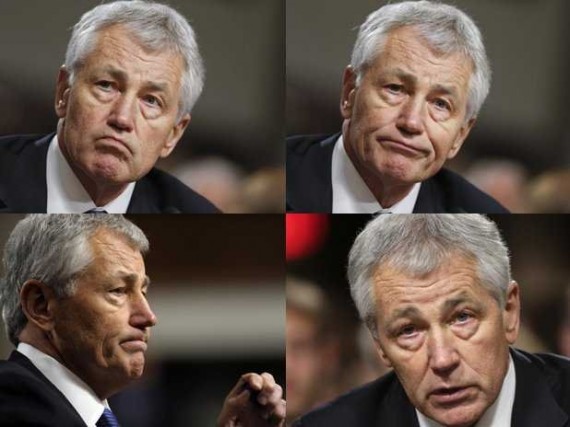 My latest for The National Interest, "Ignoring the Hagel Hearing Farce," has posted. I prefer my suggested title, "Hagel Hearings: Garbage In, Garbage Out." An excerpt:
While I usually disagree with them on security policy, I respect both John McCain and Lindsay Graham as players. They've both spent decades steeped in the issues, both in the Senate and in uniform. But both used their time for grandstanding and score settling rather than probing the man who will potentially lead the nation's largest department through a perilous and uncertain future.

Frankly, whether the 2007 troop surge in Iraq was a good idea is completely irrelevant to leading the Pentagon in 2013. And the views of the secretary of defense on our diplomatic stance toward Israel aren't relevant, period. As The Atlantic's James Fallows observes, "Virtually none of the hostile questions for Hagel reflected awareness that a Secretary of Defense, no matter how influential, does not set U.S. foreign policy, does not decide where and whether to commit troops, does not decide on boycotts versus engagement with Iran, does not make war-or-peace decisions, and in countless other ways is not the President of the United States."  Although, interestingly, John Kerry was just confirmed easily as secretary of state despite sharing Hagel's views on these issues.

Hagel, chairman of the Atlantic Council, is my boss' boss. But the policy wonk in me found his answers, even given how little he had to work with, disappointing, even frustrating. We agree on almost every issue he was challenged on yesterday and, frankly, I could have given better answers to most of the questions off the top of my head, without the weeks of preparation at the hands of Pentagon staffers, than he gave yesterday.  Hell, I think Global Zero is silly and could offer a decent defense.

Then again, so could the Chuck Hagel who's led the Atlantic Council the last four years.

The Project on Government Oversight's Winslow Wheeler describes Hagel's performance as "fumbling and apologetic" and declares, "Unlike most effective politicians who are always clever at saying nothing or changing positions, he was so inarticulate at doing so that it is also hard to understand how he ever could have been elected twice to the Senate from Nebraska." But that's precisely the problem: Hagel never has been a typical politician. Like the late Mayor Ed Koch, Hagel is that rare public official who's always said what's on his mind and voted his conscience on the issues without much carrying what anyone thought about it.
Much more at the link.
Photo montage courtesy Business Insider.