Has America Reached Peak Vaccination?
The rate at which Americans are getting COVID shots is slowing rapidly.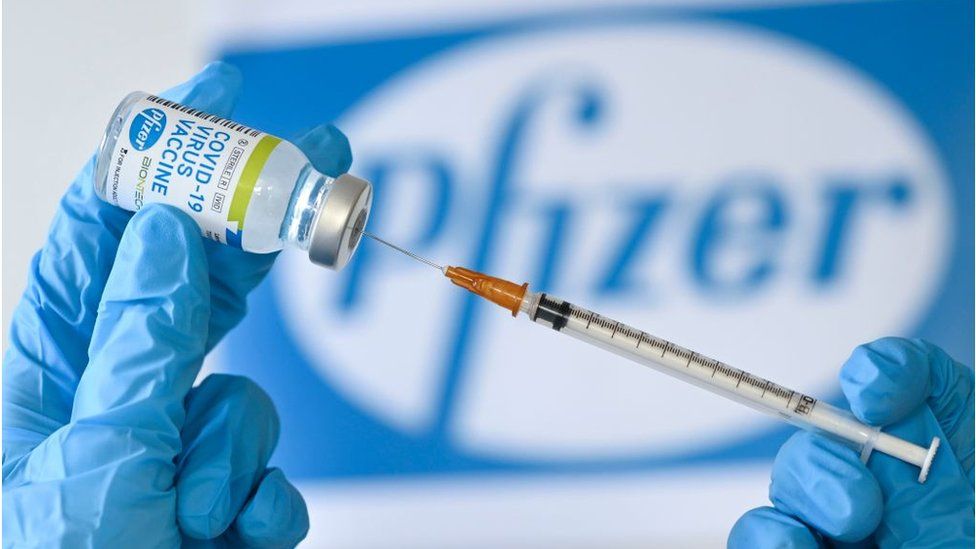 An Axios report claims "America is hitting its vaccination ceiling."
The U.S. appears to be reaching its ceiling on COVID-19 vaccinations, at least among adults.

[…]

"We've hit the wall in the number of vaccinations in recent weeks," Eric Topol, director and founder of the Scripps Research Translational Institute told Axios. "Just trying to deduce from other countries where we're headed, if we don't get a big jump up in our vaccination rate, we're going to be vulnerable for a lot more cases," Topol said, adding that comes with increased hospitalization, long COVID and death.
The report links to an Our World in Data tracking of "Share of the total population that received at least one vaccine dose," Noting that "This may not equal the share that are fully vaccinated if the vaccine requires two doses" and that "This data is only available for countries which report the breakdown of doses administered by first and second doses." On the surface, we're doing pretty well: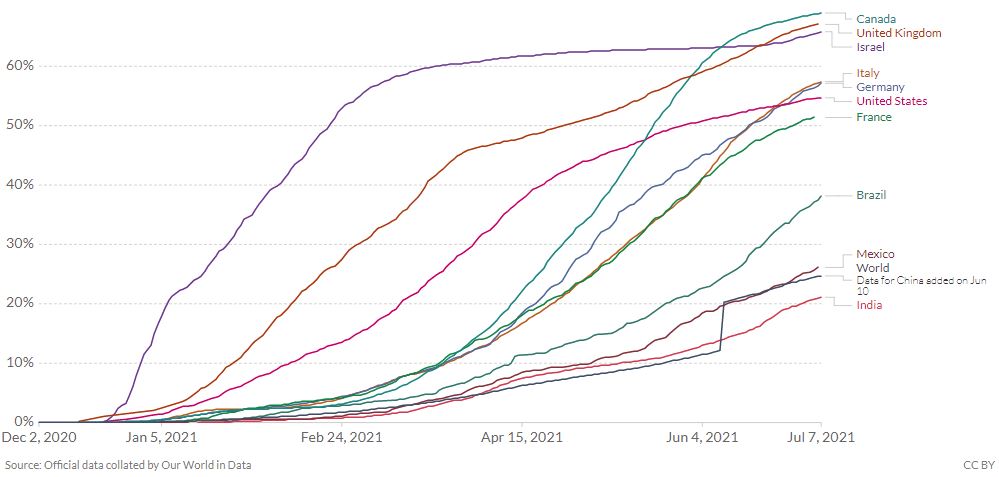 Note that this is share of total population, not adult population or vaccine-eligible population. The US has considerably more of its population under 14 and less of its population in the especially-vulnerable over-65 demographics than most of those with higher rates. Israel is the sole exception but they have a tiny population and made a heroic effort to get them vaccinated quickly.
Still, it's reasonable to be concerned about the future. None of the countries above us has politicized the virus and vaccination to anything like the absurd degree that we have. There are giant sectors of the country that think COVID is an overhyped flu and/or that vaccination is some sort of conspiracy.
Roughly 67% of American adults have had at least one shot, and 58% are fully vaccinated, according to the CDC. There's no magic number that determines herd immunity. Experts put out estimates between 60% to 70% early in the pandemic, but they've since revised those estimates, in some cases to at least 85%, with the increase in variants.

The U.S. hit its peak in April, when CDC data shows more than 4.4 million doses were distributed in a single day. The nationwide average has now fallen to about 500,000 shots per day.

"If we continue to let this pandemic run wild… there is a probability that there will eventually be a variant against which the vaccines will be less effective," Saad Omer, director of the Yale Institute for Global Health said in a blog earlier this year.
Again, that's a reasonable prediction.
One of the most at-risk groups who need targeting includes young adults between the ages of 18 and 30 years old who "feel bulletproof," Cornell virologist John Moore told Axios. They need to hear the message that "this bullet could hit you," Moore said.
We've been hearing that message for a year and a half. We shut down schools and businesses for a year. People who haven't gotten the message aren't going to.*
Beyond that, the U.S. is simply fighting an uphill battle as vaccine attitudes continue to track with political sentiment. Moore pointed to a dearth of celebrities encouraging the vaccine, likely because they worry about the fallout.
I'm not sure which celebrity endorsement would matter at this point. Maybe country music stars and NASCAR drivers?
Topol pointed to two additional groups: those who'd get a vaccine if mandated by their employer and those who say they've held back on getting a vaccine while it's still under emergency use authorization. In both cases, full approval of the COVID-19 vaccine by the FDA would move things along. Schools, businesses and even the military have been reluctant to mandate shots under an EUA, even though the federal government has said it is allowed. The gap between an EUA and full authorization is a "distinction without a difference," Moore said, but some people who don't understand the process may feel more comfortable with full authorization.
A recently leaked memorandum from high up in Army circles indicated that the service plans to mandate vaccines once full authorization comes, probably in the fall. One presumes the rest of the Defense Department and, indeed, all federal agencies would follow. I'm frankly surprised that it hasn't happened already. Still, we had a 97% vaccination rate in our schoolhouse by the time graduation hit last month, with only a handful of students and none of the faculty refusing. It's mostly junior enlisted personnel who are refusing service-wide.
Similarly, there has been no word as to whether the local public schools will require COVID vaccines for faculty, staff, and students. Considering that they're requiring my 12-year-old to get the HPV vaccine as a condition of starting middle school, it seems more than reasonable to do so.
As of today, she's "fully vaccinated," having gotten her second Pfizer dose two weeks ago. We're still awaiting approval for my 10-year-old.
*UPDATE: Hot Air's Allahpundit is a bit less skeptical on this front and thinks the Feds should do more to go after those who are unvaccinated, even if it means going door-to-door.
I'd imagine the feds will focus on poorer areas where people don't pay as much attention to the news as the average American does. Maybe those locals know that the nearest Wal-Mart has the shots, but maybe they don't. Maybe they're curious about the shot but have questions and haven't focused on getting those questions answered, and getting to talk to an official face-to-face might help. Maybe they work long hours and have to take care of kids when they're off and haven't had the time or focus to go get vaccinated, but might say yes if the shots were brought to them. Maybe they're housebound due to some health issue.

The point is, some people will agree to get vaxxed if officials come to their door.
Alas, he also notes that the outrage machine fueled by Fox News and grandstanding Republican politicians makes this an uphill fight and, potentially, dangerous.
In the end, though, the probable reason why the door-to-door campaign will either never be launched or will happen in only a limited fashion is that there are enough militant anti-vaxxers out there that it's easy to imagine some well-meaning health official getting blown away for ringing the wrong doorbell. Think of the viral videos we've seen since the start of the pandemic of nuts spazzing out at Costco or wherever when told they need to wear a mask to enter. Now imagine an agent of the state showing up at their own home, simply offering to help in case they want the vaccine but haven't had an opportunity, and getting attacked for doing so. If even a guy as normally sober and genial as Dan Crenshaw is engaged in theatrical outrage about this, imagine how someone who's genuinely unhinged would respond. This country's too broken for a door-to-door operation.
That, alas, is entirely possible.