Health Care, the GOP Field, and Tribal Politics
How much of public opinion is about tribal political identification and how much is about the actual policies themselves?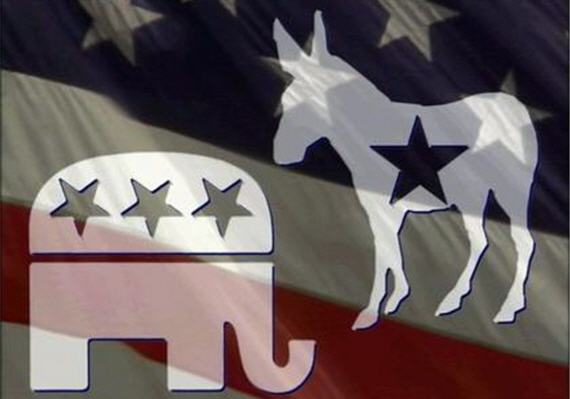 Doug Mataconis points out that none other than Newt Gingrich was a supporter of the individual mandate to require everyone to purchase health insurance (and, indeed, a relatively recent one at that).  Further, Gingrich supported a general policy proposal that was not all that different that the PPACA that passed Congress (a.k.a., Obamacare).  Of course, Gingrich is not the only one of the GOP hopefuls to have supported such ideas in the past.   We are, of course, quite aware of a very similar plan in Massachusetts, which was a (if not the) signature policy achievement for then-governor Mitt Romney.  Indeed, I have continually tried to point out (for example see this post) that the PPACA was basically the GOP's alternative to Clinton's health care proposal in the 1990s and specifically that the individual mandate was once considered the GOP's solution to universality  (with a specific emphasis on personal responsibility).*
Now, however, the individual mandate is cast by Republicans as the height of socialism (if not communism and fascism all rolled into one) and the beginning of a reign of tyranny (or, at least, slavery) the likes of which this country has never seen.**  It is a startling contrast, to say the least. And, of course, the rank-and-file of the GOP/conservative movement (especially the Tea Party faction) are very much on board with this characterization.  In fact, it seems to me that a lot of people who think that they are opposing the individual mandate on principle are, in fact, opposing it wholly for partisan reasons even if they don't realize it (because it was proposed and passed by a Democratic president and Democratic Congress and because current Republican leaders are opposed to it, not because of policy reasons, per se).  This is not to say that there isn't also principled opposition, of course.  Still, I can easily envision a scenario in which Obamacare was a single-payer system and Mitt Romney arguing how his plan was the conservative option:  one that made individuals responsible for their own insurance that used market forces (vouchers and exchanges to drive down price).  Of course, part of the reason that this is easy to envision is that that was at least part of the rhetoric of the 1990s.
Quite frankly, I think this underscores much of what is wrong with our politics:  that it is often as much about whose side is doing something rather than the value (or not) of what is being done.  We have our tribe and that is where we start.  Does our tribe like this policy?  Does our tribe not like it?
Now, the fact that Romney championed a policy very similar to the PPACA or that Gingrich once supported the individual mandate (or that much of what became the PPACA looks a lot like Heritage Foundation proposals from the 90s) doesn't mean that any of these policies are good ideas (or bad ones).  I am not arguing that conservatives should change their minds because particular politicians once supporter them, but am saying that perhaps, at minimum, it should put some of the more extreme rhetoric into perspective.  Further, it strikes me that this situation radically underscores the problem with our tribal political system wherein people act like (and truly think) that they are being principled but, in fact, they are following the cues of their partisan leaders (and reacting not to the ideas, but to who supports them and who opposed them).***  In other words:  opposition to the PPACA was as much about the fact that it was proposed by Democrats as anything within the policy itself.  And despite the fact the GOP (and the public) had managed to maneuver the Democrats to a position more moderate than its preferred single-payer system, the political choice was made to attack rather than cooperate.  And, of course, to go on the attack meant a take-no-prisoners approach (hence the cries of socialism!).  This is all a shame, because instead of actually working towards workable policies, we end up casting the debate as a morality play in which our side is good and the other is evil.  It is rather hard to accomplish much of substance in such an environment.
Ultimately I simply find it stunning (and have for a while) how a set of policy proposals that were once fairly mainstream in some key conservative circles (for example, see here) have been so thoroughly cast as radical.
Of course, revelations such as those about Newt are not going to lead to reasonable discourse ("oh, gee!  you're right:  I thought this was a good idea about 5 years ago..let's see if we can work to make it work!").  Rather, he will have to explain away how nearly identical proposals were, in fact, not the same at all, and he will have to prove his bona fides to the base which has been told, repeatedly, what the proper tribal response should be.  Or, if Gingrich/Romney can't explain these positions away, it will simply make it easier for candidates without such paper trails to win votes from that base in the 2012 primaries.
And even if all of this doesn't represent some broad critique of US politics, it is surely a pretty severe critique of Gingrich and Romney, as it would seem that the issue for them isn't conviction about policy, it is about winning elections (or popularity in terms of selling books and TV appearances—whatever the goal might be at the moment).  And even if convictions enter the picture who really knows if they were acting on conviction when they supported these policies or whether they are acting on conviction now.  It really isn't especially impressive no matter how you slice it.***
Perhaps the most interesting question is the degree to which these types of situations are elite driven or mass public driven.  That is to say:  to what degree do elite statements influence mass opinion and to what degree are elites reacting to existing opinion?  No doubt there is a synergy here.  However, my hypothesis would be that in large measure the elites, who need to be in opposition to other elites (whether in terms of electoral campaigns, within government, or in mass media) get the ball rolling.   Of course, once mass publics react well to such rhetoric, it's Katy bar the door.
—–
*And hence my post: Obama: Moderate 90s Republican?
**Hyperbole? Perhaps, but not necessarily. Of course, one need not look any further than the comment section of this blog to find claims of communism and budding tyranny. For fascism claims, it is more likely that one needs to consult Glen Beck's oeuvre.
***BTW, no, I am not suggesting that this a  uniquely Republican/conservative phenomenon.
****And, by the way, I have no problem with, and indeed would be refreshed to see, a politician who simply was willing to say that he or she changed their mind on something after giving it serious thought. However, political expediency seems the better explanation here.