Herman Cain Decides To Blow Off The Biggest Newspaper In New Hampshire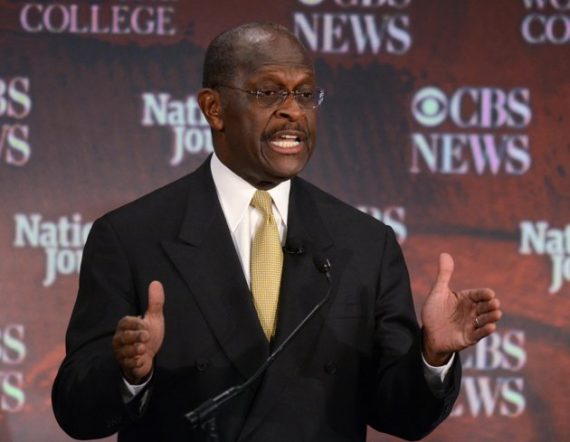 Herman Cain was supposed to sit down with the Editorial Board of the Manchester Union-Leader, the largest newspaper in New Hampshire and also a paper that's highly respected among conservatives nationwide. I said supposed to because, well, this happened:
MANCHESTER, N.H. — Herman Cain blew off his Union Leader interview here Thursday, snubbing a newspaper with the state's largest circulation and a history of shaping Republican races in this first-primary state.

The Cain campaign's last-minute decision to back out of the event capped several days of drama as it first demanded C-SPAN cameras be barred from the room, then tried to limit the one-hour scheduled interview to 20 minutes — a request the newspaper immediately refused.

(…)

The Cain campaign had scheduled a 60-minute interview with McQuaid and Union Leader editorial page director Drew Cline for 10 a.m. Thursday, but instead went to the Airport Diner to glad-hand with voters there before an 11 a.m. sit-down with WMUR-TV.

"I think it's crazy for a guy who want to be a major presidential candidate here in New Hampshire not to take the opportunity for a full-length interview with the states largest newspaper," Union Leader publisher Joe McQuaid told POLITICO.

McQuaid said the campaign's proposal for an abbreviated interview wasn't something they were willing to consider.

"We can catch Cain anywhere for 20 minutes. This is a formal sit-down interview in whih the reporter, the editorial page director and the publisher so we can really size up the candidate," McQuaid said.

Making a pizza reference as he mocked Cain on Twitter, Cline wrote: "If Cain is more than 30 minutes late for our interview, is the next one free?"

Cline and McQuaid did not know the meeting was canceled until it was reported by the Associated Press.
The Cain campaign's response was, not surprisingly, typically amateurish:
Cain spokesman J.D. Gordon blamed them for what happened, saying they'd canceled the interview when the length of the meeting could not be agreed to. Gordon said the paper asked that the meeting be 45 minutes, not the 60 that McQuaid said an all their candidates have done. Cain, he said, did not have time Thursday for a longer sit down.

Gordon said the campaign will not allow any future newspaper editorial board meetings to be videotaped.

"Videos are typically used for television and it's a newspaper. We decided we didn't want to do the video," Gordon said.

Cain later taped two interviews with local TV stations in a Manchester airport lobby.
The Union-Leader is already up with a story on Cain's no-show, and it contains this devastating quote from the paper's publisher, "It's politics and campaigns. I don't think he's going anywhere from here at this point, anyway," Ouch.
After the disastrous Libya gaffe, it's understandable why the Cain campaign would want to limit cameras in these meetings, but if there's any place you don't want to pull off nonsense like this it's in New Hampshire with the state's most influential paper. I'd say that this is likely part of a strategic campaign decision to concentrate on Iowa and South Carolina and minimize New Hampshire given the polls there, but I honestly don't think the Cain campaign is organized and professional enough to think in that manner.
I think it's safe to say that Cain won't be getting the Union-Leader's endorsement, if that was even a possibility before today. Now, though, he's made an enemy of one of the biggest political players in the state. That's just dumb.