Herman Cain Was Against A National Sales Tax Before He Was For It
Less than a year ago, Herman Cain was denouncing a tax plan that is remarkably similar to the one he now advocates.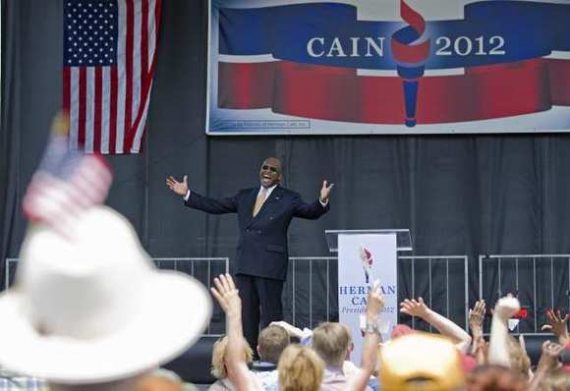 I've noted before that Herman Cain's history as a radio talk show host, public speaker, and op-ed columnist was likely to come back and bite him at some point. You simply cannot engage in a long career of speaking off the top of your head on various issues without saying something at some point that is going to annoy someone, or prove to be somewhat embarrassing to you should you ever decide to run for public office. In Cain's case, we've already seen that he spent a good part of the run-up to the 2008 economic crisis (see here, here, and here) arguing that the media was exaggerating bad economic news to harm Republicans. Cain has explained that way when asked by saying "nobody" saw the economic crisis coming, which isn't entirely true, but probably good enough for his supporters, especially since they were part of the crowd buying the "media conspiracy" argument back in 2007 and 2008. Cain may find a newly revealed, less than a year old, column a little harder to explain.
On November 21st, 2010 in a column at website called The New Voice, Herman Cain wrote this about a proposal made by the Simpson-Bowles Commission:
The worst idea is a proposed national sales tax, which is a disguised VAT (value added tax) on top of everything we already pay in federal taxes.

Here are three of the biggest reasons the national retail sales tax is the worst idea on the table.

First, we have a spending problem in Washington, D.C. not a revenue problem. The Commission claims their goal is to reduce the deficits by $4 trillion over the next decade. The task force says its plan would save $6 trillion by 2020. It's sort of like dueling promises that would never happen, because when has a proposed cut in Washington D.C. ever produced the intended savings over 10 years? Never!

Even worse is reason number two: In every country that has established a VAT with the promise of reducing their national debt, the VAT has eventually gone up or expanded on top of the existing tax structure. After discovering many of the tax grenades in the recently passed health care deform bill, which is already driving costs up and access down, it would be real easy for an overzealous bureaucrat to insert the language in the legislation "national retail and wholesale" tax.

For the liberal naysayers who say that would not happen, you lose! Just look at the Social Security system, Medicare and Medicaid. Over the years since their inception, taxes have gone up, benefits have gone down and they are still on a path of insolvency.

Both the Commission and the Task Force say very little about how costs would be contained, because that's the real big bodacious problem. Even if their plans could achieve their stated goals over the next 10 years, the current administration and Congress have increased spending nearly $4 trillion in the last two years. And the only hope that it will slow down is the new change of control in the House of Representatives.

Giving the administration and Congress another tool to tax us and confuse us is like giving an alcoholic a key to the liquor store with no supervision, only to discover that he locks the door after he is safely inside.

A national retail sales tax on top of all the confusing and unfair taxes we have today is insane! It gives the out-of-control bureaucrats and politicians in denial one more tool to lie, deceive, manipulate and destroy this country.
Cain goes on in the piece to advocate for the adoption of the so-called FairTax, a proposal that has been batted around for the better part of a decade that would replace the entire existing tax structure, to include repealing the 16th Amendment, with a national retail sales tax. Indeed, Cain's own 9-9-9 plan claims to be the first step on the road to implementation of a FairTax system, although he's never made clear how he thinks he could pull off two major revisions of the U.S. Tax Code, and the repeal of a Constitutional Amendment, over the course of 4-8 years. In reality, 9-9-9 is his tax plan and, while we all know that it's never actually going to become law, the fact that only a year ago Cain was arguing against the very type of system that he now proposes is, to say the least interesting.
The criticisms that Cain leveled against the Bowles-Simpson proposal are virtually identical to those that many on the right have leveled at 9-9-9 in the months since Cain introduced, and especially in the past month as he has risen in the polls. What's ironic here is that, less than a year after arguing that National Retail Sales Tax on top of our existing tax system was a bad idea, Herman Cain proposed a tax plan that does exactly that. Does this mean he thinks his criticism of the Bowles-Simpson plan was a mistake? Or, as I suspect, does it mean that this is yet another issue on which he hasn't invested much actual thought? I'll leave that for the reader to decide.
Found via Twitter