Hillary Remains At The Top, But Benghazi Is A Vulnerability
Hillary Clinton remains at the top of the polls, but she's got at least one big vulnerability.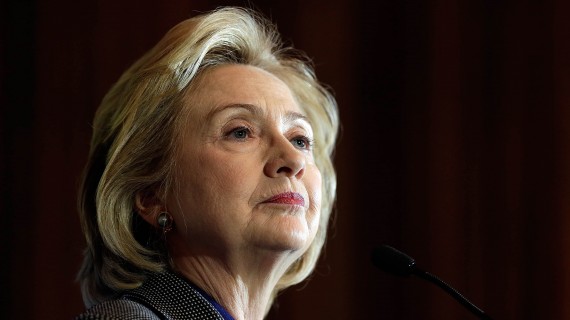 With Hillary Clinton set to start her book tour and media blitz, a new ABC News/Washington Post poll finds her with the same broad support for a potential 2016 campaign that she has had for some time now, but there are indications that Benghazi continues to be an issue for her:
A new ABC News-Washington Post poll released Sunday gives Clinton a commanding lead in the race – with 69 percent of Democrats and Democratic-leaning independents supporting her for the party's nomination.

Clinton also fares well in public perceptions in the new poll: 67 percent of Americans view her as a strong leader, 60 percent say she's honest and trustworthy, and 59 percent say she has new ideas for the country's future.

(…)

59 percent of Americans approve of Clinton's job performance as Secretary of State, but that declines to 37 percent on her handling of the attack in Benghazi, where a U.S. diplomat and three other Americans were killed.
This is why you will continue to see Republicans, and potentially some of her Democratic rivals, circling back to the Benghazi if she does indeed run. There aren't many areas right now where Hillary Clinton appears to be vulnerable, but her tenure as Secretary of State, and especially Benghazi, is most certainly one of them.
In the end, though, all of this circles back to something that I've seen even sympathetic pundits discussing about a potential Hillary Clinton 2016 run, namely the dual questions of why she wants to be President and what qualifications she brings to the office.
The first question is one that candidates have stumbled on before, sometimes disastrously. The most notable example of this remains Roger Mudd's interview with Senator Ted Kennedy in November 1979 when Kennedy was making clear his intention to run against President Carter for the Democratic nomination in 1980. Mudd asked Kennedy why he wanted to be President, and Kennedy gave an answer that was called stammering, repetative, and devoid of any actual content (you can watch the actual exchange in this video). While Kennedy went on to run a solid campaign for a guy running against an incumbent, that moment is seen by many as the moment that his campaign truly sank.
Clinton faces a similar issue. Like every other candidate of destiny before her, and as Clinton herself learned in 2008, it's not always enough to be the candidate that everything thinks is going to win. You also have to be able to articulate some kind of vision of what kind of President you want to be. In the end, Barack Obama beat Clinton in 2008 because he was better able to do this than she was. The question she faces if she runs is what message she'll have this time around, and what her answer to the "Why do you want to be President?" question actually is. If she comes across as someone with a sense of entitlement to the position, then she could end up with a problem. Especially relevant to this is the fact that, while she is very smart and very well versed on policy issues, Hillary Clinton is nowhere near as good politician or communicator as her husband is. That's one reason why she had such a hard time against Barack Obama in 2008.
Clinton also faced the second question in 2008 and, arguably in a better position there now than she was six years ago. Four years as Secretary of State have put a hefty load of experience under her belt, certainly far more than being the junior Senator from New York provided. At the same time, though, one has to wonder what, exactly, she has accomplished as Secretary of State that recommends her for the Presidency. I've seen generally sympathetic pundits tried to deal with that question on programs like Morning Joe and be unable to answer the question. Clinton will have to find a way to answer that question herself, and she'll have to find a way to differentiate herself from the Obama Administration while doing so.
The fact that Clinton will be running on her experience as Secretary of State, though, is the reason why Bengahzi will continue to be an issue for her. For better or worse, it stands as the singular worst moment of her tenure and there are plenty of questions that arise from the incident that opponents can continue to bring up from now until November 2016. Its something that both undercuts her efforts to paint a rosy picture of her tenure and the policies she helped implement and her arguments about executive competence. It's far too early to tell whether it's an issue that could actually impact her campaign, but poll numbers like the one above make it clear that Clinton ought to do something more than just treat questions about Benghazi with the dismissive tone she used during her last appearance before Congress as Secretary of State.