How Should Democrats Respond To The Gorsuch Nomination?
In the end, an effort by Democrats to block Neil Gorsuch's nomination to the Supreme Court does not seem like a good use of their rather limited options.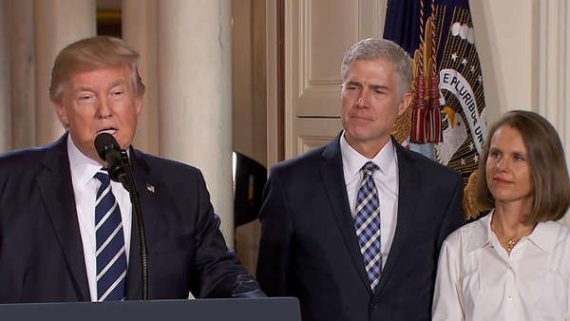 President Trump's nomination of Judge Neil Gorsuch to fill the seat made vacant by the death of Associate Justice Antonin Scalia just under a year ago has led many Democrats and others on the left to talk about how the should respond to the nomination of a seemingly well-qualified nominee for a seat that they feel was "stolen" from them. On the one hand, there are some on the left who think Senate Democrats should take a page from the Republican book and do whatever it takes to block Gorsuch's nomination, including a filibuster that would prevent Republicans from bringing the nomination to a final vote without invoking the so-called "nuclear option" and eliminating the filibuster for Supreme Court nominees. Others argue that fighting the President's effort to replace a conservative Justice with another conservative who will have little real impact on the ideological balance on the Court when it comes to high-profile controversial issues such as abortion, affirmative action, and abortion rights. Politico has assembled contributions from across the political spectrum in a symposium post,
One of the participants in that symposium is Dan Farber, a liberal-leaning law professor at the University of California at Berkeley, who has written extensively on issues involving constitutional and environmental law, argues that Democrats should hold their fire to some degree when it comes to the nomination of Judge John Gorsuch to the Supreme Court:
[H]e's a Trump nominee, and he's nominated for a seat that should properly belong to Garland. So why not filibuster and try to block the nomination? One reason is that the Republicans were wrong in what they did to Garland, and the Democrats were right that this kind of behavior is damaging to the Supreme Court as an institution. But there are two other reasons. First, blocking a nominee for a year when you have a majority of the Senate is one thing; blocking any appointment for four years when you're in the minority is much less feasible (and more damaging to the court).

Second, the key thing about Gorsuch from my point of view is that he's principled — and he seems to have enough backbone to stand up to Trump. We could use that on the court. The fact that Gorsuch has spoken against judicial deference to the executive branch in matters of statutory interpretation makes it more likely that he won't rubberstamp Trump's actions.

I'm not saying that the Democrats should give Gorsuch a quick vote. For one thing, we will know a lot more about him as time goes on. Nor am I saying that they should vote for him. It may be entirely reasonable to vote against him as a protest against what the GOP did to the last nominee. It is also fair to make sure the American people know the views of Trump's nominees. But in the end, I don't think Democrats should try to block the appointment unless something unexpected comes up.
It strikes me that Farber raises several valid points that Democrats in the Senate ought to consider as the nomination moves forward.
First of all, as he notes, blocking a nomination when you are in the minority is not exactly an easy task even taking the filibuster into account. We don't know if Democrats would be able to maintain enough unity to prevent the Senate from invoking cloture and proceeding to a final vote, at which point confirmation would be inevitable given the Republican majority. Already there have been hints that some Democrats may not be willing to stick with the caucus on a cloture vote, most notably West Virginia Senator Joe Manchin, who said in the immediate aftermath of Gorsuch's nomination that he hopes his fellow Democrats should give Gorsuch a fair chance rather than seeking revenge for what Republicans did when they refused to hold hearings or in many cases even meet with Merrick Garland after President Obama selected him. Additionally, as I've noted elsewhere, other Democrats up for re-election in 2018 in traditionally Republican states, as well as states that Trump won in November, are likely to feel at least some pressure to tread carefully when it comes to this nomination. This doesn't mean that they'll ultimately feel obligated to vote in favor of Gorsuch in a final floor vote, but it may cause them to break with the caucus on the cloture vote so that the nomination can at least proceed to the floor for a final up-or-down vote.
Second, even if they are able to maintain unity and prevent Republicans from getting the sixty votes needed to block Gorsuch's nomination, the Democrats could not permanently block a final vote on the nomination. As I've discussed before, Senate Republicans could invoke the nuclear option and remove the ability of a minority to block consideration of a Supreme Court nominee. While there has been some indication that Republicans may currently lack the majority they would need to change the rules, it's possible that could change if Democrats actually do attempt to filibuster Gorsuch even after the confirmation process fails to reveal anything about Gorsuch that would justify blocking him. Additionally, Republicans could use other Senate rules to force a final vote on Gorsuch's nomination notwithstanding the lack of sixty votes to invoke cloture or a majority sufficient to eliminate the filibuster. Under the so-called "two-speech rule" which prevents any one Senator from speaking on an issue more than twice during the course of a "legislative day." A "legislative day" is basically a day that the Senate is in session but it is not dependent on any calendar but on when the Senate actually adjourns for "the day," which is something that has to be specifically asked for and voted on by the Senate. In the past, this quirk in the rules has been used to extend a "legislative day" for as long as a week or more for procedural reasons. In fact, according to research, the rule has been used to extend the "legislative day" for even longer in the past. In 1922 for example, there was a "legislative day" that lasted for 105 actual days and in 1980 such a "legislative day" began when a new Senate convened on January 3rd and didn't end until June 12th. In combination with other Senate rules, Senate Republicans could use the "two-speech rule" to either require Democrats to get to the point where every Democrat who wants to speak about the Gorsuch nomination has done so, or to concede that they won't be able to block the nomination and allow the nomination to proceed to a final vote.
Finally, as I've noted before, this may not be the nomination that Democrats want to go full bore on in terms of fighting to block a nomination or forcing President Trump to pick an allegedly more moderate nominee who would likely still generally side with the Court's conservatives, which is effectively similar to what President Obama did when he selected Merrick Garland last year. Putting Neil Gorsuch on the high Court to replace Justice Scalia is not going to have a serious impact on the ideological balance on the Court. The cases where the court ended up in a 5-4 majority on either side of an issue when Scalia was alive will return to being 5-4 decisions going forward. There may be some differences in future cases between how Gorsuch votes and how Scalia would have likely voted, but they are likely to be minimal at best, and in some cases at least they could lead to results that Democrats might be pleased with at least for a time. For example, there's at least some evidence from what we've learned about his record to date that Gorsuch is far more skeptical about efforts by the Executive Branch to exercise unilateral power than Scalia proved to be during his time on Court. If that's the case, he could end up being part of a Court majority that is eventually instrumental in pushing back against future power grabs by the Trump Administration. Additionally, he's deference to state law on significant issues could be useful in litigation involving everything from health insurance regulation to policies regarding marijuana legalization. If Democrats were successful in blocking Gorsuch, they may end up faced with another Trump appointee who is less palatable on these and other areas of the law. Instead of expending political capital on blocking Gorsuch then, it would seem to be wiser to wait until a time when the nomination fight will actually have a significant impact on the Court, such as if and when President Trump is given the opportunity to replace a Justice such as Anthony Kennedy, Ruth Bader Ginsburg, or Stephen Breyer, all of whom are eighty years old or quickly approaching that age. Kennedy and Ginsburg are both eighty years-old or older, and Breyer will be eighty in 2018 if he does not retire before then.
Since I'm not a Democrat, it's possible if not likely that my advice will fall on deaf ears, but it seems clear to me that, absent something revealed during the confirmation process that raises serious red flags, Democrats would be wise to reserve the majority of their fire for a time when it will actually matter.