Senate Democratic Leader Schumer Vows To Filibuster Gorsuch Nomination
Let the games begin.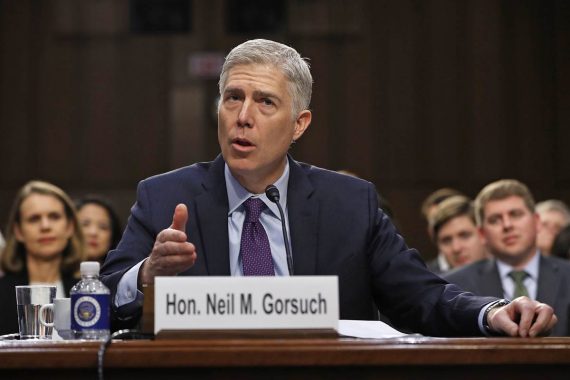 On the same day that the Senate Judiciary Committee was holding its last day of hearings on the nomination of Judge Neil Gorsuch to the Supreme Court, Senate Minority Leader Chuck Schumer was announcing that he intended to lead a filibuster of Gorsuch's nomination:
Senate hearings on Supreme Court nominee Neil Gorsuch ended Thursday on a confrontational note, with the body's top Democrat vowing a filibuster that could complicate Gorsuch's expected confirmation and ultimately upend the traditional approach to approving justices.

Senate Minority Leader Charles E. Schumer (D-N.Y.) said he will vote no on President Trump's nominee and asked other Democrats to join him in blocking an up-or-down vote on Gorsuch.

Under Senate rules, it requires 60 votes to overcome such an obstacle. Republicans eager to confirm Gorsuch before their Easter recess — and before the court concludes hearing the current term of cases next month — have only 52 senators.

Republicans have vowed Gorsuch will be confirmed even if it means overhauling the way justices have long been approved. Traditionally, senators can force the Senate to muster a supermajority just to bring up the nomination of a Supreme Court justice. If that is reached, the confirmation requires a simple majority.

In a speech on the Senate floor, Schumer said: "If this nominee cannot earn 60 votes — a bar met by each of President Obama's nominees and George Bush's last two nominees — the answer isn't to change the rules. It's to change the nominee."

The Democrats' liberal base has been pressuring senators to block Trump's nominees across the government. But Schumer stopped short of saying that his entire Democratic caucus would join him in opposition to Gorsuch, leaving political space for some Democrats to find ways to work with Republicans.

Democrats may not have the votes to block Gorsuch, 49, who has been on the Denver-based U.S. Court of Appeals for the last decade and was nominated to fill the Supreme Court seat left vacant since Justice Antonin Scalia died unexpectedly in February 2016.

Several Democrats, especially those facing upcoming reelection battles in states that Trump won, are facing opposition from conservative organizations bankrolling a multimillion-dollar ad campaign designed to bolster Gorsuch.

There are also competing views among Democrats about whether to filibuster Gorsuch's nomination — which could provoke the Republican majority to rewrite the rules — or instead avoid confrontation and preserve the filibuster threat for the future. Retaining the filibuster could force Trump to select a relatively moderate nominee if in the coming years he gets a chance to replace a second Supreme Court justice.

Among recent Supreme Court nominees, the 60-vote threshold has not caused a problem. President Barack Obama's choices of Sonia Sotomayor and Elena ­Kagan each received more than 60 confirmation votes. Samuel A. Alito Jr., chosen by President George W. Bush, was confirmed 58 to 42 in 2006, but 72 senators voted to defeat a possible filibuster and allow his confirmation vote to go forward. Indeed, only Alito — among the last 16 Supreme Court nominees — was forced to clear the supermajority hurdle to break a filibuster.

In announcing his confrontational approach, Schumer said that Gorsuch "was unable to sufficiently convince me that he'd be an independent check" on Trump. Schumer said later that the judge is "not a neutral legal mind but someone with a deep-seated conservative ideology," hand-picked for Trump by conservative legal groups.

Thomas C. Goldstein, a Supreme Court practitioner and co-founder of SCOTUSblog, said that Democrats on the Senate Judiciary Committee did not present a compelling case that Gorsuch was either an illegitimate nominee or that he was outside the conservative mainstream.

"None of the Democrats set the table" for a filibuster, Goldstein said. He speculated that one option for some Democrats would be to allow an up-or-down vote, and then to vote against confirmation.

In addition to Schumer, Sens. Thomas R. Carper (D-Del.), Robert P. Casey Jr. (D-Pa.) and Ron Wyden (D-Ore.) announced Thursday that they would filibuster Gorsuch. Casey is one of 10 Democratic senators running next year in a state that Trump won.

The Judicial Crisis Network, which is spending at least $10 million on television ads to persuade Democratic senators to support Gorsuch, called Casey and other Democrats opposing Gorsuch "totally unreasonable" because "they will obstruct anyone who does not promise to rubber stamp their political agenda from the bench."

Senior Republicans have vowed that Gorsuch will be confirmed no matter what — a veiled threat to Democrats that they might use the nuclear option to change the way senators confirm Supreme Court justices.

"If Judge Gorsuch can't achieve 60 votes in the Senate, could any judge appointed by a Republican president be approved with 60 or more votes in the Senate?" Senate Majority Leader Mitch McConnell (R-Ky.) said this week.

Much of the Democratic resistance to Gorsuch centers on the GOP's decision last year to block consideration of Judge Merrick Garland, Obama's choice to replace Scalia.

But moderate Democrats have said they are hoping that the two parties can come to an agreement that leads to Gorsuch's confirmation and the preservation of current Senate traditions.

Sen. Joe Manchin III (D-W.Va.), seen as the Democrat most likely to support Gorsuch, said he needed to hear more from the nominee but warned Democrats against risking the deployment of the nuclear option.

"I haven't completely made up my mind. I'm going to go talk to him next week; then I'll make my decision," Manchin said. "But I just think the Senate is on a slippery slope."
On some level, Schumer's announcement is hardly a surprise. Even before Gorsuch's hearings began activist groups from across the Democratic base were turning out in opposition to his confirmation, with most of them calling on Senate Democrats to do anything they could to stop his confirmation. In part, of course, this is due to the resentments that many Democrats continue to feel over the Senate Republicans successful effort to block the nomination of Merrick Garland last year, an effort which made this early appointment by President Trump possible. For many Democratic activists, and some Senators, the opportunity to exact some form of payback, even if it ultimately only ends up delaying the nomination for a short period of time, is worth whatever price they might pay for doing so. For others, of course, the opposition is due simply to the fact that this is an appointment by a Republican President, much like many conservative activist groups reflexively opposed the nomination of Sonia Sotomayor and Elena Kagan during the Obama Administration. Because of that pressure from the base, Schumer and the Senate Democrats are at least obligated through the motions of trying to stop Gorsuch's nomination notwithstanding the fact that, as I noted in my recap of his two days of testimony — see here and here — he came out of his two days of questioning with the appearance of being highly qualified for the position he's been nominated for and someone who has the potential to be a fine Supreme Court Justice notwithstanding the fact that there will most likely be decisions he will reach that I will disagree with. For better or worse, though, qualifications don't matter much when it comes to Supreme Court nominations anymore, and the era of the politicized confirmation hearing that began at least with Robert Bork's nomination thirty years ago this year is hear to stay for the time being.
In any case, while Schumer's announcement is unsurprising, what's unclear is whether or not it will work. First of all, it is too early to tell whether or not he would have a united caucus on a Cloture motion to block Gorsuch's nomination from proceeding to a final vote. In the past, most Supreme Court nominations have sailed through the cloture round with a comfortable bipartisan majority in favor of allowing a final vote. This was true even when it turned out that the final vote was much closer because many Senators who ultimately ended up voting against a nomination nonetheless voted to invoke cloture to allow debate to end and the matter to be voted up or down on the merits. If Republicans can find eight Democrats who support that idea, whether or not they ultimately end up voting in favor of Gorsuch, then they'll easily get over the 60 vote threshold and be able to confirm Gorsuch easily. If they can't find those eight votes, then both parties will be faced with a stark choice. For Republicans, it will be a choice between losing the nomination and employing the so-called 'nuclear option' used by former Majority Leader Harry Reid to change the filibuster rules for lower court Judges and Executive Branch nominees. The downside to eliminating the filibuster, of course, is that this would limit the GOP's options in the future if it is in the minority and there's a Democrat in the White House seeking to nominate a very liberal Judge who would replace a Justice such as Anthony Kennedy. For Democrats, the choice is between letting Gorsuch get through to a final vote and daring the GOP to nuke the filibuster, meaning that they would be powerless to stop a future Trump nomination in the event of a retirement by a Justice such as Anthony Kennedy, Stephen Breyer, or Ruth Bader Ginsburg. It's impossible to know how all of this will play out in the end, but it will certainly be fascinating to watch.