Gorsuch Has Another Good Day In Front Of Senate Judiciary Committee
More fireworks on the second day of the questioning of Neil Gorsuch, but his confirmation nonetheless seems assured.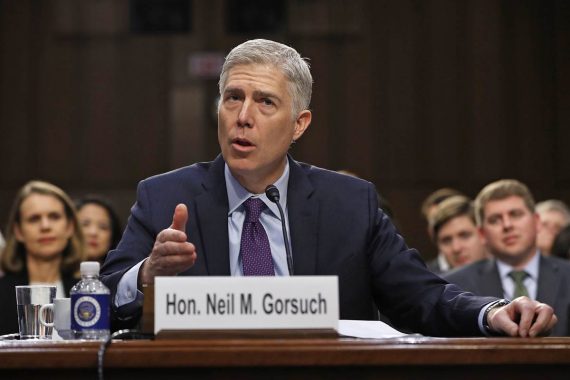 Judge Neil Gorsuch's second day of questioning went about the same as the first, with Democrats trying and mostly failing to get the Judge to fall into one trap or another that could potentially lead to trouble for his nomination. By the end of the day, though, they were left with a nominee who handled their questions deftly and likely made his confirmation inevitable:
WASHINGTON — In his final day of questioning at his Supreme Court confirmation hearings, Judge Neil M. Gorsuch continued to answer with practiced generalities on Wednesday, frustrating Democrats who seemed unable to rattle him or pin him down.

"You have been very much able to avoid any specificity like no one I have seen before," said Senator Dianne Feinstein, the ranking Democrat on the Senate Judiciary Committee. "And maybe that's a virtue, I don't know. But for us on this side, knowing where you stand on major questions of the day is really important to a vote."

Senator Richard J. Durbin, Democrat of Illinois, said he was searching to find "a beating heart and an independent streak" behind Judge Gorsuch's testimony.

After trying over a span of 20 hours over two days, Democrats were not able to move Judge Gorsuch off script. Instead, interest in the hearing seemed to wane, and many in the Capitol came to view a confirmation as inevitable.

Judge Gorsuch managed to endure as much by what he did not say as by what he did.

Most Supreme Court nominees are fairly reticent, but Democrats said Judge Gorsuch outdid the last two Republican appointees, Chief Justice John G. Roberts Jr. and Justice Samuel A. Alito Jr. They gave their views on seminal Supreme Court decisions, said Senator Patrick Leahy, Democrat of Vermont.

"We've had justices nominated by Republican presidents who have been willing to discuss past precedent," Mr. Leahy said. "I was just kind of hoping you would be as transparent as these prior nominees were."

The Supreme Court gave Senate Democrats a small gift on Wednesday, issuing a unanimous decision in a case on students with disabilities that rejected the approach Judge Gorsuch had taken in a different case.

The relationship between the two decisions was indirect, and Judge Gorsuch said he had merely followed precedent. But Democrats welcomed the opportunity to elicit answers from Judge Gorsuch about a specific Supreme Court decision, and they returned to the topic repeatedly.

At other points, senators probed Judge Gorsuch's general judicial philosophy, notably his commitment to originalism, which tries to interpret the Constitution consistently with the understanding of those who drafted and adopted it.

"It's selective originalism," Senator Amy Klobuchar, Democrat of Minnesota, said of the nominee's approach, accusing him of relying on "nonoriginalist judges to get to the outcome" in some preferred cases.

In a speech last year, Judge Gorsuch said judges should "apply the law as it is, focusing backward, not forward, and looking to text, structure and history to decide what a reasonable reader at the time of the events in question would have understood the law to be — not to decide cases based on their own moral convictions or the policy consequences they believe might serve society best."

Ms. Feinstein asked where that approach left women and gays given the understanding of the 14th Amendment's equal protection clause when it was ratified in 1868. Judge Gorsuch responded that he would respect precedents providing for constitutional protections for those and other groups. He later said he would do so even if the precedents had not themselves used an originalist approach to interpreting the Constitution.

Judge Gorsuch added that the intentions of those who adopted the amendment were irrelevant.

"It matters not a whit that some of the drafters of the 14th Amendment were racists," he said. "Because they were. Or sexists, because they were. The law they drafted promises equal protection of the laws to all persons. That's what they wrote."

"No one is looking to return us to horse and buggy days," he said. Later, he added, "Backward doesn't mean backwards."

Even attempts to saddle Judge Gorsuch with President Trump's baggage, including the president's attacks on the judiciary, yielded little. Senator Ted Cruz, Republican of Texas, suggested that his Democratic colleagues were being hypocritical, citing their own criticisms of Judge Gorsuch.

"It's a little rich for them to be maligning a sitting federal judge," Mr. Cruz said, "and at the same time giving speeches about how unacceptable it is for anyone to criticize a federal judge."

The closest Judge Gorsuch came to embracing Mr. Trump was perhaps the inadvertent deployment of a curious adverb — "bigly" — often associated with the president. (Mr. Trump has said he is merely saying "big league.")

"I just won five bucks," Senator Ben Sasse, Republican of Nebraska, told the judge.
As with Tuesday's hearing, yesterday's shorter rounds of questioning followed the same pattern we've become used to in confirmation hearings going back some thirty years now, with Republicans tossing the Judge mostly softballs at the Judge or using their time to mostly make speeches for the camera while Democrats sought to pin Gorsuch down on specific issues and cases. As he had on Tuesday, Gorsuch responded to nearly every request for an opinion on specific issues or cases by pointing to ethical rules that prevent him from commenting in advance on issues or cases that he is likely to face as a Justice, or as a Judge on the Tenth Circuit in the event that he is not confirmed. Democrats also tried, and mostly failed, to use items that Gorsuch had written for publications such as National Review before he became a Judge, to which Gorsuch responded that at the time he wrote those pieces he was writing as an advocate, a different role than the one he took on when he became a Judge. Obviously, whether one believes him or not largely depends on which side of the political aisle one comes down on, but the important point out of all of this is that it was clear at the end of two days of questioning that there really isn't anything substantial that Senate Democrats can pin on Gorsuch to make a credible argument that he should not be confirmed. Because of this, it does appear that his confirmation is just a matter of time now.
With that in mind, Politico notes that some Senate Democrats are already looking to strike a deal with their Republican colleagues that would allow Gorsuch's nomination to go through relatively unscathed in exchange for a promise regarding future nominations:
A group of Senate Democrats is beginning to explore trying to extract concessions from Republicans in return for allowing Supreme Court nominee Neil Gorsuch to be confirmed, according to multiple sources familiar with the matter.

The lawmakers worry that Gorsuch could be confirmed whether Democrats try to block him or not — and Democrats would be left with nothing to show for it. That would be a bitter pill after the GOP blocked Merrick Garland for nearly a year.

The deal Democrats would be most likely to pursue, the sources said, would be to allow confirmation of Gorsuch in exchange for a commitment from Republicans not to kill the filibuster for a subsequent vacancy during President Donald Trump's term. The next high court opening could alter the balance of the court, and some Democrats privately argue that fight will be far more consequential than the current one.

If Democrats move ahead with the plan — it's still in the early discussion phase — it would require buy-in from some Republicans, but not necessarily Majority Leader Mitch McConnell (R-Ky.) or his top deputies. At least three rank-and-file GOP members would have to pledge not to vote to unilaterally change the Senate rules through a majority-only vote later in Trump's term — the so-called nuclear option.

Cobbling together a group of senators from opposing parties to take such a stand would be difficult, given the long-running partisan war over confirming judges and pressure from the left to deny Gorsuch confirmation. But some Democrats are worried enough about the Senate losing its unique minority rights that they've begun kicking the tires on the potential for a new bipartisan "gang."

The current talks are limited to about a half-dozen Democratic lawmakers. They haven't made an offer to Republicans yet, and Democratic leaders wouldn't support one.

Democrats familiar with the effort requested anonymity to discuss a sensitive matter that divides the caucus. Some liberals are aiming to block Gorsuch, while others are worried about the electoral prospects for 10 senators up for reelection next year in states won by Trump if they're seen as obstructing the president's court pick.

Any move to save the filibuster would be reminiscent of the "Gang of 14," a group that included Democrats who agreed to confirm some of President George W. Bush's stalled judicial nominees as Republicans pledged not to support a rules change. Just three members of that 2005 collection are still in the Senate.

"It's a really tough situation, and they're going to have to find their way through it because that 60-vote threshold is important for the Supreme Court," said former Sen. Mary Landrieu (D-La.), a member of the Gang of 14.

No Democrats have announced their support for Gorsuch yet. Under current Senate rules, McConnell will need at least eight Democratic votes. In the minds of some senators, that gives Democrats some leverage over McConnell — though the GOP leader could move to get rid of the 60-vote threshold if Democrats obstruct Gorsuch.

"We don't need to be taking a deal," said a senior Republican aide.

Some Democrats believe McConnell is loath to change Senate rules on a majority vote. Doing so would allow Democrats to more easily confirm liberal judges the next time the party wins the White House and Senate. It's also not clear McConnell could get 50 of his 52 members to agree to eradicate the filibuster for Supreme Court nominees, a step that would move the Senate even further toward a majority-rule, House of Representatives-style body.
Other Democrats are apparently talking about other ideas:
In addition to talk of getting a GOP commitment on the next court vacancy, two other, less realistic options are also being discussed.

One would be an agreement to confirm Gorsuch in exchange for moving all judicial nominees back to the 60-vote requirement. Republicans are unlikely to agree, given that they are in the majority and have more than 100 lower-level vacancies to fill.

Another ambitious possibility: Some Democrats want to confirm Gorsuch only with an agreement that another justice retire and is replaced with Garland. The idea has almost no chance of success. But it's being pushed by Sen. Tom Udall (D-N.M.), who said that there's too much "distrust" in the Senate to believe Republicans are willing to make a deal on a future vacancy, so they must make a deal now on Garland.

"I'm not there," Udall said of seeking a commitment from Republicans not to change the rules. "I just hope someone does something."

Sen. Tom Carper of Delaware has warmed to Udall's position. He's viewed as one of the handful of Democrats who could support Gorsuch, but he has not even met with the nominee.
"It would be fair to say," Carper said, "I'm interested in getting justice for Merrick Garland."
It's unclear at this point how many Democrats might be willing to go along with this deal, or how many Democratic Senators might be willing to vote for cloture on Gorsuch's nomination even if they ultimately end up voting against him in a floor vote. It's also unclear if any Senate Republicans would be willing to agree to an idea that would bind their votes regarding how to proceed with a future Court nominee. On some level, of course, the idea does make sense for Senate Democrats. If they push too hard on a filibuster with Gorsuch, who isn't going to actually change the ideological balance of the Court significantly if and when he is confirmed, they risk the GOP following the lead of Harry Reid and using the so-called 'nuclear option' to repeal the filibuster for Supreme Court nominees just as it has been for Cabinet members, Ambassadors, and other Executive Branch employees. This would mean that Democrats would be essentially powerless to stop a future Supreme Court nomination that could be monumentally consequential in the event that we see a vacancy due to the retirement of a Justice such as Stephen Breyer, Anthony Kennedy, or Ruth Bader Ginsburg, or a vacancy on the Court for some involuntary reason such as death or disability. Whether Republicans will agree is, of course, another question.
As for the other ideas reportedly being considered by other Democrats, these strike me as pie-in-the-sky ideas that aren't going anywhere. The suggestion that Republicans are going to agree to undo what Harry Reid did in November 2013 is silly at this point. There is no good reason for them to agree to this kind of a rules change, which obviously benefits them now that they control both the Senate and the White House. As for the idea that Senator Udall has to put both Gorsuch and Garland on the Supreme Court, it strikes me that he may be taking a certain episode of The West Wing way too seriously. This isn't Hollywood Senator, and things simply don't work that way.
The Gorsuch hearings continue today but they will largely consist of the Senators hearing from panels of witnesses for and against Gorsuch. The pro-Gorsuch panels will apparently be made up of former law clerks and other colleagues and perhaps a handful of retired Judges from the Tenth Circuit or other Courts of Appeal who have worked side by side with Gorsuch on cases and are in favor of his nomination. The anti-Gorsuch panels will most likely be made up of people from various advocacy groups who are on record as opposing his nomination. After that, the committee's public work will largely be done and we may not hear much more from them until late next week at the earliest when they will likely vote to send the nomination to the Senate floor on what will likely be party lines. From there, it's not clear what will happen. In theory, the Senate should be able to get a floor vote in on the nomination before the Easter break. If that happens and Gorsuch is confirmed, he'll be on the bench quickly enough to participate in the final round of oral argument in mid-April. Otherwise, the vote will have to wait until after the break and Gorsuch won't take the bench in time to participate in any of the cases being heard this term unless the Justices take the somewhat extraordinary step of delaying or rescheduling hearings in some or all of the remaining cases so that they have a full compliment of nine Justices on the Court. Either way, it seems fairly clear that Judge Gorsuch will be confirmed and that the Court will begin its term in October with a full complement of Justices.