Judge Gorsuch Parts With Trump On Attacks On Judiciary
Judge Gorsuch isn't much of a fan of Donald Trump's comments about the judiciary.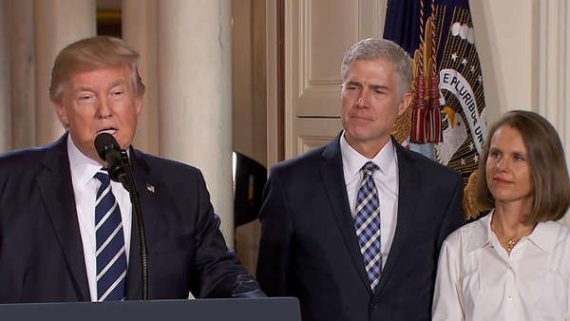 Judge Neil Gorsuch, who was nominated by President Trump for the seat on the Supreme Court that has been vacant since Justice Scalia's death last year, isn't very happy with the President's comments about the judiciary:
Donald Trump's nominee for the Supreme Court distanced himself from the president on Wednesday, calling Trump's attacks on a federal judge "demoralizing" and "disheartening."

Neil Gorsuch made the comments in a meeting with Sen. Richard Blumenthal, a Connecticut Democrat, when he was asked about Trump's attacks on Twitter and in speeches. Trump has called a federal judge who blocked his travel ban from seven Muslim-majority countries a "so-called judge." He has also urged his followers to blame the judge and the judiciary, should there be any terrorist attack carried out by an immigrant.

"My strong hope is that he will be more vehement publicly," Blumenthal told reporters after meeting with Gorsuch. "He certainly expressed to me that he is disheartened by the demoralizing and abhorrent comments made by President Trump about the judiciary, but I will be asking for more specific and forthcoming responses to those kinds of questions before I determine how I will vote."

A Gorsuch spokesman confirmed the comments were made during the Wednesday afternoon meeting, when he was asked about the "so-called judge" line. Blumenthal was quick to make political hay of the comments and pressed Gorsuch to make a public condemnation of Trump's comments toward the judiciary, perhaps during his upcoming confirmation hearings.
This morning, President Trump took to Twitter to criticize Senator Blumenthal, suggesting that he was fabricating what Gorsuch had said to him:
President Donald Trump falsely accused a Democratic senator Thursday of misrepresenting his Supreme Court nominee's words, according to several familiar with the incident.

Sen. Richard Blumenthal said Wednesday that Judge Neil Gorsuch, Trump's nominee, told him he found Trump's attack on a federal judge on Twitter "disheartening" and "demoralizing."

Within a half-hour, Gorsuch spokesman Ron Bonjean, who was tapped by the White House to head communications for Gorsuch, confirmed that the nominee, Gorsuch, used those words in his meeting with Blumenthal. Several other senators, including Republican Sen. Ben Sasse of Nebraska, later relayed similar accounts of Gorsuch forcefully criticizing Trump's public attacks on the judiciary branch.

And on Thursday, Blumenthal said on MSNBC Gorsuch specifically told him he "should feel free to mention what I said about these attacks being disheartening and demoralizing."

But none of that stopped Trump from firing off a shot against Blumenthal — and at the same time raising questions about the coherence of the White House's messaging.

Supreme Court nominee Gorsuch calls Trump's tweets 'disheartening'

"Sen. Richard Blumenthal, who never fought in Vietnam when he said for years he had (major lie), now misrepresents what Judge Gorsuch told him?" Trump tweeted Thursday morning.

Gorsuch's criticism came in response to Trump's recent criticism of federal judges who have ruled against his immigration ban or appear poised to do so, in particular in reference to one of the President's tweets slamming one of those judges as a "so-called judge."

"The opinion of this so-called judge, which essentially takes law-enforcement away from our country, is ridiculous and will be overturned!" Trump tweeted last Saturday.

On Wednesday, Trump pressed forward with his criticism, arguing that the judiciary has become too political and suggesting that judges on the 9th

Circuit Court of Appeals might rule against his appeal to reverse a temporary stay on implementing his travel ban because of political considerations, instead of the law.

Blumenthal stood by his accounting of Gorsuch's comments, telling CNN's Chris Cuomo on "New Day" Thursday morning he "absolutely and accurately" stated what Gorsuch told him.

"I think that the President needs to hear from Judge Gorsuch about exactly what he is saying to myself and Senate colleagues," Blumenthal said. "Maybe he simply hasn't been informed and that's the reason for his tweet."
Trump's tweets, meanwhile, were contradicted by subsequent comments that make it clear that Blumenthal was correctly stating what Judge Gorsuch had told him. First, former New Hampshire Senator Kelly Ayotte, who is working with the White House to help shepherd Gorsuch's nomination through the Senate essentially confirmed what Blumenthal had said:
Gorsuch clarifies what he's been saying in private conversations, via a statement from Kelly Ayotte, who is helping Trump get him confirmed. pic.twitter.com/4dzrI5sPpt

— Jennifer Jacobs (@JenniferJJacobs) February 9, 2017
Then, Nebraska Senator Ben Sasse, a Republican who has emerged as one of Trump's chief critics, confirmed that Gorsuch had said basically the same thing to him during their meeting on Capitol Hill:
.@SenSasse says Gorsuch told him: Any attack on brothers or sisters of the robe is an attack on all judges https://t.co/vGqx4aGdb6

— Morning Joe (@Morning_Joe) February 9, 2017
Given that Gorsuch has been a Federal Judge for more than a decade now, it's not entirely surprising that he'd feel this way about comments that were clearly intended to disparage Judge Robart and the three Judges on the Ninth Circuit panel that heard the appeal of Robart's TRO. It's an attitude that you'll find quite common among members of the judiciary at all levels, state and federal, who tend to be quite protective of their profession and its unique role in our legal and political system. The fact that he's willing to distance himself like this from the man who appointed him is both a good sign and a sign that he's not likely to be easily intimidated by litigants, politicians, or the President who appointed him. Some Senators, such as Minority Leader Chuck Schumer, are saying that Gorsuch needs to make a more public statement, but I don't think that's necessarily the case. The reports by Senators Blumenthal and Sasse, along with the confirmations that have come from those working with him as representatives of the White House, make what he said exceedingly clear and convey the message he obviously hoped to convey.
As Josh Marshall notes, these remarks, and any subsequent comments that Trump has to make about the judiciary in the coming weeks, are likely to make Gorsuch's confirmation process much more interesting:
I fully expect that we will now see Democrats make almost the entirety of Gorsuch's confirmation process into a review and critique of President Trump's behavior in office, treatment of the judiciary, respect for the rule of law, reliance on executive orders and more – with a particular emphasis on the difference between what Gorsuch is willing to say in private and what he is willing to say in public, especially under oath.

No judge with integrity can look kindly on what we've seen from President Trump. So I take his remarks at face value. This afternoon many observers said that this was also good politics for Gorsuch and his nomination. While I agree with that judgment as far as it goes, the logic assumes a President who is in control of his emotions and faculties. Neither of which are the case.

Remember, we know President Trump very well by now. He has just gifted Gorsuch the opportunity which is the ultimate prize in any elite judicial career. The idea that Gorsuch would now pass a negative judgment on Trump and his behavior as President can only strike him as a betrayal. Almost any other President would be able to prioritize his interests over his ego and give Gorsuch the room he needs. Trump will almost certainly not be able to.
Some people have suggested online that Trump might withdraw Gorsuch's nomination over this, but I find that highly unlikely. For one thing, he's already on record saying that Gorsuch is the best person for the Supreme Court so withdrawing it now would make him look even worse than the last three weeks have already done. Additionally, if Trump were to do this it would inevitably mean that any future nominee would be asked precisely the same questions as Gorsuch. Instead, it strikes me that what Gorsuch has done here, whether intentional or not, is give Democrats who may be inclined to support him some degree of political cover for doing so.
.