Gorsuch Confounding Expectations
President Trump's first Supreme Court appointment has joined the liberal bloc on several cases.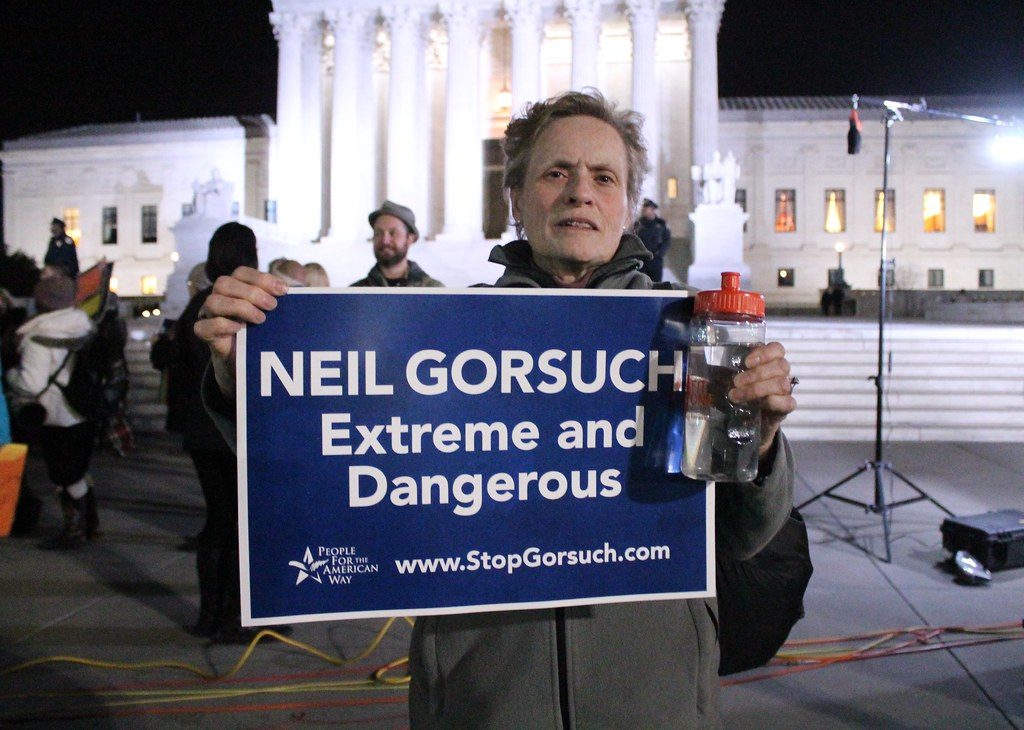 Neil Gorsuch, appointed to the Supreme Court by President Trump after Mitch McConnell and Senate Republicans refused for a year to vote on President Obama's nominee, is surprising many by siding with the liberal bloc on key cases.
Slate's Mark Joseph Stern points to the latest example in "Over Alito's Fuming Dissent, Gorsuch and the Liberals Protect the Right to Trial by Jury."
The constitutional right to trial by jury won a significant victory at the Supreme Court on Wednesday that once again brought Justice Neil Gorsuch together with the court's liberal wing. Gorsuch's plurality decision in United States v. Haymond places new, important limits on the government's ability to extend the sentences of certain offenders without a jury's input. It may be the first tremor in a coming Sixth Amendment earthquake. The remaining conservative justices seem to think so: Justice Samuel Alito's apoplectic dissent warned that Gorsuch is preparing to demolish the federal scheme that Congress cooked up to let judges imprison offenders for longer than any jury ever permitted.

Alito is probably exaggerating—but even if he's right, it's about time SCOTUS scrutinized the "supervised release" system at issue in Haymond. Congress created this system after it abolished parole for federal defendants in 1984. Here's how it works: Upon conviction, offenders are sentenced to a term of imprisonment and, after that, a period of supervised release. During this stretch of conditional freedom, offenders must abide by certain terms like drug testing. If they violate the terms, they can be sent back to prison for the remainder of their supervised release.

The law in Haymond altered this arrangement with grave constitutional consequences. It first states that offenders convicted of certain sex offenses who violate their supervised release must be imprisoned. So far, so good. But instead of sending these individuals back to prison for their original conviction, the statute compels judges to impose additional prison time for the new offense. Judges may find these individuals guilty of a new offense under a "preponderance of the evidence" standard, not the "beyond a reasonable doubt" standard typically required by due process. And judges make this finding without a jury's involvement.

Andre Haymond's case illustrates this scheme in action. At age 18, Haymond was convicted of possessing several images of child pornography. A judge sentenced him to a 38-month prison term, followed by 10 years of supervised release. After Haymond was released from prison, government agents accused him of possessing additional child pornography. He contested their claim in a proceeding that poked many holes in the government's case. The judge announced that "[i]f this were a criminal trial and the Court were the jury, the United States would have lost." But under the lenient standard prescribed by the law, the judge found it "more likely than not" that Haymond had downloaded the images. Under the law at issue, this finding required the judge to sentence Haymond to more time in prison—five years to life.

This entire process is wildly out of whack with the usual constitutional safeguards. Under the Sixth Amendment, the government must prove to a jury every element of a crime that raises the minimum or maximum sentence. And under the Fifth Amendment, it must do so beyond a reasonable doubt. Yet the law in Haymond allowed a judge, not a jury, to find a defendant guilty—and to do so by a preponderance of the evidence. Moreover, it obligated the judge to impose a mandatory minimum upon this finding of guilt, increasing the offender's prison sentence.

How might any of this be legal? In his plurality opinion—joined by Justices Ruth Bader Ginsburg, Sonia Sotomayor, and Elena Kagan—Gorsuch explained that it obviously isn't. "Only a jury, acting on proof beyond a reasonable doubt, may take a person's liberty," he began. "That promise stands as one of the Constitution's most vital protections against arbitrary government." In our system, juries "exercise supervisory authority over the judicial function by limiting the judge's power to punish." A judge's "authority to issue a sentence derives from, and is limited by, the jury's factual findings of criminal conduct." By forcing judges to exceed that authority, Congress ran afoul of the Constitution.
Jonathan Turley goes further, arguing "Washington owes Supreme Court Justice Neil Gorsuch an apology."
"In our constitutional order, a vague law is no law at all." Those are the words that opened one of the most important decisions of this Supreme Court term, in United States versus Quartavious Davis. In a 5-4 decision, the majority sided with a habitual offender in striking down an ambiguous provision that would allow enhanced penalties for a "crime of violence."

The author of that sweeping decision in favor of criminal defendant rights was Justice Neil Gorsuch, the first nomination by President Trump to the Supreme Court. I testified at his Senate hearing, favoring his confirmation despite unrelenting attacks on him as a "rubber stamp" and an ideologue. Gorsuch has proven his detractors wrong and, as this term has proven, he has emerged as one of the most consistent and courageous voices on the Supreme Court. Indeed, a number of senators and pundits in Washington owe Gorsuch an apology for their attacks on someone who is building a new legacy that could be one of the most lasting on the Supreme Court.

Gorsuch has been fascinating to watch over the last two years. He has departed repeatedly from the right of the Supreme Court to do what he considers to be the right thing. He remains a conservative justice but, like his predecessor Antonin Scalia, he has shown a sense of his own "true north" judicial compass. In doing so, he has often made both the left and right of the Supreme Court seem shallow and predictable in their rigidity.

Consider the decision last week on double jeopardy in Terance Gamble versus United States. At issue was the ability of prosecutors to try to potentially sentence individuals for the same criminal conduct in state and federal courts. Some of us have argued that the "dual sovereignty" doctrine had effectively gutted the constitutional guarantee against double jeopardy. Six justices lined up behind Justice Samuel Alito to dismiss such concerns. The dissent by Gorsuch said, "A free society does not allow its government to try the same individual for the same crime until it is happy with the result. Unfortunately, the court endorses a colossal exception to this ancient rule against double jeopardy."

Gorsuch joined Justice Ruth Bader Ginsburg in dissenting. He also broke from the conservative wing in upholding Native American rights. Indeed, in the last term of Justice Anthony Kennedy, who was lionized by liberals upon retirement as a principled swing voter, Gorsuch voted with liberal justices on important decisions on surveillance and sentencing. He also joined in key decisions supporting free speech against the government, including the opinion written by Justice Elena Kagan striking down a statute allowing the government to deny trademark protection to names deemed as "immoral" or "scandalous" by the government. Notably, the partial dissenters to this major victory for free speech were Chief Justice John Roberts, Justice Stephen Breyer and Justice Sonia Sotomayor.

The decision in Davis, however, was telling since it pitted Gorsuch once again on the opposite side from another Trump nominee, Justice Brett Kavanaugh. While Kavanaugh also has broken from the right wing of the Supreme Court on occasion, he has continued his record of consistently siding with prosecutors and police. In his dissent, Kavanaugh advanced the logic that worried some of us before his confirmation. In the face of a detailed and dispassionate analysis by Gorsuch, the dissent by Kavanaugh responded at times with what seemed like a string of empty platitudes.

The respective first lines in the two decisions were the most telling. Where Gorsuch emphasized how vague laws effectively gut due process and the rule of law, Kavanaugh declared, "Crime and firearms form a dangerous mix." The response by Gorsuch was devastating. After laying out how the "crime of violence" has no clear meaning and leaves citizens at the whim of prosecutors, Gorsuch asked, "What does the dissent have to say about all this?" He noted that Kavanaugh simply cites the fact that the statute was used in "tens of thousands of federal prosecutions" for over 30 years and deemed it "surprising" that it should suddenly be unconstitutional.

However, Gorsuch noted that the government admitted that the original meaning was unconstitutional and was itself offering a "surprising" new interpretation to save it. Gorsuch said Kavanaugh and other conservative justices were trying to save an unconstitutional law by "giving this old law a new meaning by appealing to intuition." Kavanaugh noted, if "you were to ask John Public whether a particular crime posed a substantial risk of violence, surely he would respond, 'Well, tell me how it went down. What happened?'" Gorsuch answered this, "Maybe so. But the language in the statute before us is not the language posited in the dissenting push poll."
Stern's colleague Leah Litman hastens to point out "Neil Gorsuch Is No Friend to Criminal Defendants."
When President Donald Trump nominated Neil Gorsuch to the Supreme Court in 2017, his supporters argued that Gorsuch would be a friend to criminal defendants. They made this argument in part to rebut the suggestion that Gorsuch would never rule for the "little guy." The argument also functioned to counteract the idea that judges are ideologues.

This narrative has persisted throughout Justice Neil Gorsuch's short time on the Supreme Court. Writers like to depict him as a friend to criminal defendants; the tone of several pieces even makes it sounds like he is among the most-criminal-defendant-friendly justices on the modern court. And some commentators who cannot resist the blazing hot countertakes have even suggested that Gorsuch is better for criminal defendants than a Justice Merrick Garland would have been.

Where to start? Even just a few cases from the Supreme Court's current term make it clear that Gorsuch is no friend to criminal defendants. The fact that he rules against the government in some number of criminal cases, and occasionally departs from his more law-and-order conservative colleagues in doing so, does not change that fact. At most, Gorsuch is as good for criminal defendants as the least-criminal-defendant-friendly Democratic appointee. That hardly makes him a hero. On some cases, Gorsuch has played the villain.

Let's start with Garza v. Idaho, where the Supreme Court held 6-3 that criminal defense lawyers who, contrary to their client's express directive, do not appeal their client's conviction are presumed to have prejudiced their client's Sixth Amendment rights to effective counsel. Three justices disagreed. One of them was Gorsuch. But Gorsuch did not stop there. He chose to join the portion of Justice Clarence Thomas' dissent that questioned whether criminal defendants even have a constitutional right to appointed counsel if they cannot afford a lawyer. The decisions holding otherwise, such as Gideon v. Wainwright, are bedrocks of the criminal justice system. My hot take is that a hypothetical Justice Merrick Garland would not have voted to undermine the basis of our indigent defense system.
First off, Litman's reading of the dissent in Garza is unfair. Thomas and Gorsuch (and Alito, in part) simply argued that, having entered into a plea agreement in which he explicitly waived the right to appeal, Garza could not claim ineffective counsel when his attorney complied with said agreement and refused his instruction to file an appeal. The section arguing that the 6th Amendment wasn't interpreted to require the state to supply an attorney until beginning in the 1930s is both indisputably correct and simply part of a larger history explaining how we got to the "right to effective counsel" morass that the Court was now extending.
Regardless, the point here isn't about outcomes so much as about process. Gorsuch will almost certainly side with the conservative bloc more often than Merrick Garland—a well-qualified judge who should have been granted a fair hearing and, absent shocking revelations, confirmed to the seat—would have. Gorsuch is, after all, a card-carrying member of the Federalist Society. But, at least early on, he's making it clear that he's neither a rabid ideologue nor a partisan hack. And that's a very good thing for the integrity of the American judicial system.