How The Federal Government Is Helping Make Americans Fatter
While health experts warn Americans to cut the amount of fat in their diet, the Federal Government helps businesses like Domino's and Taco Bell promote high-fat products to the public.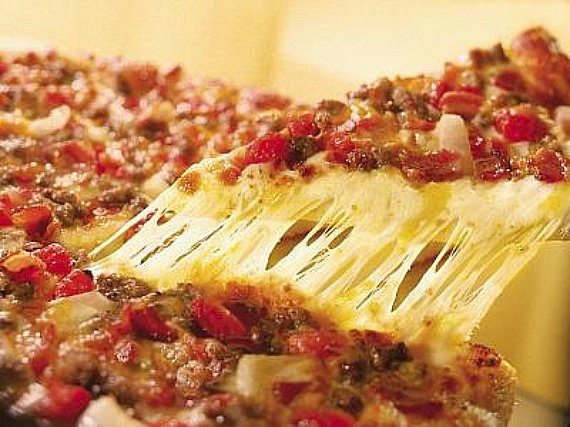 Today,  The New York Times informs us that the same Federal Government that is encouraging people to be more conscious about the amount of fat in their diets is also helping subsidize the dairy industry and helping to create some of the worst "high fat" offenders on the market:
Domino's Pizza was hurting early last year. Domestic sales had fallen, and a survey of big pizza chain customers left the company tied for the worst tasting pies.

Then help arrived from an organization called Dairy Management. It teamed up with Domino's to develop a new line of pizzas with 40 percent more cheese, and proceeded to devise and pay for a $12 million marketing campaign.

Consumers devoured the cheesier pizza, and sales soared by double digits. "This partnership is clearly working," Brandon Solano, the Domino's vice president for brand innovation, said in a statement to The New York Times.

But as healthy as this pizza has been for Domino's, one slice contains as much as two-thirds of a day's maximum recommended amount of saturated fat, which has been linked to heart disease and is high in calories.

And Dairy Management, which has made cheese its cause, is not a private business consultant. It is a marketing creation of the United States Department of Agriculture — the same agency at the center of a federal anti-obesity drive that discourages over-consumption of some of the very foods Dairy Management is vigorously promoting.

Urged on by government warnings about saturated fat, Americans have been moving toward low-fat milk for decades, leaving a surplus of whole milk and milk fat. Yet the government, through Dairy Management, is engaged in an effort to find ways to get dairy back into Americans' diets, primarily through cheese.

Americans now eat an average of 33 pounds of cheese a year, nearly triple the 1970 rate. Cheese has become the largest source of saturated fat; an ounce of many cheeses contains as much saturated fat as a glass of whole milk.
In addition to assisting Domino's in creating a "cheesier" pizza, Dairy Management also helped Taco Bell develop a cheese-laden steak quesadilla that contains more the 75% of the Recommended Daily Allowances of fat and sodium, but those are just two examples of Dairy Management's efforts to get American's to eat more cheese:
In one instance, Dairy Management spent millions of dollars on research to support a national advertising campaign promoting the notion that people could lose weight by consuming more dairy products, records and interviews show. The campaign went on for four years, ending in 2007, even though other researchers — one paid by Dairy Management itself — found no such weight-loss benefits.

When the campaign was challenged as false, government lawyers defended it, saying the Agriculture Department "reviewed, approved and continually oversaw" the effort.

(…)

In 2007, the department highlighted Pizza Hut's Cheesy Bites pizza, Wendy's "dual Double Melt sandwich concept," and Burger King's Cheesy Angus Bacon cheeseburger and TenderCrisp chicken sandwich. "Both featured two slices of American cheese, a slice of pepper jack and a cheesy sauce," the department said.

These efforts, the department reported, helped generate a "cheese sales growth of nearly 30 million pounds."
So thanks largely to decades of marketing and restaurant industry persuasion by an arm of the United States Government, Americans are consuming more saturated fat laden cheese products than they were before. This at the same time that other government officials, not to mention medical professionals across the board, are telling Americans that they need to reduce the amount of fat in their diet. If it sounds insane, that's because it is.
Leaving aside the wisdom of a policy that contributes to obesity, one honestly wonders why the Federal Government needs to be in the business of helping Domino's develop a "cheesier" pizza, or Taco Bell create a fat-laden quesadilla, or even encourage Americans to drink more milk (the "Got Milk?" campaign was a creation of Dairy Management it turns out). For one thing, it seems pretty clear that the restaurant industry does a fairly good job on it's own of promoting these products to the public, almost to the exclusion of healthier alternatives. There's no need for the USDA to use tax dollars to help them do that. For another, this simply doesn't strike me as a legitimate function of government.
I agree with Jonathan Adler that it would be good for Republicans to focus on programs like this as areas of spending that should be considered for elimination. In the end, however, the Dairy Management program is a small part of the entire farm subsidy program, which is something that should have been eliminated, or at least drastically changed long ago. As long as future Presidents have to start their campaign in Iowa, though, it's going to be very hard to convince Members of Congress to eliminate a program that outlived it's usefulness somewhere around the time Dwight Eisenhower was President.