The Great American Cheese Stockpile
The Federal Government is hoarding an awful lot of cheese.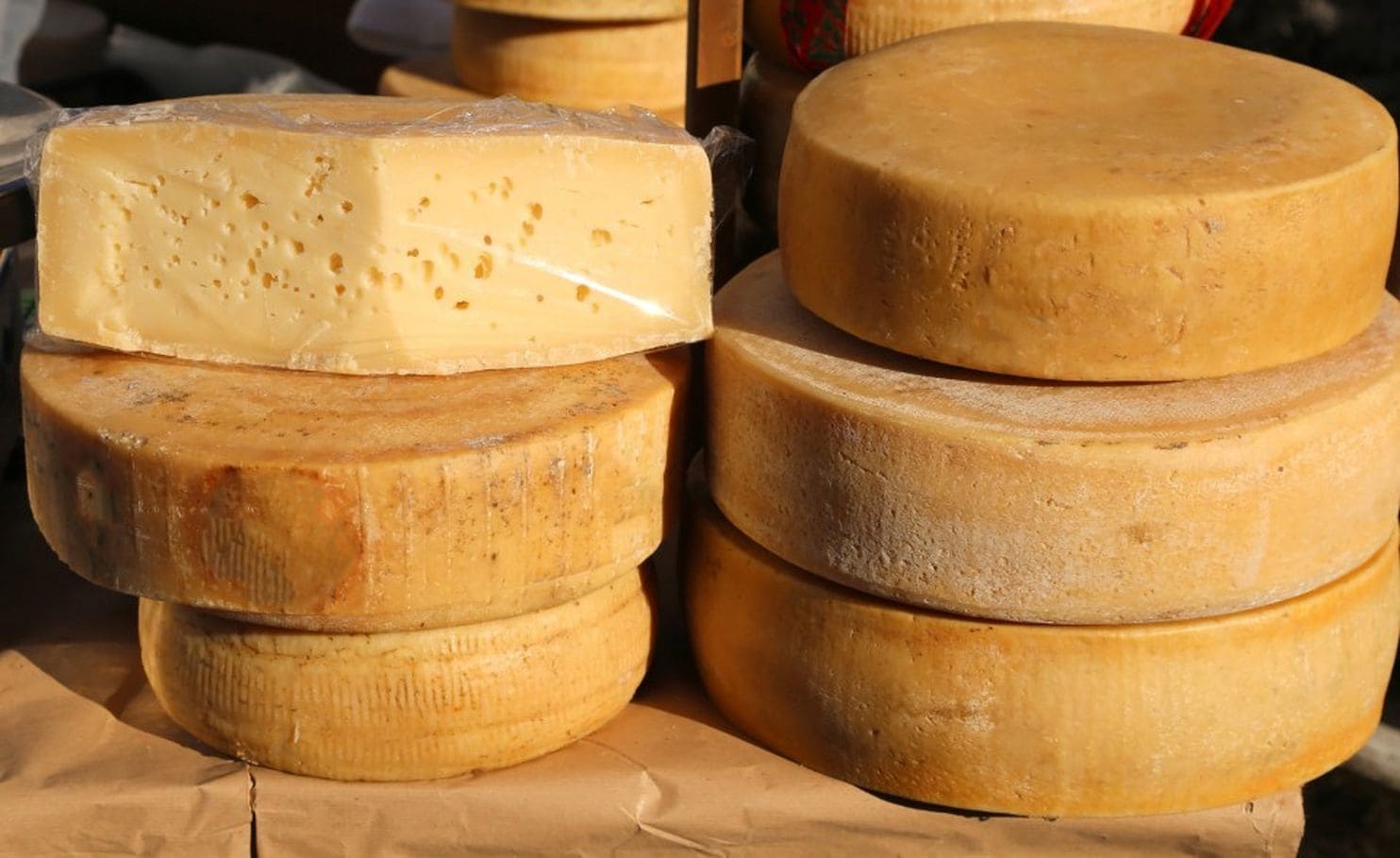 The Washington Post's Wonk Blog reports that the nation's cheese stockpile is at a record high:
The United States has amassed its largest stockpile of cheese in the 100 years since regulators began keeping tabs, the result of booming domestic production of milk and consumers' waning interest in the dairy beverage.

The 1.39 billion-pound stockpile, tallied by the Agriculture Department last week, represents a 6 percent increase over this time last year and a 16 percent increase since an earlier surplus prompted a federal cheese buy-up in 2016.

Analysts say commercial warehouse stocks have swelled because processors have too much milk on their hands, and milk is more easily stored as cheese. Demand has also fallen as school cafeterias close for the summer and restaurants wind down the cheesy specials they offer in the winter and early spring.

Some have grown concerned that stockpiles will build further yet if trade tensions with China and Mexico cut into cheese exports. Cheese prices have fallen sharply, they say, eroding dairy farmers' already thin margins.
This chart shows the extent to which the cheese stockpile has grown: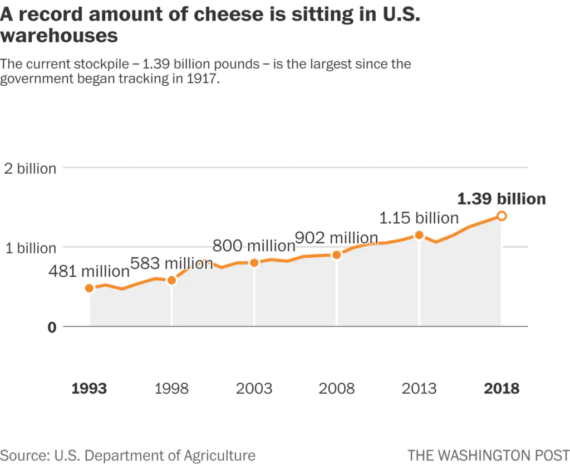 Now you may be asking yourself why the United States government is stockpiling more than a billion pounds of cheese? Is Donald Trump planning on having nachos with a really big bowl of queso? Are we going to have a really big pizza party as part of Donald Trump's military parade in November? Have the rats finally taken over the government? Does this mean we might get those taco trucks on every corner that we were promised if Hillary Clinton was elected? It turns out that answer is much more mundane than that.
Basically, the Federal Government buys up excess production from dairy farmers in order help maintain dairy price supports and has been doing so for decades now. With dairy products falling out of favor due to health concerns, the demand for dairy is lower than it was in the past even though the population has increased. In an ordinary world, of course, this reduction in demand would lead either to a decrease in supply as dairy farmers adjust to the new market, or a decrease in price in response to lower demand, or potentially both depending on market conditions. This is not an ordinary world, however, or at least not one that makes any logical sense. Thanks to dairy price supports that have been in place in one form or another for decades, the U.S. Department of Agriculture is obligated to help support the price of milk at certain levels to guarantee that dairy farmers don't lose money. Since you can't really store milk for long periods of time, much of that milk ends up being made into cheese, which can be stored for longer periods of time without spoiling as long as it is stored at a proper temperature.
The inevitable result of this is that dairy production continues to skyrocket, notwithstanding the fact that demand falls, as this chart demonstrates quite aptly: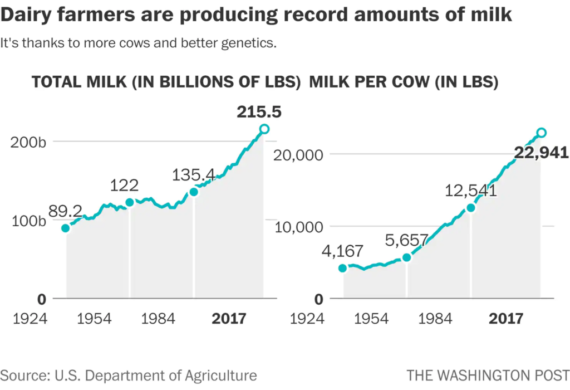 As I said, in a rational universe this wouldn't be happening. The dairy industry would be required to operate the same way any other business does, and if individual producers can't survive because of falling prices or reduced demand then they would go out of business. As harsh as that may sound, that's how economics is supposed to work. Using taxpayer dollars to prop up any industry is wrong, and it's even more wrong when all we get out of it is a whole lot of government cheese.