Impending Economic Catastrophe Watch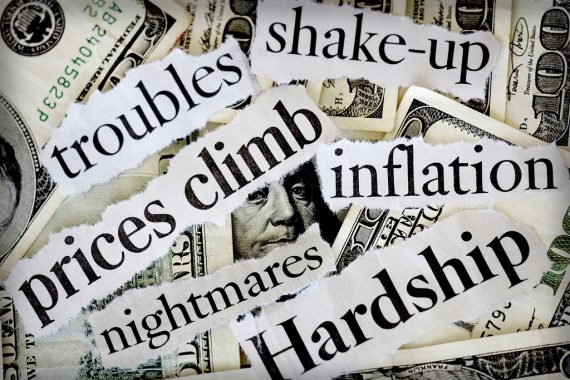 To brighten up your Tuesday morning, here's a trio of forecasts that may cause you to start stuffing cash in the mattress.
First, Arthur Laffer writes in The Wall Street Journal about the economic impact of the impending repeal of the Bush tax cuts:
On or about Jan. 1, 2011, federal, state and local tax rates are scheduled to rise quite sharply. President George W. Bush's tax cuts expire on that date, meaning that the highest federal personal income tax rate will go 39.6% from 35%, the highest federal dividend tax rate pops up to 39.6% from 15%, the capital gains tax rate to 20% from 15%, and the estate tax rate to 55% from zero. Lots and lots of other changes will also occur as a result of the sunset provision in the Bush tax cuts.

Tax rates have been and will be raised on income earned from off-shore investments. Payroll taxes are already scheduled to rise in 2013 and the Alternative Minimum Tax (AMT) will be digging deeper and deeper into middle-income taxpayers. And there's always the celebrated tax increase on Cadillac health care plans. State and local tax rates are also going up in 2011 as they did in 2010. Tax rate increases next year are everywhere.

Now, if people know tax rates will be higher next year than they are this year, what will those people do this year? They will shift production and income out of next year into this year to the extent possible. As a result, income this year has already been inflated above where it otherwise should be and next year, 2011, income will be lower than it otherwise should be.

Also, the prospect of rising prices, higher interest rates and more regulations next year will further entice demand and supply to be shifted from 2011 into 2010. In my view, this shift of income and demand is a major reason that the economy in 2010 has appeared as strong as it has. When we pass the tax boundary of Jan. 1, 2011, my best guess is that the train goes off the tracks and we get our worst nightmare of a severe "double dip" recession.
Laffer's analysis seems spot-on. At the very least, I think we're going to start seeing the stock market factoring in the impact of the tax hikes that will take effect in January, possibly resulting in sell-offs late in the year as investors decide to take profits now rather than when the higher tax rates go into effect. It's a perfectly rational response to the impending change in government policy. Whether the repeal will also result in a recession is a question that's above my pay-grade, but I wouldn't be surprised if it did.
Before we get to 2011, though, one analyst believes we have more immediate concerns coming from Europe:
Bond markets could get very nasty over the coming months, while stock investors could take a few months off and stop attempting to trade volatile swings in the markets, Anthony Fry, senior managing director at Evercore Partners, told CNBC Monday.

The current problems will be with us for 5 years or more and uncertainty is very high," Fry said.

"Sentiment is extremely volatile as shown by the collapse of the Prudential's attempt to buy AIA. When the deal was thought up just a few months ago it was a very different world," Fry told CNBC on Monday.

Fry says the best we can hope for in the current environment is a soft landing, but sees little chance of this happening.

(…)

"Governments need to cut spending and raise money and if they do not do so credibly will be killed by the bond market demanding higher rates," he said.
That's the Sovereign Debt Crisis, and it's poised to hit the United States before long:
President Barack Obama is poised to increase the U.S. debt to a level that exceeds the value of the nation's annual economic output, a step toward what Bill Gross called a "debt super cycle."

The CHART OF THE DAY tracks U.S. gross domestic product and the government's total debt, which rose past $13 trillion for the first time this month. The amount owed will surpass GDP in 2012, based on forecasts by the International Monetary Fund.

(…)

"Over the long term, interest rates on government debt will likely have to rise to attract investors," said Hiroki Shimazu, a market economist in Tokyo at Nikko Cordial Securities Inc., a unit of Japan's third-largest publicly traded bank. "That will be a big burden on the government and the people."

Gross, who runs the world's largest mutual fund at Pacific Investment Management Co. in Newport Beach, California, said in his June outlook report that "the debt super cycle trend" suggests U.S. economic growth won't be enough to support the borrowings "if real interest rates were ever to go up instead of down."
And higher interest rates, of course, will mean higher government spending, and higher budget deficits. Thus creating a self-sustaining process in which the debt keeps increasing, at ever higher rates, until it reaches a point where it's simply unsustainable.
I don't buy into the idea that the economic house of cards is about to collapse, although after the fall of 2008 I would think it would be foolish to say that it's totally impossible, but we're certainly headed into an era of sustained problems thanks to a debt crisis that we should have seen coming decades ago.