In Arizona, Kelli Ward Sticks Her Foot In Her Mouth On Eve Of Primary
Just hours before Senator McCain died, one of the candidates running for Jeff Flake's Senate seat claimed that the McCain family released a statement about the late Senator's health to hurt her campaign.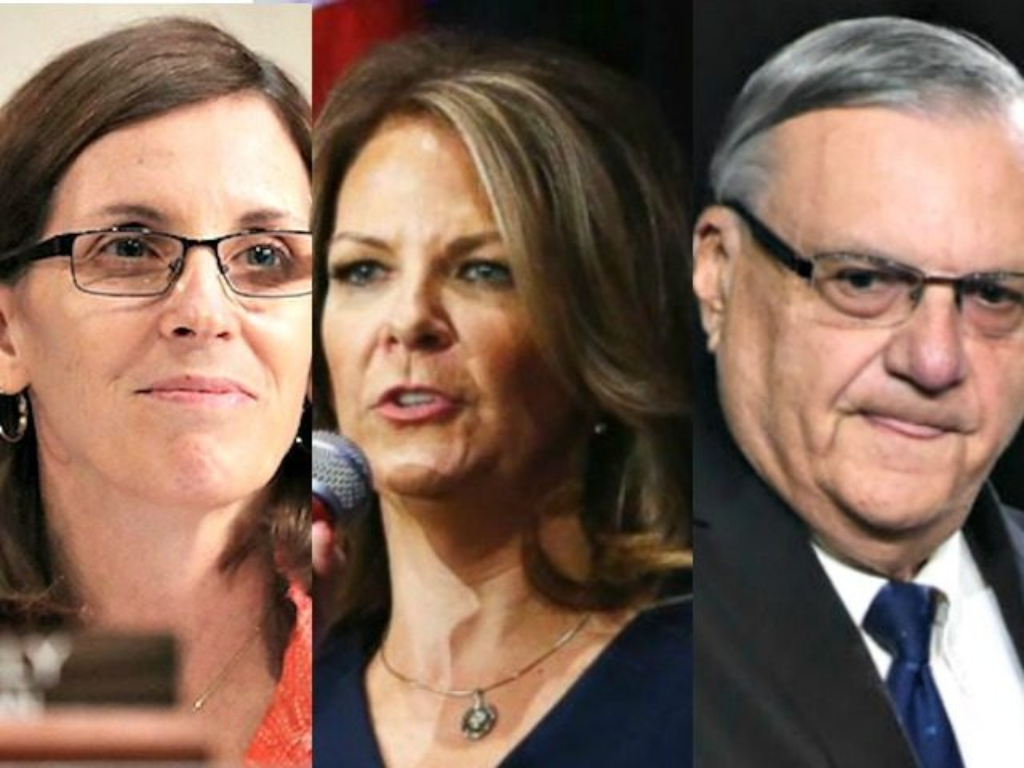 Tomorrow, Arizona voters head to the poll in what will essentially be the last set of primaries prior to the midterm elections in other than the mid-September contests that will take place in New York. Among the contests that will be on the ballot in the Grand Canyon State is the race for the nomination of the Republican Party for the nomination to fill the seat of Senator Jeff Flake, who is retiring at the end of his current term in December. The main candidates for that nomination are Congresswoman Martha McSally, former Maricopa County Sheriff Joe Arpaio, and State Senator Kelli Ward, who previously ran for the nomination against Senator McCain in 2016 in what was a particularly nasty campaign in which Ward and her supporters relentlessly attacked McCain as a "RINO" (Republican in Name Only) due largely to his position on issues like immigration reform.
Obviously, the death of Senator McCain will hang over the election, which is unfortunate for Ms. Ward given the fact that just hours before McCain's death she proceeded to stick her foot firmly in her mouth:
Kelli Ward, a U.S. Senate hopeful and onetime rival of Sen. John McCain, is facing a torrent of criticism after she appeared to suggest that his announcement Friday to halt medical treatment for his brain cancer was timed to hurt her campaign. McCain, 81, died a day after his announcement.

One of Ward's staffers on Saturday wrote a Facebook post wondering whether the timing of the statement from McCain's family, made on the same day that Ward's statewide bus tour kicked off, was simply a coincidence or a tactic "to take media attention off her campaign."

Ward did not dispute the notion and said in reply: "I think they wanted to have a particular narrative that they hope is negative to me."

McCain died just hours after Ward's Facebook comments.

Ward, who is seeking the GOP nomination to replace U.S. Sen. Jeff Flake (R-Ariz.), has made controversial comments about McCain in the past. A far-right candidate, she shares President Trump's hard-line policies on immigration and border security and has promised, as the president did, to "drain the swamp."

In a follow-up comment, Ward said it's the media that is creating a negative narrative about her, not the McCains.

"The media loves a narrative. I've said again and again to pray for Senator McCain & his family. These decisions are terribleMcC to have to make. I feel compassion for him and his family as they go through this. … The media, the left, and the Establishment have the agenda. They've been attacking me over fake stories for a year on this issue. I ran against McCain. I don't agree with his voting record and rhetoric. I pray for him as a man who is suffering," Ward wrote, according to the Arizona Republic.
The comment has been removed from Facebook, but you can still see it in this screenshot: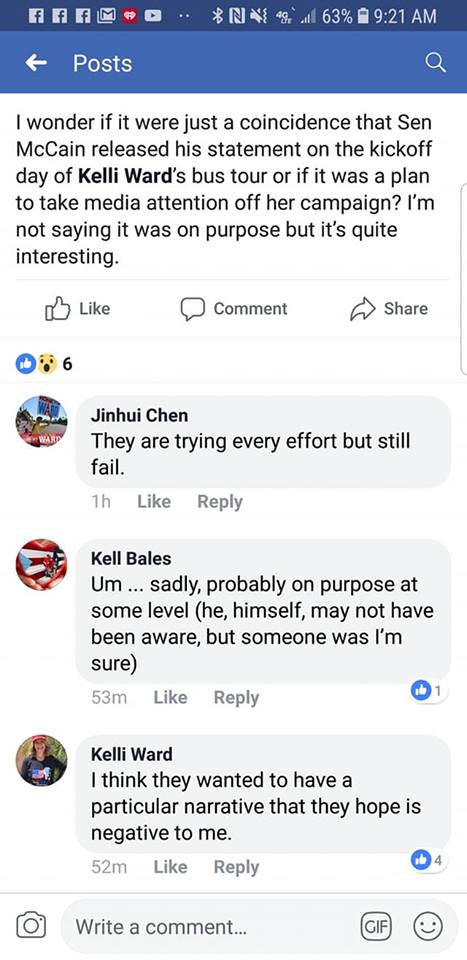 As things stood even before making this particularly stupid comment, Ward's chances of winning the nomination were slipping through her fingers, as were those of Joe Arpaio, as Arizona Republicans appear to be rallying behind the candidacy of Congresswoman Martha McSally, who represents the state's 2nd Congressional District. The two most recent polls in the state, both of which were taken well before Ward's remarks over the weekend, showed McSally with a massive lead over both Ward and Arpaio, both of whom appear to be splitting the pro-Trump/Tea Party vote between them. Indeed, according to both of those polls, McSally is within striking distance of breaking 50% of the vote in the three-way race, and Ward's latest comments could be just what's needed to push the Congresswoman over the top in that respect. Since Arizona does not have runoff elections, McSally isn't required to get above 50% to win the nomination, all that is required is that she gets the most votes of any of the candidates, which seems to be the most likely outcome. However, pulling off a decisive win rather than a narrow one would be advantageous for McSally ahead of a General Election fight that could prove to be decisive in deciding which party controls the Senate starting in January.
On the Democratic side, it is expected that Krysten Sinema, who represents the states 9th Congressional District, will win her party's nomination easily. Currently, all the major political analysts rate the race as a "Toss Up," and polling shows Sinema leading all three Republican contenders, although it is worth noting that the margins in the polls matching Sinema and McSally are far closer than those matching Sinema and either Ward or Arpaio. Since McSally will likely be the Republican nominee, this race will most assuredly receive a lot of national attention both because of its national implications and because of the fact that it will pit two strong female candidates against each other.
In any case, Ward's comments, which were both utterly disrespectful and ill-timed given tomorrow's election, are likely to further doom her campaign. She deserves it.