Infrastructure Funding Blues
The gas tax was last raised in 1993.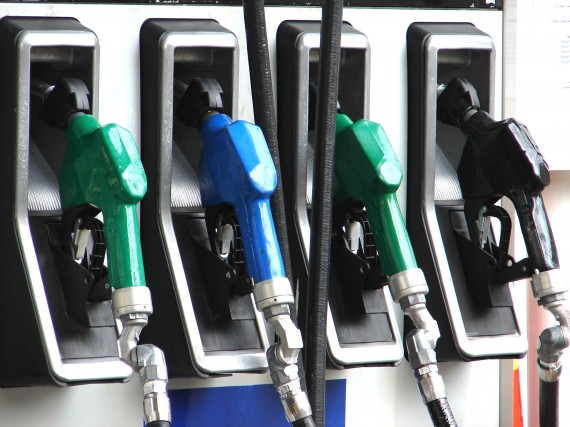 Via Politico:  Pumped dry
The gas tax pays most of the tab for America's federal highway program; it's what we rely on for new highways and for the bridge repairs that keep us safe. Those costs go up every year, but the tax remains stuck at 18.4 cents per gallon. In fact it's effectively going down: since it was last raised, those 18.4 cents have lost more than a third of their value to inflation, and at the same time drivers with fuel-efficient vehicles have been buying less gasoline, further reducing the federal take.

As a result, the main U.S. spending account for infrastructure has fallen deep in the red, and the gap gets worse every year. The government, through a series of funding tricks, keeps the Highway Trust Fund on life support with short-term emergency patches. The latest infusion expires at the end of the month, and the argument about how to fix it is coming to a head this week.
The last time the gas tax was raised was 1993.  I was a fairly recently married, childless, and grad student (not even yet ABD) in 1993.  These days I just recently celebrated my 25th anniversary, have three teenagers (one of whom starts college next month), and am a full professor and department chair.  1993 was a long time ago.
Not only was it a long time ago, gas at the time was somewhere in the range of just a $1.00/gallon, making 18.4 cents a significant percentage–and yet now with gas two and a half to three times (or more) as much means that the tax has effectively gone down (substantially) as a percentage, not to mention the loss of value via inflation as noted in the quote above.
The problem is pretty straight-forward:  Republicans don't want to raise taxes (and, in fairness, some Democrats would prefer a different method to fund roads as they see the gas tax as regressive).  Further, the situation is a quintessential example of irresponsible government insofar as roads and bridges are both essential and expensive and yet we refuse to adequately fund them all the while that we use them and demand more of them.
There is quite a bit about the history of the tax (both longer term and more recently) in the piece.
I am not saying, necessarily, that the gas tax has to be raised (as there are other ways to fund roads that could be used) as much as I am noting that this situation strikes me as an ongoing and endemic problem in US public policy:  the political pressure placed on Congress to both provide services and not find reasonable means to pay for them.  Even deeper, I find the notion (that is deeply embedded in the GOP) that taxes can never be raised no matter what.  This is just plain irresponsible and denies the basic facts of reality (especially when we are talking about a tax set at a specific number rather than a percentage).
Meanwhile, the process continues to be nothing more than duct tape and chewing gum:
THE LATEST SHORT-TERM extension for the Highway Trust Fund—the 33rdpassed by Congress—expires at the end of next week. House Ways and Means Chairman Paul Ryan and Transportation and Infrastructure Chairman Bill Shuster last week pushed through the House yet another short-term fix, with about $8 billion, enough to get the fund through mid-December. Senate Majority Leader Mitch McConnell has cobbled together a somewhat longer-term fix, enough to get the fund through the 2016 election, when many of his Republican colleagues are up for reelection. Among the revenue sources in the three-year proposal he presented yesterday, and which the Senate may vote on today, is selling off part of the nation's Strategic Petroleum Reserve for $9 billion–that is, instead of updating a tax on gasoline, Congress may end up selling off part of its emergency supply of it.
Surely we could figure out something better than this?