Iraq Is Backing Syria's Dictator. Why The Heck Did We Go To War Again?
Iraq has become so dependent on Iran for its survival that it is endorsing the brutal tactics of Bashar Assad.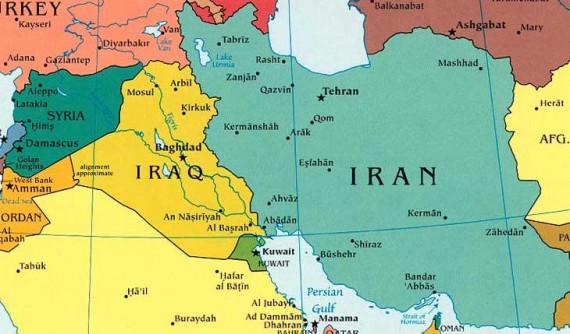 The Prime Minister of Iraq is backing Syrian leader Bashar Assad over the protesters against his regime, most of whom he has been violently and indiscriminately mowing down:
BAGHDAD — As leaders in the Arab world and other countries condemn President Bashar al-Assad's violent crackdown on demonstrators in Syria, Prime Minister Nuri Kamal al-Maliki of Iraq has struck a far friendlier tone, urging the protesters not to "sabotage" the state and hosting an official Syrian delegation.

Mr. Maliki's support for Mr. Assad has illustrated how much Iraq's position in the Middle East has shifted toward an axis led by Iran. And it has also aggravated the fault line between Iraq's Shiite majority, whose leaders have accepted Mr. Assad's account that Al Qaeda is behind the uprising, and the Sunni minority, whose leaders have condemned the Syrian crackdown.

"The unrest in Syria has exacerbated the old sectarian divides in Iraq because the Shiite leaders have grown close to Assad and the Sunnis identify with the people," said Joost Hiltermann, the International Crisis Group's deputy program director for the Middle East.

He added: "Maliki is very reliant on Iran for his power and Iran is backing Syria all the way. The Iranians and the Syrians were all critical to bringing him to power a year ago and keeping him in power so he finds himself in a difficult position."

Iraq and Syria have not had close relations for years, long before the American invasion. During the sectarian violence here that broke out after the invasion, Iraqi leaders blamed Syria for allowing suicide bombers and other militants to enter the country.

But Syria and Iran have had close ties, a factor in the recalibration of relations between Syria and Iraq. Last year, Iran pressured Mr. Assad into supporting Mr. Maliki for prime minister, which eventually helped him gain a second term. Since then, Mr. Maliki and Mr. Assad have strengthened relations, signing trade deals and increasing Syrian investment in Iraq.
This isn't entirely surprising. Much of Saddam Hussein's bluster during the years after the Iran-Iraq War and, especially after the Persian Gulf War, was aimed at projecting a strength that didn't actually exist in order fend off the Iranians. After his capture, Saddam Hussein told his FBI interrogators that all of his deception about a chemical weapons program after the Persian Guif War was intended to deceive the Iranians:
Saddam Hussein allowed the world to believe Iraq had weapons of mass destruction because he feared revealing his weakness to Iran, it has emerged.
The former dictator made the revelations in a series of interviews with the FBI during his incarceration before he was hanged in 2006.

The new details were among over 100 pages of notes written by special agent George Piro, who interviewed Hussein after he was found hiding underground on a farm 80 miles from Baghdad.

(….)

Iraq had fought a devastating eight-year war with Iran in the 80s that involved the use of chemical weapons and Hussein felt vulnerable to the threat from "fanatic" leaders in Tehran.

In fact, he would have been prepared to seek a "security agreement with the US to protect [Iraq] from threats in the region," according to the notes.

The United States was not Iraq's enemy, he simply opposed its policies, Hussein said, making it clear he considered Iran a greater threat.

(…)

"The threat from Iran was the major factor as to why he did not allow the return of UN inspectors," the FBI agent wrote.

"Hussein stated he was more concerned about Iran discovering Iraq's weaknesses and vulnerabilities than the repercussions of the United States for his refusal to allow UN inspectors back into Iraq."
Now, one would be wise to be wary of the word of a man like Saddam Hussein given his history. Nonetheless, his explanation for his actions in response to UN and US pressure regarding the chemical weapons issue does make a certain amount of sense. Had he agreed to the more rigorous inspections being demanded and confirmed to the world that he had no chemical weapons, Iraq's vulnerability would have been revealed not only to world, but also to an historic enemy he had just fought a brutal, decade-long war with. How Iran would have reacted to that news is unknown, but given the manner in which they've worked to gain influence inside Iraq since Saddam's downfall it's highly doubtful that they would've done nothing at all.
Maliki's response is understandable as well. Whatever the state of its democracy, Iraq is a far weaker country than it was ten years ago, and far more vulnerable to Iranian (and Syrian?) influence than it had been in the past. Moreover, Maliki is likely making the calculation that the United States will be otherwise engaged over the next decade and not entirely eager to commit to the defense of Iraq and risk yet another desert war. Additionally, given the political strength of the Shi'ite's in the south led by Moqtada al-Sadr, who has close ties to Iran, Malki obviously knows that he needs to cozy up to Iran to stay in power.
So, by removing Saddam Hussein from power, we've created a weak Iraq that is likely to become a client state of Iran. Tell me again why the Iraq War was a good idea?