Is Amazon a Monopoly?
Frank Foer proclaims, "Amazon Must Be Stopped. It's too big. It's cannibalizing the economy."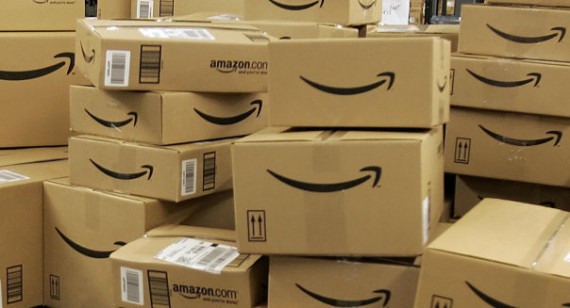 New Republic editor Frank Foer proclaims, "Amazon Must Be Stopped. It's too big. It's cannibalizing the economy. It's time for a radical plan." His argument is novel but not unpersuasive.  Aside from its initial core business of selling new books, it's difficult to argue that Amazon has anything like monopoly level of control on, well, anything. But Foer argues that the problem is precisely that it has its hands in everything.
Amazon is the shining representative of a new golden age of monopoly that also includes Google and Walmart. Unlike U.S. Steel, the new behemoths don't use their barely challenged power to hike up prices. They are, in fact, self-styled servants of the consumer and have ushered in an era of low prices for everything from flat-screen TVs to paper napkins to smart phones.
So, what's the problem?
In its pursuit of bigness, Amazon has left a trail of destruction—competitors undercut, suppliers squeezed—some of it necessary, and some of it highly worrisome. And in its confrontation with the publisher Hachette, it has entered a phase of heightened aggression unseen even when it tried to crush Zappos by offering a $5 rebate on all its shoes or when it gave employees phony business cards to avoid paying sales taxes in various states.

In effect, we've been thrust back 100 years to a time when the law was not up to the task of protecting the threats to democracy posed by monopoly; a time when the new nature of the corporation demanded a significant revision of government.
But, with the exception of a few years during and after the Progressive era, trustbusting has focused on consumers, not competitors. Why should we care about competitors and suppliers if we get our crap delivered to our doorsteps at a cut rate price in less than 48 hours?
As he built the company, Jeff Bezos carefully studied the example of Walmart, America's largest retailer. He borrowed his personal style from the parsimonious Sam Walton and also poached from his C-suite. Walmart's executives aren't extravagantly compensated; neither are Amazon's. For a time, they didn't even receive reimbursements for office parking. Meanwhile, both companies have studiously avoided unionization and treat their workers miserably. In one famous incident, Amazon hired paramedicsto revive heat-sick employees at a Pennsylvania warehouse rather than buy an air-conditioning unit.

Still, the biggest lesson that Bezos drew from the Waltons was in how to handle suppliers. Both Amazon and Walmart promise its customers the same feat—undercutting their competition on price. But frugality and innovation can only go so far in keeping prices headed southward, especially in the face of the stock market's impatience. Growing profit margins depend, therefore, on continually getting a better deal from suppliers. At Walmart, this tactic is enshrined in policy. The company has insisted that suppliers of basic consumer goods annually reduce their prices by about 5 percent, according to Charles Fishman's book, The Walmart Effect.

It's hard to overstate how badly these price demands injure the possibility for robust competition. But when Amazon engages in the same behavior, it acquires a darker tint. Where Walmart is essentially a large-scale, cut-rate version of the old department store and grocer, Amazon doesn't confine its ambitions to any existing template. Without the constraints of brick and mortar, it considers nothing too remote from its core business, so it has grown to sell server space to the CIA, produce original televisions shows about bumbling congressmen, and engineer its own line of mobile phones.
So, essentially, Amazon is gaining efficiency—and dutifully passing it on to its customers—at the cost of ratcheting down profits and work conditions across the economy. That actually is a real reason to worry. And, as Foer details in several paragraphs about Amazon's ruthless treatment of book publishers, the price for getting into the one essential distribution system is steep and its consequences for consumers is unknowable.
So, no matter how large they grow, publishers will continue to strip away costs to satisfy Amazon. And more attention will fall on a strange inefficiency at the heart of the business: the advances that publishing houses pay their writers. This upfront money is the economic pillar on which quality books rest, the great bulwark against dilettantism. Advances make it financially viable for a writer to commit years of work to a project.

But no bank or investor in its right mind would extend that kind of credit to an author, save perhaps Stephen King. Which means that it won't take much for this anomalous ecosystem to collapse. Amazon might decide that it can only generate enough revenue by further transforming the e-book market—and it might try to drive sales by deflating Salman Rushdie and Jennifer Egan novels to the price of a Diet Coke. Or it can continue to prod the publishing houses to change their models, until they submit. Either way, the culture will suffer the inevitable consequences of monopoly—less variety of products and lower quality of the remaining ones. This is depressing enough to ponder when it comes to the fate of lawn mower blades.
Yet, of course, while these costs are largely hidden, the benefits are obvious.
We've all been seduced by the deep discounts, the monthly automatic diaper delivery, the free Prime movies, the gift wrapping, the free two-day shipping, the ability to buy shoes or books or pinto beans or a toilet all from the same place. But it has gone beyond seduction, really. We expect these kinds of conveniences now, as if they were birthrights. They've become baked into our ideas about how consumers should be treated.
My household does an inordinate amount of shopping at Amazon. Indeed, my first instinct for non-perishables is usually to check their website. While it's not always the cheapest alternative, it's reliably competitive in its pricing and the convenience of simply ordering it from my couch and forgetting about it—vice having to drive somewhere and fight the crowds—is immense. Additionally, the ability to comparison shop among numerous brands, check customer ratings, and easily return things I don't like is a joy.
Interestingly, Foer doesn't actually offer a plan, radical or otherwise. He notes that FDR "waged all-out war on monopoly. In 1940 alone, his Justice Department brought 92 new cases and filed 3,412 complaints; it went after big-time players like Alcoa, General Motors, and the American Medical Association" and argues that this "implanted antitrust more securely in government, a technocratic tool for managing the health of the economy." But Amazon isn't running afoul of the law.
CEPR's Dean Baker adds a codicil: Amazon has generally not been profitable and, to the extent that it has, it's been due to the "government subsidy" of not being required to collect state sales taxes.
Amazon has enjoyed an enormous subsidy from taxpayers in most states in most of its existence since it has not been required to collect the same sales tax as its brick and mortar competitors. This is a loophole of enormous value with zero economic or moral rationale. It means that a multibillion dollar business doesn't have to collect the same tax as a family operated book store. That's good policy, right?

The justifications put forward by Amazon's flacks run from absurd to laughable. One popular one is that as a mail order outfit they don't use local services. That one doesn't cut it, the tax is on consumers, the retailer is collecting it. Who gives a damn if the store itself uses city services?

If you can't understand this as a huge subsidy for Amazon, think harder. Suppose we randomly exempted a store from the obligation to pay rent for its building (gift from taxpayers), would that help it compete with other stores? The basic story is that Amazon gets to split the sales tax savings with customers, getting more business that way and more than accounting for the modest profits it has actually booked since it came into existence.
This is actually an outdated critique; Amazon in particular now collects sales taxes on most purchases, including mine, as it has had to build distribution centers in them to satisfy the demand for speedier delivery. It'll build more as it goes to a same-day delivery model.
Regardless, this isn't a subsidy so much as a loophole. Catalog vendors have, for more than a century, escaped collecting sales taxes on out-of-state customers because the law only required collection for transactions which physically took place in a state. If I'm on vacation in Nevada and buy something, I pay sales taxes in Nevada rather than my home state of Virginia. Since states and localities have differing tax rates, consumers often shop in nearby states to save money, especially on big ticket items.
Mail order businesses have always had the advantage of most of its customers not physically being in the state, thus making the delta 100%. While I can see the argument that it's unfair for local vendors who pay a tax to have to compete with others who don't (that's the argument against food trucks or the new "sharing" economy) I've never understood why it is that, say, Virginia ought to collect sales taxes on a company whose operation is in, say, New Mexico. If anything, removing the Internet sales exemption should simply mean that New Mexico would get to collect and keep that money.