Is America Too Genteel?
David Brooks blames our economic woes on a change from a culture that valued productive work to one of gentility. And Bill Cosby.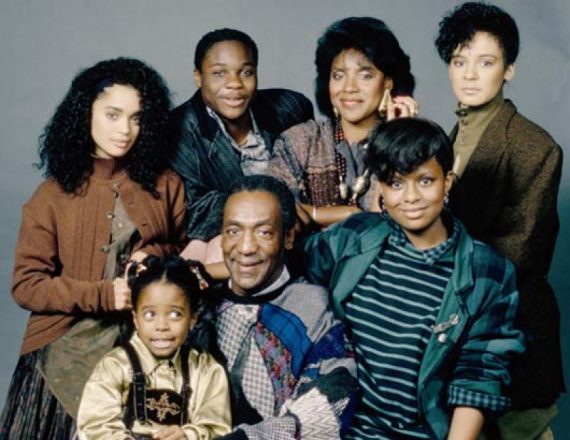 I don't know that David Brooks has succeeded in crafting the dumbest column ever published in the NYT, but he has a contender in "The Genteel Nation."  Some snippets will suffice to illustrate.
Most people who lived in the year 1800 were scarcely richer than people who lived in the year 100,000 B.C. Their diets were no better. They were no taller, and they did not live longer.
If by "most people," he means "most people on planet earth," he's right.   If he means "most people in Northern Europe," it's an absurdity.  His larger point, that the Industrial Revolution radically transformed our economic lives as compared to our Stone Age ancestors, is of course right.   But there was significant progress in the intervening 101,800 years.
Britain soon dominated the world. But then it declined. Again, the crucial change was in people's minds. As the historian Correlli Barnett chronicled, the great-great-grandchildren of the empire builders withdrew from commerce, tried to rise above practical knowledge and had more genteel attitudes about how to live.
They also exhausted themselves in a series of world wars, lost their colonial empire, and were surpassed by the continental power that had emerged across the Pond in America.   But, oddly, I believe their height and diet continued to be quite good.
If you look at America from this perspective, you do see something akin to the "British disease." After decades of affluence, the U.S. has drifted away from the hardheaded practical mentality that built the nation's wealth in the first place.

The shift is evident at all levels of society. First, the elites. America's brightest minds have been abandoning industry and technical enterprise in favor of more prestigious but less productive fields like law, finance, consulting and nonprofit activism.

It would be embarrassing or at least countercultural for an Ivy League grad to go to Akron and work for a small manufacturing company. By contrast, in 2007, 58 percent of male Harvard graduates and 43 percent of female graduates went into finance and consulting.
Were a lot of Harvard grads working for Akron manufacturies half a century ago?  In any case, it would be foolish for them to go there now, what with all the manufacturing being in China, Bangladesh, and other places with drastically more profitable labor conditions.   Thankfully, our brightest minds instead built a whole new — and radically more productive — set of industries in high tech, biomedical, and, yes, finance.    The last of these, alas, is having some difficulty at the moment.
The shift away from commercial values has been expressed well by Michelle Obama in a series of speeches. "Don't go into corporate America," she told a group of women in Ohio. "You know, become teachers. Work for the community. Be social workers. Be a nurse. … Make that choice, as we did, to move out of the money-making industry into the helping industry." As talented people adopt those priorities, America may become more humane, but it will be less prosperous.
I'm guessing that very few of our geniuses will go into nursing, social work, or elementary education.   Some will go into higher education, as they always have, and some will go into think tanks, lobbying, and other "prestigious but less productive" fields.  Hell, some will go on to be newspaper columnists, quite possibly the least productive field of them all.  People drawn to these endeavors likely weren't going to go out and invent the Next Great Thing, anyway.   But I'm not seeing any indication that we're not continuing to draw large numbers of talented people to the high tech sector.
Then there's the middle class. The emergence of a service economy created a large population of junior and midlevel office workers. These white-collar workers absorbed their lifestyle standards from the Huxtable family of "The Cosby Show," not the Kramden family of "The Honeymooners." As these information workers tried to build lifestyles that fit their station, consumption and debt levels soared. The trade deficit exploded. The economy adjusted to meet their demand — underinvesting in manufacturing and tradable goods and overinvesting in retail and housing.
Ralph Kramden was a morbidly obese transit driver two steps above poverty; he never represented the middle class ideal nor, certainly, would we want him as its exemplar.   The Huxtables were a pediatrician and an attorney, at least second generation college, lovingly raising their five children; they're actually much better role models albeit for an upper middle class or upper class lifestyle.
Brooks is right that household debt has soared, and I agree that part of it is that too many Americans are living beyond their means, thinking themselves entitled to a lifestyle they haven't earned.    Here's a chart showing the Household Debt to GDP ratio over the past several decades: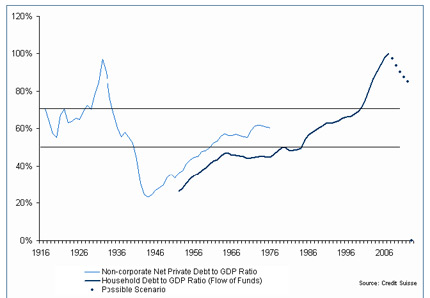 Is it Bill Cosby's fault?  Well, the upward trend did start around the time his show debuted in 1984.  But I'd guess that larger economic trends had something to do with it as well.
These office workers did not want their children regressing back to the working class, so you saw an explosion of communications majors and a shortage of high-skill technical workers. One of the perversities of this recession is that as the unemployment rate has risen, the job vacancy rate has risen, too. Manufacturing firms can't find skilled machinists. Narayana Kocherlakota of the Minneapolis Federal Reserve Bank calculates that if we had a normal match between the skills workers possess and the skills employers require, then the unemployment rate would be 6.5 percent, not 9.6 percent.

There are several factors contributing to this mismatch (people are finding it hard to sell their homes and move to new opportunities), but one problem is that we have too many mortgage brokers and not enough mechanics.
This is lamentable only in hindsight.   It's perfectly natural that mechanics and machinists wanted a better life for their children, so they worked hard to be able to send them off to college.   The perverse consequence of this is that we had a glut of people with college degrees and drove up the salaries of mechanics and machinists.    But the answer here is to change our "every child must go to college or he's a failure" mentality, not an aspiration to keep children of the laboring classes in their place.
Finally, there's the lower class. The problem here is social breakdown. Something like a quarter to a third of American children are living with one or no parents, in chaotic neighborhoods with failing schools. A gigantic slice of America's human capital is vastly underused, and it has been that way for a generation.
Didn't these people watch "The Cosby Show"?   Snark aside, this is obviously a huge problem.  But what to do about it?
We can get distracted by short-term stimulus debates, but those are irrelevant by now. The real issues are whether the United States is content with gentility shift and whether there is anything that can be done about it in any case.
But, somehow, I don't think "gentility" is what's created the underclass.   Nor are we going to revert to the robust manufacturing economy with little external competition that prevailed for the fifteen or so years after World War II.    It's gone forever.
UPDATE:   In a posting at his own digs titled "You Take the Jobs That Are on Offer," Dave Schuler observes:
We didn't lose a half million engineering jobs in the United States over the last ten years because of a mental shift. The loss of jobs caused the mental shift. High-paying jobs in science or engineering just weren't on offer but jobs in finance and law were.
He has some related thoughts on what happened to those engineering jobs.