Is Email Dead?
Is social media killing electronic mail?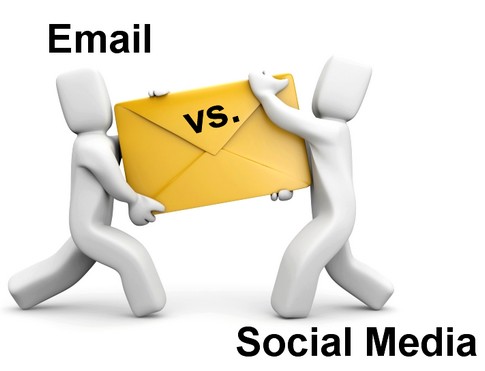 "Email is Over," proclaims The Awl's Choire Sicha.
Here is what is happening now: people have become unwilling to send emails. They're too cumbersome, they're too long and there's actually not an app for that. And no one wants to type that long on their devices, plus they're already logged in to their social medias and whatnots.

Here are some things that I have seen this week:

• People replying to my emails… by randomly putting their response on Twitter.

• People replying to emails… by way of AIM.

• People following up on emails that haven't been answered yet… by Gchat.

• People sending messages on Twitter to ask what my email address is. Because of course you'd know the Twitter handle but not the email address, which used to be the most important thing in the world.

• Someone picking a fight on Twitter, and someone else was like, "Hey, let's take it to email, here's mine!"… but then they never emailed. They can't! They're too busy Tumblring and Twittering to send an email.
The Atlantic's Garance Franka-Ruta, who tweeted the link, agrees, adding, "It's like the new voicemail."
Now, I get that voicemail is dead. But email?
Indeed, the explanations given here dumbfound me.
An email can be as short or long as you want it to be. I frequently send emails that are shorter than a tweet. Some are subject lines with no body.
For most purposes, I've always found instant messaging annoying. Email's asynchronous nature allows me to respond at my own leisure rather than being rudely interrupted.
I actually find emailing on my smartphone (currently an iPhone but even more true on my old BlackBerry) easier than tweeting. Twitter is great on my desktop, where I can have a client open in one of my monitors and glance at it occasionally. But TweetDeck is annoyingly small on my iPhone, requiring all manner of hoops to scroll and resize. By contrast, it's super easy to read and reply to my Gmail account. And, yeah, there actually is an app for that.
Now, I'm still more desktop driven than the average 20-something. I don't own an iPad and still use my smartphone primarily as an email device and, well, a phone. But email offers innumerable advantages to its more modern social media cousins. In addition to the aforementioned asynchronousity, it's radically more flexible. And it's more permanent, too, allowing me to find things from days, sometimes years, earlier with relative ease.
Social media is great and I use it much more than most of my generational cohorts. But Twitter, Facebook, and whatnot are social media, useful for communicating with a network of people at one time. And I'll occasionally direct message someone that I know frequents Twitter, using it as something of a poor man's IM. But email, which remains a comparatively private means of communication, is much more useful overall.