Is Federalism the Real Problem?
A fundamental building block of our system makes it nearly impossible to fix.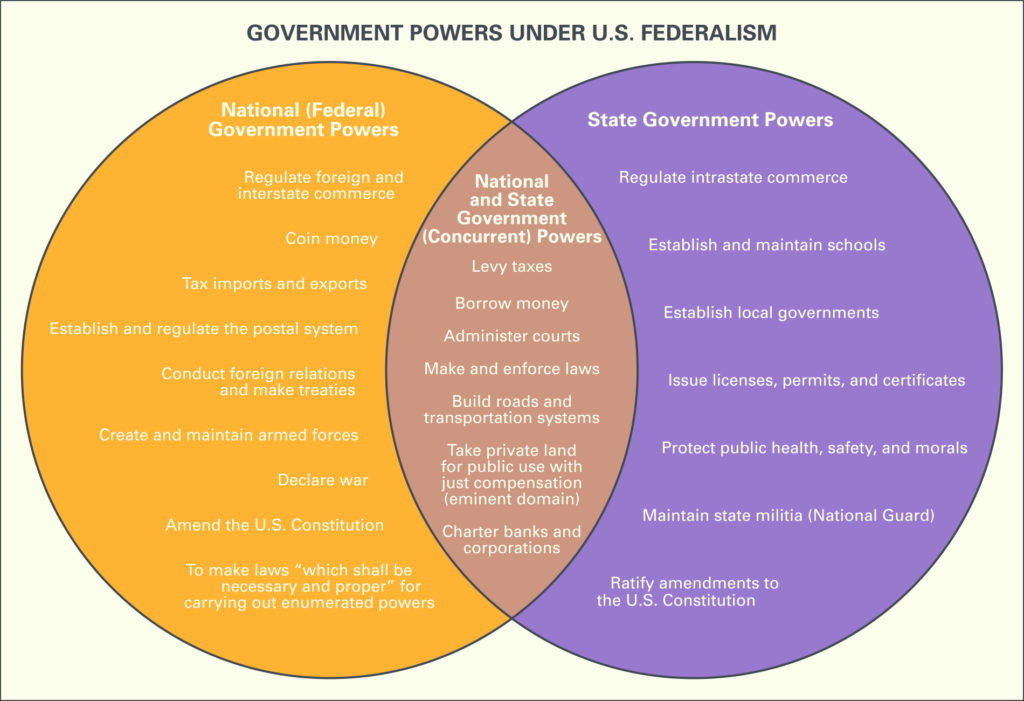 The weekend's back-and-forth between Steven Taylor, myself, and the commentariat over court packing spurred by the death of Justice Ruth Bader Ginsburg has been illuminating. I don't think many minds have been changed but it seems clear to me that there's basic agreement that America's system of government is highly unrepresentative and that our institutions, compounded by naked partisanship, are failing us. The disagreement is comparatively small: how big is the emergency and what remedies are justified in dealing with it?
But there was also an unspoken issue looming in the background until Michael Reynolds called it out: the very existence of states themselves and the related division of power that our system was built around.
He begins with a more colorful version of an observation I've made many times:
This is a 233 year-old document. It's not the fault of the Framers – you try and design a durable system of government for the year 2253. You know, 233 years from now, roughly the time of Kirk, Spock, Bones, Klingons and Romulans.

It is absurd on its face that a set of rules designed for slave-owning tobacco farmers and tea importers in an era when people regularly died of disturbances of the bodily humours would work for a 330 million person, 50 state, coast-to-coast economic, military and cultural superpower.
While I very much admire the genius of the Framers, they were at their core politicians dealing the issues of the day. They were sent to Philadelphia to address the crises surrounding the arrangments under the Articles of Confederation, made a series of compromises to get sufficient buy-in to among the delegates present, and then ret-conned philosophical justifications for said compromises in the Federalist Papers to secure ratification.
At the core of the agreement was that it was among 13 sovereign states—literally, individual countries—who came together under a confederation to secure independence from the British Empire and then cobbled together a federal union that delegated just a handful of powers to a weak central state.
The illustration atop the document represents the schoolboy version of the arrangement. The graphic below represents a Political Science 101 view: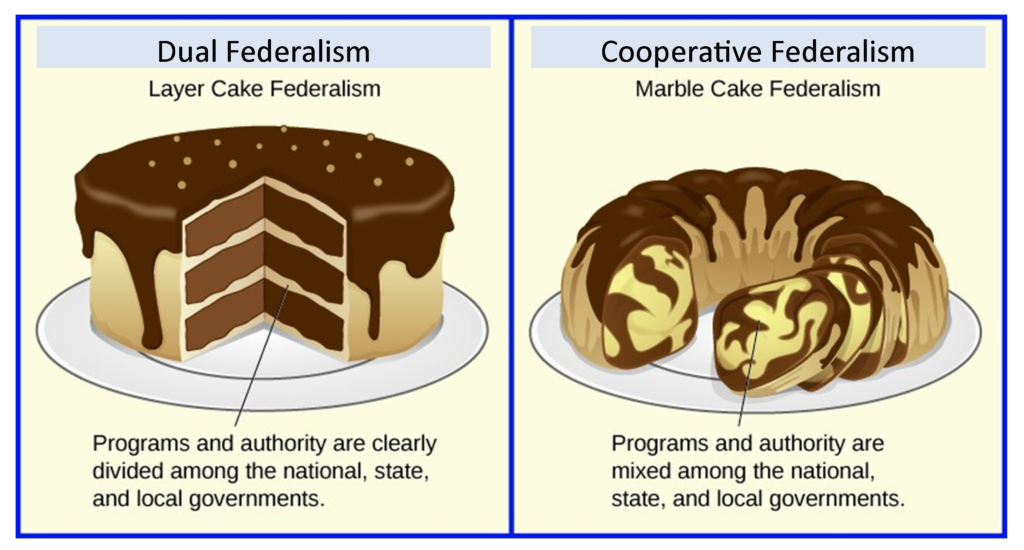 Alas, westward expansion quickly shifted this reality. The nation quickly grew in size and scope. We went, in relatively short order, from 13 states with four million total population living across the Eastern Seaboard to a continental power of 330 million spread from sea to shining sea and beyond. And only a handful of the later-admitted states had any pre-existing rationale for existence, much less any sense of sovereignty.
Additionally, as Steven has noted many times, while the Framers may have been geniuses, they were rather dumb about one rather obvious issue: political parties. The electoral system they designed for choosing the President failed the minute George Washington refused to be anointed unanimously to another term. And, rather quickly, partisanship changed the nature of checks and balances among the elected branches of government but also between states and the central government.
Within living memory of the Constitution, then, we were admitting states to the union not based on the preferences and interests of the people living there—in most cases, there weren't that many of them—but on what political party they were likely to align with. By the 1830s, it became customary to add states two-by-two, such that the partisan balance in Congress was maintained. We did this right through the last two, in 1959, when we added Republican Alaska and Democratic Hawaii.*
Which brings us back to Reynolds:
The essential intractable problem is states. They make no goddamn sense, they mean nothing, they are random lines drawn on a map a century or two centuries ago. Because of states we have a non-representative national government, a government that can be hamstrung by the least successful states and the most backward populations. And we can't do anything to fix the situation because: states. Just beautiful.
Now, I tend to agree with my co-blogger, Steven, that the problem isn't states per se but rather the weird way in which they're represented. Most notably, in the increasing disparity caused by each state getting two Senators and the related inequity in the Electoral College.
So, for example, Steven has proposed adding DC and Puerto Rico as states and KingDaddy and many commenters want to admit Guam, American Samoa, the U.S. Virgin Islands, and Northern Mariana Island as states either to balance out the Republican-leaning inequities caused by the system, basic democratic values, or both. And I oppose it because adding more tiny states (only PR is anything close to a median state population-wise) further distorts the system.
But while the representation issue compounds the problem, it's not the whole of it. While I'm sympathetic to the view of R. Dave and others that the states serve as something of a proxy for regional interests, Steven is right that it's actually more complicated than that:
The real divide is rural-urban. Atlanta residents, on balance, have more in common with Philadelphia ones in terms of governance needs and likewise rural Pennsylvanians and rural Georgians.

We allow ourselves to get lulled into simplistic thinking with Red states and Blue states or even simplistic regionalism.
We're in agreement on that. "States" are rather weird entities. Unlike the nation, they have no control over their borders. Any citizen or Green Card holder can settle in any state they choose and the character of them can therefore change rather significantly over time.
I moved nearly two decades ago to the DC exurbs of Northern Virginia. We've become the center of gravity of the state, both in terms of population and economics. But most of us don't think of ourselves as "Virginians" and, more importantly, most Virginians see us as carpetbaggers and resent our presence. We've turned a solid Red State into a fuzzy Blue one, even though the overwhelming preference of the state on a geographic, county-by-county basis is still rock-solid Republican. The same thing is happening in North Carolina and, to a lesser extent, Florida.
Still, I wonder how much of the commentariat agrees with the next bit of Steven's comment:
The bottom line is that government should represent people, not real estate. Local governance issues and variations should be handled by local government.
I think most of the commentariat here—and, indeed, probably most of the country—don't really support federalism at all. While conservatives tend to pay more lip service to the idea of local rule and "states' rights," it's mostly because they realize they're outnumbered.
But, for example, so much of the bitterness and norm-breaking that has surrounded the Supreme Court battles over the last half-century or more is precisely a function of public policy being nationalized. Democrats live in fear that another conservative Justice means Roe vs Wade would be overturned and the right to abortion would go away. In reality, little would change—most states would allow abortions and a handful of states would continue to make it practically impossible to get one. Conservatives, rightly, feared that a liberal court would impose gay marriage, transgender rights, and the like. Conversely, they would prefer to impose their preferences on these issues on the nation as a whole if they could.
While all of that was traditionally the province of the states, we no longer seem content to allow each to go their own way on matters not addressed in the Constitution. Indeed, of the "State Government Powers" depicted in blue on the Venn diagram atop the post, only Ratify Amendments to the US Constitution remains wholly under their purview; the "marble cake" has touched all the rest.
Given the modern economy, that's understandable. True separation of powers would be unworkable. A gay businessman legally married in Maryland shouldn't have to fear that his husband won't be able to come to the hospital and make medical decisions if he has an accident in Virginia.
We still allocate power at the national level as if the 50 states were little countries with sovereign interests. But, in reality, that's not the case anymore and is becoming less so with each passing decade.
_______________________________
*The notable exception was the handful of states added during the Civil War and Reconstruction by the Republican-dominated northern states. Ironically, they have mostly remained in the Republican column even though it long since flipped from being the liberal party to the conservative one.