Minority Rule in a Winner-Take-All System
How long can the unsustainable be sustained?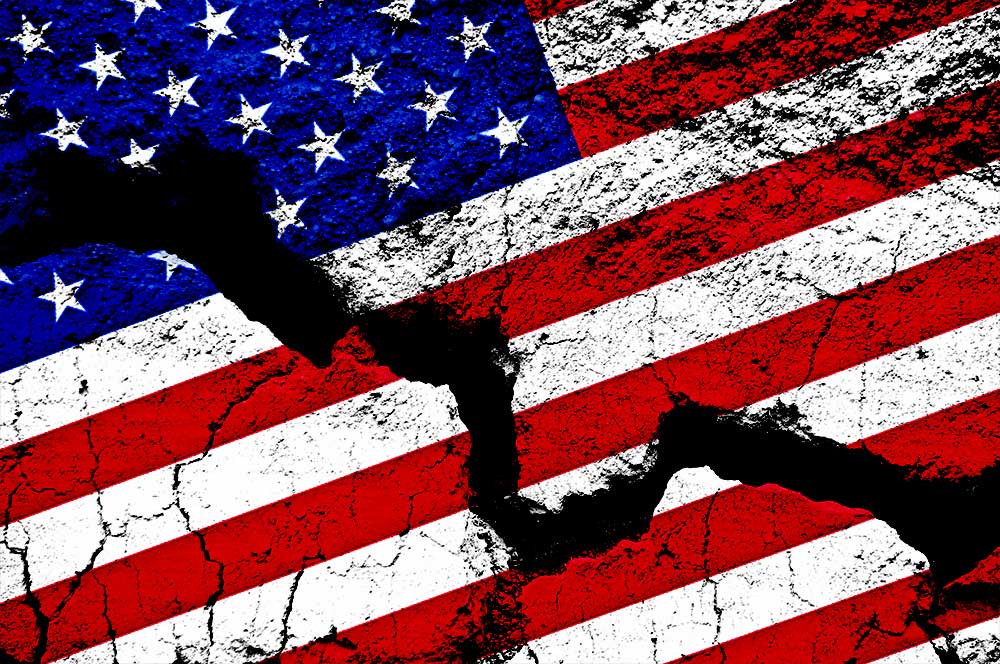 Writing for The Atlantic, Ronald Brownstein asserts "America Is Growing Apart, Possibly for Good."
It may be time to stop talking about "red" and "blue" America. That's the provocative conclusion of Michael Podhorzer, a longtime political strategist for labor unions and the chair of the Analyst Institute, a collaborative of progressive groups that studies elections. In a private newsletter that he writes for a small group of activists, Podhorzer recently laid out a detailed case for thinking of the two blocs as fundamentally different nations uneasily sharing the same geographic space.

"When we think about the United States, we make the essential error of imagining it as a single nation, a marbled mix of Red and Blue people," Podhorzer writes. "But in truth, we have never been one nation. We are more like a federated republic of two nations: Blue Nation and Red Nation. This is not a metaphor; it is a geographic and historical reality."

To Podhorzer, the growing divisions between red and blue states represent a reversion to the lines of separation through much of the nation's history. The differences among states in the Donald Trump era, he writes, are "very similar, both geographically and culturally, to the divides between the Union and the Confederacy. And those dividing lines were largely set at the nation's founding, when slave states and free states forged an uneasy alliance to become 'one nation.'"
I find this assertion odd. First and foremost, none of this is new. Second, the states aren't monoliths. Here's the county-by-county breakdown of the 2020 presidential vote: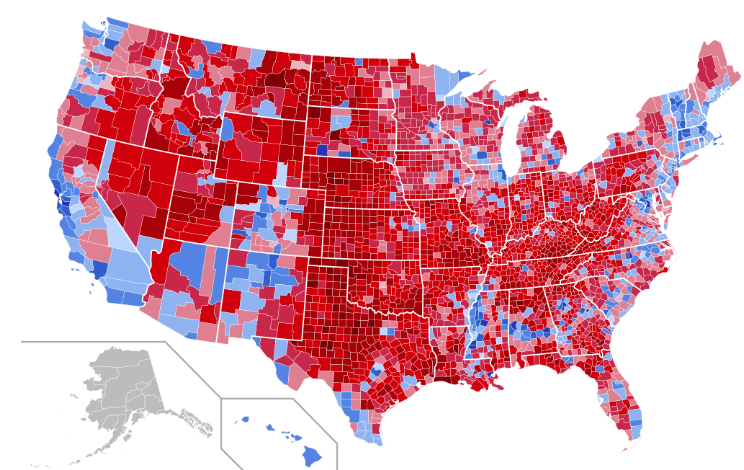 And 2016: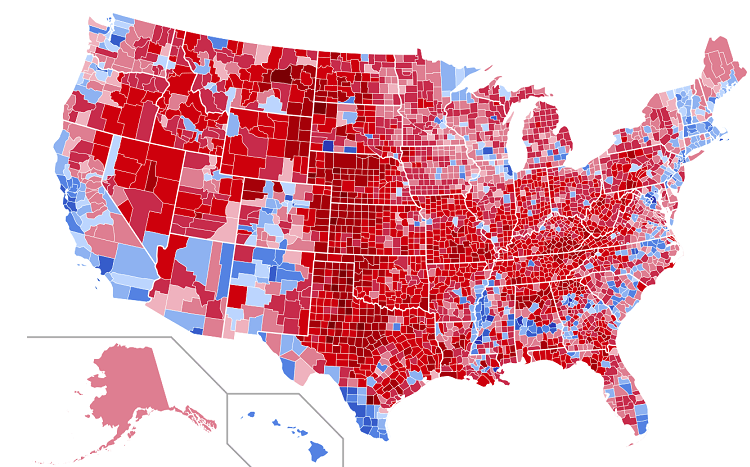 Very few states, indeed, are solidly "red" or "blue." We tend to think of the Pacific Coast as deep blue but there are huge Republican enclaves in all three states. And there are plenty of Democrats even in Alabama and Mississippi.
Further, we need to constantly remind ourselves that the map actually distorts reality because it depicts the geographic distribution of votes without factoring in population density. So, for instance, Georgia went ever so slightly for Biden in 2020 (49.5 to 49.3) but the map gives the impression that it's a solidly red state with just a few blue outposts. Indeed, a Martian anthropologist would assume the red candidate won overwhelmingly in both elections, even though blue got 3 million more votes in 2016 and 8 million more in 2020.
Regardless, this part seems even more true in light of back-to-back days when a New York's gun laws and overturned a right to abortion that had existed for half a century.
Podhorzer isn't predicting another civil war, exactly. But he's warning that the pressure on the country's fundamental cohesion is likely to continue ratcheting up in the 2020s. Like other analysts who study democracy, he views the Trump faction that now dominates the Republican Party—what he terms the "MAGA movement"—as the U.S. equivalent to the authoritarian parties in places such as Hungary and Venezuela. It is a multipronged, fundamentally antidemocratic movement that has built a solidifying base of institutional support through conservative media networks, evangelical churches, wealthy Republican donors, GOP elected officials, paramilitary white-nationalist groups, and a mass public following. And it is determined to impose its policy and social vision on the entire country—with or without majority support. "The structural attacks on our institutions that paved the way for Trump's candidacy will continue to progress," Podhorzer argues, "with or without him at the helm."
One can agree or disagree with the outcomes or the reasoning behind those decisions. What's indisputable is that they were not in accord with the views of the majority of citizens or the majority of voters. More importantly, as the Supreme Court is an inherently undemocratic institution, is the increasing willingness of the minority faction to break every norm—and even resort to violence—to get its way.
All of this is fueling what I've called "the great divergence" now under way between red and blue states. This divergence itself creates enormous strain on the country's cohesion, but more and more even that looks like only a way station. What's becoming clearer over time is that the Trump-era GOP is hoping to use its electoral dominance of the red states, the small-state bias in the Electoral College and the Senate, and the GOP-appointed majority on the Supreme Court to impose its economic and social model on the entire nation—with or without majority public support. As measured on fronts including the January 6 insurrection, the procession of Republican 2020 election deniers running for offices that would provide them with control over the 2024 electoral machinery, and the systematic advance of a Republican agenda by the Supreme Court, the underlying political question of the 2020s remains whether majority rule—and democracy as we've known it—can survive this offensive.
The small-state bias of the Senate and Electoral College, both stemming from the Great Compromise necessary to move us from a confederation to a federal republic, has been baked in since our second founding in 1789. The disparities in state populations, though, are significantly larger in a continental nation of 330 million than it was when there were just 4 million Americans living in 13 states concentrated on the Eastern Seaboard.
Moreover, though, our politics are nationalized in a way they weren't even a century ago. For most of our history, Georgia could be Georgia and New York could be New York with little friction. That's simply no longer the case. The Supreme Court has effectively imposed Georgia's gun laws on New York. And, while yesterday's decision ostensibly simply returned abortion policy back over to the states, the next battleground will surely be over a federal policy further restricting abortion rights across the land.
Podhorzer defines modern red and blue America as the states in which each party has usually held unified control of the governorship and state legislature in recent years. By that yardstick, there are 25 red states, 17 blue states, and eight purple states, where state-government control has typically been divided.
This is a reasonable measure if one is looking at state-level policy. But it's incomplete.
As mentioned earlier, Georgia went narrowly for Joe Biden in 2020 and then elected two Democratic Senators in early 2021. While they're likely to revert to form in 2024 if someone other than Donald Trump is the Republican nominee, it's hardly solid red.
An even better example is my home state of Virginia. It was solid Republican when I moved here in 2002. It voted Republican in every presidential election from 1948 and 2004 except 1964. It's voted Democratic in the four elections since. It has two Democratic US Senators. Yet our governor and one house of the state legislature went Republican in 2013, for a whole variety of reasons, and is being governed as though it were still a red state. Indeed, the governor has now pledged to push through a fairly restrictive abortion law in light of yesterday's ruling.
This argument, however, I don't care for:
Measured that way, the red nation houses slightly more of the country's eligible voting population (45 percent versus 39 percent), but the blue nation contributes more of the total U.S. gross national product: 46 percent versus 40 percent. On its own, the blue nation would be the world's second-largest economy, trailing only China. The red nation would rank third. (Podhorzer also offers a slightly different grouping of the states that reflects the more recent trend in which Virginia has voted like a blue state at the presidential level, and Arizona and Georgia have moved from red to purple. With these three states shifted into those categories, the two "nations" are almost equal in eligible voting-age population, and the blue advantage in GDP roughly doubles, with the blue section contributing 48 percent and the red just 35 percent.)
The DC exurbs of Northern Virginia, which are increasingly blue, is far and away the richest part of the Commonwealth. Mostly, that's a function of our proximity to the nation's capital. I'm not sure that should entitle us to more say over how the state is governed. The economic distribution argument not only distracts from the key point—people, not geography, should decide how policy is made—but reinforces Red America's sense of being looked down upon and therefore entitled to use every tactic possible to preserve its power.
The hardening difference between red and blue, Podhorzer maintains, "empowers" the 10 purple states (if you include Arizona and Georgia) to "decide which of the two superpower nations' values, Blue or Red, will prevail" in presidential and congressional elections. And that leaves the country perpetually teetering on a knife's edge: The combined vote margin for either party across those purple states has been no greater than two percentage points in any of the past three presidential elections, he calculates.

The increasing divergence—and antagonism—between the red nation and the blue nation is a defining characteristic of 21st-century America. That's a reversal from the middle decades of the 20th century, when the basic trend was toward greater convergence.
Mostly, though, that's just a function of the parties having sorted over time. Within my memory, California was reliably Republican and most of the Deep South was solidly Democratic. While there have been shifts in the electorate, the main difference is how nationalized and distinct the two parties are.
Nor do I find this particularly persuasive:
One element of that convergence came through what legal scholars call the "rights revolution." That was the succession of actions from Congress and the Supreme Court, mostly beginning in the 1960s, that strengthened the floor of nationwide rights and reduced the ability of states to curtail those rights. (Key moments in that revolution included the passage of the Civil Rights and Voting Rights Acts and the Supreme Court decisions striking down state bans on contraception, interracial marriage, abortion, and, much later, prohibitions against same-sex intimate relations and marriage.)

Simultaneously, the regional differences were moderated by waves of national investment, including the New Deal spending on rural electrification, the Tennessee Valley Authority, agricultural price supports, and Social Security during the 1930s, and the Great Society programs that provided federal aid for K-12 schools and higher education, as well as Medicare and Medicaid.

The impact of these investments (as well as massive defense spending across both periods) on states that had historically spent little on public services and economic development helped steadily narrow the gap in per capita income between the states of the old Confederacy and the rest of the country from the 1930s until about 1980. That progress, though, stopped after 1980, and the gap remained roughly unchanged for the next three decades. Since about 2008, Podhorzer calculates, the southern states at the heart of the red nation have again fallen further behind the blue nation in per capita income.
Again, though, I don't think Alabama has changed all that much politically or culturally since 1980. Or, hell, 1880.
It was a reliably Democratic state going back to the 1828 election through the 1960 election, deviating only in the two elections following the Civil War, when whites were effectively disenfranchised, and 1948, when it voted for former Democrat Strom Thurmond. It then voted for Republican Barry Goldwater in 1964, native son Democrat/American Independent George Wallace in 1968, Republican Richard Nixon in 1972, Georgia Democrat Jimmy Carter in 1976, and Republican every election since.
In hindsight, it's rather remarkable that the state voted for FDR four times, especially during a period when its sizable Black population was effectively disenfranchised. But I suspect that was more out of habit than policy preference.
It's almost certainly true that the New Deal (and later the Great Society) poured a lot of money into the state, improving the economic well-being of the citizenry. If anything, though, they resented it.
Jake Grumbach, a University of Washington political scientist who studies the differences among states, told me that red states, as a group, are falling behind blue states on a broad range of economic and social outcomes—including economic productivity, family income, life expectancy, and "deaths of despair" from the opioid crisis and alcoholism.

Defenders of the red-state model can point to other measures that show those places in a more favorable light. Housing is often more affordable in red states; partly for that reason, homelessness has become endemic in many big blue cities. Red-state taxes are generally lower than their blue counterparts. Many red states have experienced robust job growth (though that's been heavily concentrated in their blue-leaning metro areas). And red states across the Sun Belt rank among the nation's fastest growing in population.

But the big story remains that blue states are benefiting more as the nation transitions into a high-productivity, 21st-century information economy, and red states (apart from their major metropolitan centers participating in that economy) are suffering as the powerhouse industries of the 20th century—agriculture, manufacturing, and fossil-fuel extraction—decline.
Again, I think this analysis is backward. The economic divide is driven by the same forces that drive the political divide. Culture, not economics, is the key variable.
Not long after I moved to the DC suburbs of Virginia, a group of fellow graduates of Jacksonville State University in the area formed an alumni chapter. Many were also fellow alumni of the ROTC program, who had been assigned here while in the Army and stayed when they retired because of the opportunities to leverage their skills and experience. Others were in the burgeoning tech sector or either in government service or in jobs made possible by the presence of the federal government. Regardless, the sort of people who leave Alabama for jobs in DC or other major metropolitan areas are just different than those who stay.
A couple of years before moving up here, when I was teaching at what was then Troy State, I was sitting in the waiting room of a doctor's office. A woman was telling another about how her son had been offered a significant pay raise to take a job about 40 minutes away but he had turned it down because he didn't want to be that far away from his momma. She was proud of this. I, on the other hand, found it unfathomable.
But Troy, Alabama, even though the university is the largest employer, is incredibly provincial. It's the kind of place that, if your grandparents weren't born there, you ain't from. Contrast that with the DC area, in which natives are the minority and assimilation and acceptance are easy, at least for educated professionals.
Provincialism naturally stunts economic development. But, again, the voting patterns haven't changed. They were voting for George Wallace when times were comparatively good economically.
Per capita spending on elementary and secondary education is almost 50 percent higher in the blue states compared with red. All of the blue states have expanded access to Medicaid under the Affordable Care Act, while about 60 percent of the total red-nation population lives in states that have refused to do so. All of the blue states have set a minimum wage higher than the federal level of $7.25, while only about one-third of the red-state residents live in places that have done so. Right-to-work laws are common in the red states and nonexistent in the blue, with the result that the latter have a much higher share of unionized workers than the former. No state in the blue section has a law on the books banning abortion before fetal viability, while almost all of the red states are poised to restrict abortion rights if the Republican-appointed Supreme Court majority, as expected, overturns Roe v. Wade. Almost all of the red states have also passed "stand your ground" laws backed by the National Rifle Association, which provide a legal defense for those who use weapons against a perceived threat, while none of the blue states have done so.

The flurry of socially conservative laws that red states have passed since 2021, on issues such as abortion; classroom discussions of race, gender, and sexual orientation; and LGBTQ rights, is widening this split. No Democratic-controlled state has passed any of those measures.
So . . . yeah. We're incredibly sorted. The agenda, particularly in Republican states, has nationalized over the last four decades. And, even in states that are blue or purple in terms of presidential voting, Republicans can often set the agenda in state and local politics if the elections are held (as they are here in Virginia) at different times.
Lilliana Mason, a Johns Hopkins University political scientist, told me that the experience of Jim Crow segregation offers an important reference point for understanding how far red states might take this movement to roll back civil rights and liberties—not that they literally would seek to restore segregation, but that they are comfortable with "a time when states" had laws so "entirely different" that they created a form of domestic apartheid. As the distance widens between the two sections, she said, "there are all kinds of potential for really deep disruptions, social disruptions, that aren't just about our feelings and our opinions."
Which takes me back to an earlier point: while we naturally fall into "red state" and "blue state" language—I myself do it routinely and, indeed, have fallen into it even in this post—few states are truly that. Most have blue urban centers, purple suburbs, and red rural areas.
Still, the red state/blue state language is apt in one key sense: regardless of the margin, the outcome is often winner-take-all. Small majorities—or even minorities that are more motivated to vote—can set the agenda for the whole state.
Alabama is a deeply red state, having voted Republican in 11 straight presidential elections. Trump got 62% in both 2016 and 2020. Still, that leaves more than a third of Alabamians who voted Democratic. They're all about to have essentially no local access to abortion. Ditto Texas, which has also voted Republican in 11 straight presidential elections but by considerably smaller margins. The 46.5% who voted for Biden are just out of luck.
To Podhorzer, the growing separation means that after the period of fading distinctions, bedrock differences dating back to the country's founding are resurfacing. And one crucial element of that, he argues, is the return of what he calls "one-party rule in the red nation."

With some complex but telling statistical calculations, he documents a return to historical patterns from the Jim Crow era in which the dominant party (segregationist Democrats then, conservative Republicans now) has skewed the playing field to achieve a level of political dominance in the red nation far beyond its level of popular support. Undergirding that advantage, he argues, are laws that make registering or voting in many of the red states more difficult, and severe gerrymanders that have allowed Republicans to virtually lock in indefinite control of many state legislatures. Grumbach reached a similar conclusion in a recent paper analyzing trends in small-d democracy across the states. "It's a really stacked deck in these states because of this democratic backsliding," Grumbach said.
As noted in previous discussions of this topic, Democrats are just as apt to gerrymander as Republicans when given the opportunity. But the party is also more dominated by policy wonks and so blue states are more apt to remove that option by establishing redistricting commissions or similar mechanisms. More importantly, though, there are simply far more red states.
The democratic backsliding issue, however, is more telling. There's no bothsidesing that one. Republican-controlled states have a long history of making it hard for poor and minority citizens to vote and have upped the ante in recent years.
All of the above is a very long setup for Brownstein's own analysis:
The core question that Podhorzer's analysis raises is how the United States will function with two sections that are moving so far apart. History, in my view, offers two models.

During the seven decades of legal Jim Crow segregation from the 1890s through the 1960s, the principal goal of the southern states at the core of red America was defensive: They worked tirelessly to prevent federal interference with state-sponsored segregation but did not seek to impose it on states outside the region.

By contrast, in the last years before the Civil War, the South's political orientation was offensive: Through the courts (the 1857 Dred Scott decision) and in Congress (the Kansas-Nebraska Act in 1854), its principal aim was to authorize the expansion of slavery into more territories and states. Rather than just protecting slavery within their borders, the Southern states sought to control federal policy to impose their vision across more of the nation, including, potentially, to the point of overriding the prohibitions against slavery in the free states.
I actually see this differently, in that the contrast is a false one. In both cases, the South was acting defensively. It wasn't trying to impose slavery on the rest of the country. It just understood that, if free states outnumbered slave states, the former would band together to end slavery everywhere.
It seems unlikely that the Trump-era Republicans installing the policy priorities of their preponderantly white and Christian coalition across the red states will be satisfied just setting the rules in the places now under their control. Podhorzer, like Mason and Grumbach, believes that the MAGA movement's long-term goal is to tilt the electoral rules in enough states to make winning Congress or the White House almost impossible for Democrats.
This assertion requires more explanation. While I'm sure Republicans would like this outcome, I don't know how they'd achieve it. Gerrymandering, voter disenfranchisement, and the like are only possible in states controlled by the party. That's very helpful at the margins, potentially keeping a state like Georgia from flipping to the Democrats again. I haven't the foggiest on how MAGA would get California back into the Republican column. (Again, I'm old enough to remember when it was reliably red, voting GOP in every election between 1952 and 1988 save, again, for 1964, contributing to what was dubbed a "Republican lock" on the Electoral College.)
Then, with support from the GOP-appointed majority on the Supreme Court, Republicans could impose red-state values and programs nationwide, even if most Americans oppose them. The "MAGA movement is not stopping at the borders of the states it already controls," Podhorzer writes. "It seeks to conquer as much territory as possible by any means possible."
I mean, sure. If Republicans win the White House, both Houses of Congress, and have a majority on the Supreme Court, they'll be able to govern and impose their values. The same was true when Democrats controlled those levers. The difference, again, is that the deck is stacked in favor of Republicans.
The Trump model, in other words, is more the South in 1850 than the South in 1950, more John Calhoun than Richard Russell. (Some red-state Republicans are even distantly echoing Calhoun in promising to nullify—that is, defy—federal laws with which they disagree.) That doesn't mean that Americans are condemned to fight one another again as they did after the 1850s. But it does mean that the 2020s may bring the greatest threats to the country's basic stability since those dark and tumultuous years.
Most of the nullification talk is bluster. But, here, bothsidesing is possible. States defy the federal government when they disagree with policies—particularly those imposed by executive order or regulatory action rather than legislation—all the time. The difference is that Republicans have had the judiciary on their side for several years now and that looks to continue for many years to come.