SCOTUS Strikes Down NY Gun Law
The 6-3 ruling broke down on predictable lines.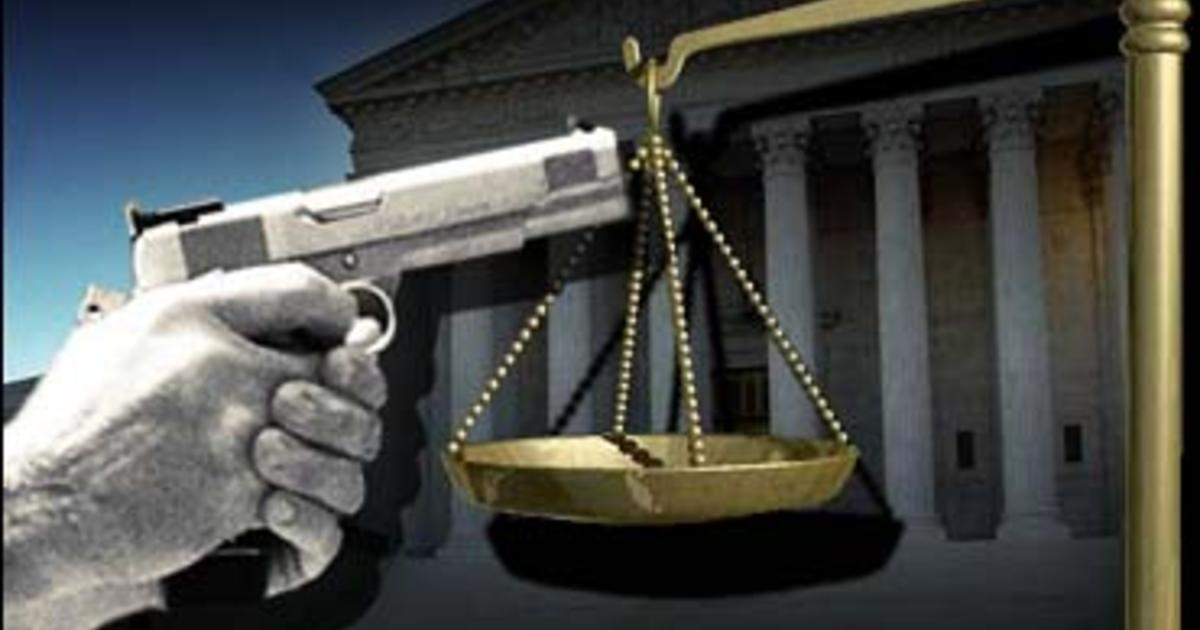 Robert Barnes and Ann E. Marimow, WaPo ("Supreme Court finds N.Y. law violates right to carry guns outside home"):
The Supreme Court said Thursday that law-abiding Americans generally have a right to carry a handgun outside the home for self-defense, striking down a New York law requiring a special need for such a permit and putting at risk similar laws in five other states.

The court's decision clears the way for legal challenges to similar restrictions in Maryland, California, New Jersey, Hawaii and Massachusetts. It follows recent mass killings in Buffalo and Uvalde, Tex., horrifying acts of violence that spurred Congress to advance bipartisan legislation strengthening federal gun laws.

Thursday's vote was 6 to 3, with Justice Clarence Thomas writing for the majority and the court's three liberals in dissent.

"The constitutional right to bear arms in public for self-defense is not 'a second-class right, subject to an entirely different body of rules than the other Bill of Rights guarantees,' " Thomas wrote, referring to a previous Supreme Court ruling. "We know of no other constitutional right that an individual may exercise only after demonstrating to government officers some special need."

He was joined by the court's conservatives: Chief Justice John G. Roberts Jr. and Justices Samuel A. Alito Jr., Neil M. Gorsuch, Brett M. Kavanaugh and Amy Coney Barrett.

In dissent, Justice Stephen G. Breyer pointed to the nearly 300 mass shootings since January and to data showing that gun violence has surpassed car crashes as the leading cause of death among children and teens. The majority's decision, he said, will make it more difficult for state lawmakers to take steps to limit the dangers of gun violence.

The Second Amendment allows states to "take account of the serious problems posed by gun violence," wrote Breyer, who was joined by Justices Sonia Sotomayor and Elena Kagan. He added: "Many States have tried to address some of the dangers of gun violence … by passing laws that limit, in various ways, who may purchase, carry, or use firearms of different kinds. The Court today severely burdens States' efforts to do so."
Adam Liptak, NYT* ("Supreme Court strikes down New York law limiting guns in public."):
The Supreme Court on Thursday struck down a New York law that placed strict limits on carrying guns outside the home, saying it was at odds with the Second Amendment.

The ruling was only the court's second major statement on the scope of the individual constitutional right to keep and bear arms and its first on how the right applies to firearms in public places. The Second Amendment, Justice Clarence Thomas wrote for the majority, protects "an individual's right to carry a handgun for self-defense outside the home."
Jess Bravin, WSJ ("Supreme Court Strikes Down New York Concealed-Gun Law in Sweeping Decision"):
The Supreme Court struck down New York state's system for issuing concealed-weapons permits, ruling that the century-old law requiring that applicants demonstrate "proper cause" and "good moral character" violates the Second Amendment.

The 6-3 decision in the case, New York State Rifle & Pistol Association Inc. v. Bruen, marks the widest expansion of gun rights since 2010, when the court applied nationwide a 2008 ruling establishing an individual right of armed self-defense within the home. It puts in question similar laws in at least eight other states and the District of Columbia, where authorities hold substantial discretion over issuing concealed-weapons permits.
SCOTUSBlog's Amy Howe ("In 6-3 ruling, court strikes down New York's concealed-carry law") provides additional context:
Going forward, Thomas explained, courts should uphold gun restrictions only if there is a tradition of such regulation in U.S. history

The state law at the heart of New York State Rifle & Pistol Association v. Bruen required anyone who wants to carry a concealed handgun outside the home to show "proper cause" for the license. New York courts interpreted that phrase to require applicants to show more than a general desire to protect themselves or their property. Instead, applicants must demonstrate a special need for self-defense – for example, a pattern of physical threats. Several other states, including California, Hawaii, Maryland, Massachusetts, and New Jersey, impose similar restrictions, as do many cities.

The lower courts upheld the New York law against a challenge from two men whose applications for concealed-carry licenses were denied. But on Thursday, the Supreme Court tossed out the law in an ideologically divided 63-page opinion.

Although U.S. history has at times placed some "well-defined restrictions" on the right to carry firearms in public, Thomas explained, there was no tradition of a broad prohibition on carrying commonly used guns in public for self-defense. And with rare exceptions, Thomas added, there was no historical requirement that law-abiding citizens show the kind of special need for self-defense required by the New York law to carry a gun in public. Indeed, Thomas concluded, there is "no other constitutional right that an individual may exercise only after demonstrating to government officers some special need."
This outcome was obviously predictable in light of Heller. Once we accept the premise that the 2nd Amendment guarantees a personal right to possess firearms, then it simply stands to reason that said right would be as sacrosanct as other Constitutional protections. (Then again, the 4th Amendment's protections against unreasonable search and seizure and the 5th Amendment's protection against self-incrimination have been interpreted less enthusiastically.)
Still, even if we accept that the right to bear arms is a "fundamental right," that doesn't mean it's unregulable. There is no more fundamental right than the 1st Amendment's guarantee of freedom of speech and yet the courts have long allowed various "time, place, and manner" restrictions to serve various countervailing public interests. Even if we apply a "strict scrutiny" standard to gun laws, there's surely a "compelling governmental interest" in ensuring the safety of the public. For example, at least since the 1994 bombing of the Federal Center in Oklahoma City, we've screened people for guns going into courthouses and other public buildings. And, as for historical precedents, even in the Wild West, there were broad prohibitions on people carrying around firearms in town.
That said, I would prefer laws that aimed at keeping firearms out of the hands of people likely to be dangerous—including those untrained in their use—rather than requiring people to demonstrate a particular need to be armed. That would seem to more easily meet the strict scrutiny threshold, as it would be more narrowly tailored to the public interest.
_______________
*In a move this subscriber finds both baffling and distressing, the NYT has increasingly turned to a live blogging format for major stories on its website. It's not the least bit useful.