Is Michigan In Play?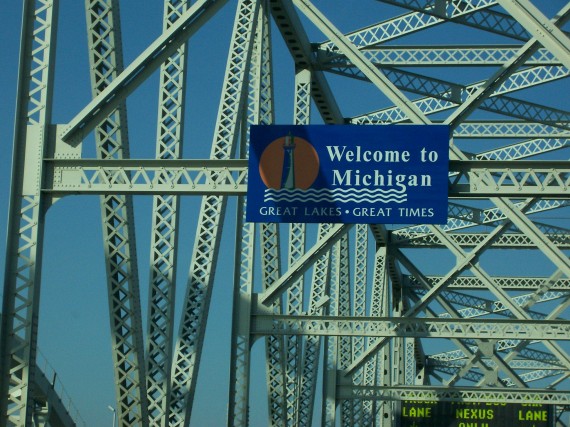 I've been somewhat skeptical of the idea that Michigan might be a winnable state for Mitt Romney this year. For one thing, the state has not gone for a Republican in a Presidential election since George H.W. Bush beat Michael Dukakis in 1988 and Democrats have won the state by at least 5 percentage points in every election since then. For another, the President's role in the auto bailout has struck me as the kind of thing that would make it hard to challenge him in the state that is the home to the auto industry. Nonetheless, the Romney campaign has long thought that their candidate's long ties to the state gave them a chance at picking up a state that would otherwise be out of reach. If two new polls are correct, they may be making he right bet:
Two polls released Tuesday give different views of how Michigan may vote in the presidential election.

A survey by Mitchell Research & Communications showed the race is a statistical dead heat between President Barack Obama and presumptive Republican challenger Mitt Romney, with Romney leading, 45 percent to Obama's 44 percent.

But a poll by Rasmussen gave the edge to Obama, 48 percent to 42 percent.

Both surveys show that Romney, who was born in Michigan, is closing the gap with the president. Last month, Obama had a larger lead in a Rasmussen poll, 50 percent to 42 percent.

Also last month, the Mitchell survey showed Obama in front, 47 percent to 46 percent.

"Mitt Romney's home state continues to look as though it is going to be a battleground state this year," said Steve Mitchell of Mitchell Research & Communications.

The results are consistent with other polls showing Romney closing the gap since becoming the presumptive GOP candidate. Obama once had a commanding lead in Michigan, as much as double figures in one May poll.

Mitchell Research queried 825 likely voters Monday in an automated telephone survey. It has a margin of error of 3.4 percentage points.

Rasmussen questioned 500 likely voters Monday with a margin of error of 4.5 percentage points.

The Mitchell poll showed a possible cause for concern for Obama. Romney expanded his lead among independent voters, who are considered a key voting bloc.

In the poll, they preferred Romney by a 44 percent to 34 percent margin. Last month, they liked Romney, 43 percent to 38 percent.
At the very least, Romney seems to be closing the gap in the Wolverine State, as the RealClearPolitics chart shows: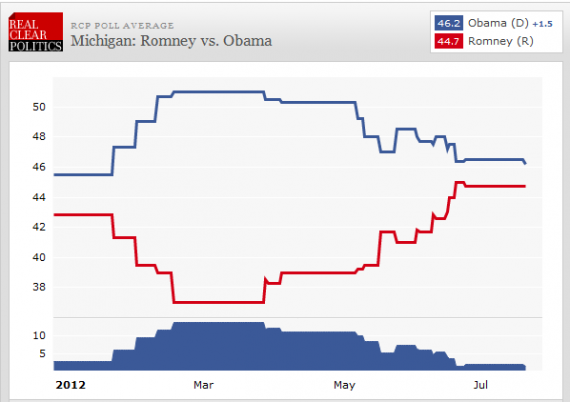 If this holds up, this will add one more battleground state to the list in the fall and  puts another 16 Electoral Votes up for grabs.