Is The Labor Department Barring Kids From Working On Family Farms? No, It's Not
Welcome to today's Outrage Of The Day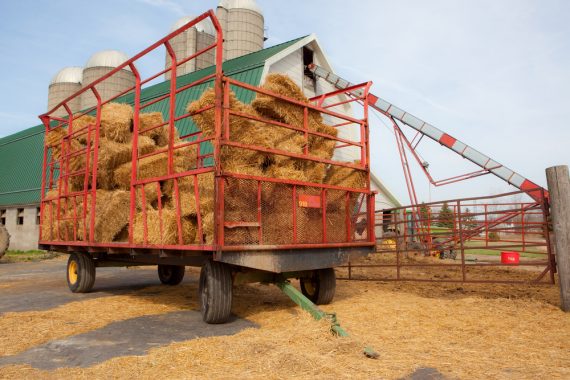 A story over at The Daily Caller is getting a lot of attention in the conservative blogosphere today because of its implication that the Department of Labor is about to issue regulations that would bar children from working on family farms:
A proposal from the Obama administration to prevent children from doing farm chores has drawn plenty of criticism from rural-district members of Congress. But now it's attracting barbs from farm kids themselves.

The Department of Labor is poised to put the finishing touches on a rule that would apply child-labor laws to children working on family farms, prohibiting them from performing a list of jobs on their own families' land.

Under the rules, children under 18 could no longer work "in the storing, marketing and transporting of farm product raw materials."

"Prohibited places of employment," a Department press release read, "would include country grain elevators, grain bins, silos, feed lots, stockyards, livestock exchanges and livestock auctions."

(…)

The new regulations, first proposed August 31 by Labor Secretary Hilda Solis, would also revoke the government's approval of safety training and certification taught by independent groups like 4-H and FFA, replacing them instead with a 90-hour federal government training course.
Sounds fairly outrageous doesn't it? Something that's likely to raise the ire of farm belt voters in an election year, too. Not surprisingly, the blogosphere has picked up on the story and run with it, mostly without checking out the facts behind the report, and even Sarah Palin has chimed in:
The Obama Administration is working on regulations that would prevent children from working on our own family farms. This is more overreach of the federal government with many negative consequences. And if you think the government's new regs will stop at family farms, think again.

My family is a commercial fishing family, and commercial fishing in Alaska is much like the family farm (but the year 'round farmers no doubt work harder than we do!). I guarantee fishing families wouldn't stand for this nonsensical intrusion into our lives and livelihoods, and, as a former 4-H member, I don't believe farm families will either. Our kids learn to work and to help feed America on our nation's farms, and out on the water.
There's only one problem. What Palin says here, and what the report in The Daily Caller says, isn't accurate at all.
Let's start with the Dept. of Labor's August 31, 2011 press release, which the Daily Caller linked in its article:
WASHINGTON — The U.S. Department of Labor is proposing revisions to child labor regulations that will strengthen the safety requirements for young workers employed in agriculture and related fields. The agricultural hazardous occupations orders under the Fair Labor Standards Act that bar young workers from certain tasks have not been updated since they were promulgated in 1970.

The department is proposing updates based on the enforcement experiences of its Wage and Hour Division, recommendations made by the National Institute for Occupational Safety and Health, and a commitment to bring parity between the rules for young workers employed in agricultural jobs and the more stringent rules that apply to those employed in nonagricultural workplaces. The proposed regulations would not apply to children working on farms owned by their parents.
The Dept. of Labor repeats this in a subsequent press release, as well as the idea that the new rules would eliminate programs like 4-H and FFA:
The parental exemption for the owner or operator of a farm is statutory and cannot be eliminated through the regulatory process. A child of any age may perform any job, even hazardous work, at any age at any time on a farm owned by his or her parent. A child of any age whose parent operates a farm may also perform any task, even hazardous jobs, on that farm but only outside of school hours. So for children working on farms that are registered as LLCs, but operated solely by their parents, the parental exemption would still apply.

(…)

The Department of Labor fully supports the important contributions both 4-H and the FFA make toward developing our children. The proposed rule would in no way prohibit a child from raising or caring for an animal in a non-employment situation — even if the animal were housed on a working farm — as long as he or she is not hired or "employed" to work with the animal. In such a situation, the child is not acting as an "employee" and is not governed by the child labor regulations. And there is nothing in the proposed rule that would prevent a child from being employed to work with animals other than in those specific situations identified in the proposal as particularly hazardous.
Additionally, the new rules would not bar children from working on a farm at all, under current rules children as young as 12 are permitted to perform non-hazardous work and after 16 they are allowed to be employed without restriction. Current law even allows children under 12 to be employed to perform nonhazardous work on small farms with their parents permission. As the press release describes it, "The proposed rule would, however, prohibit the employment of workers under the age of 18 in nonagricultural occupations in the farm-product raw materials wholesale trade industries."
One can debate the specific merits of these new rules, whether they're necessary, or whether they're too far reaching. In fact, let's do that. But if we're going to do it, the discussion has to be based in fact and not falsehood, and the representation that these rules would bar children from perform any work at all on a family farm is simply a falsehood.
H/T Rod Dreher and The Christian Science Monitor
Farm Wagon Piled With Bales Of Straw image via Shutterstock