Is the Pandemic Over?
A lot of Americans think so.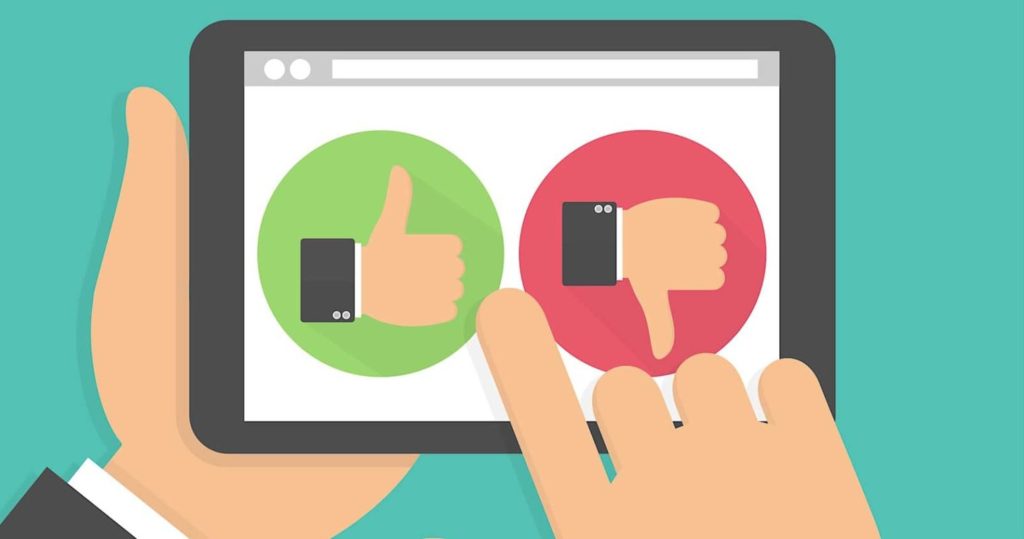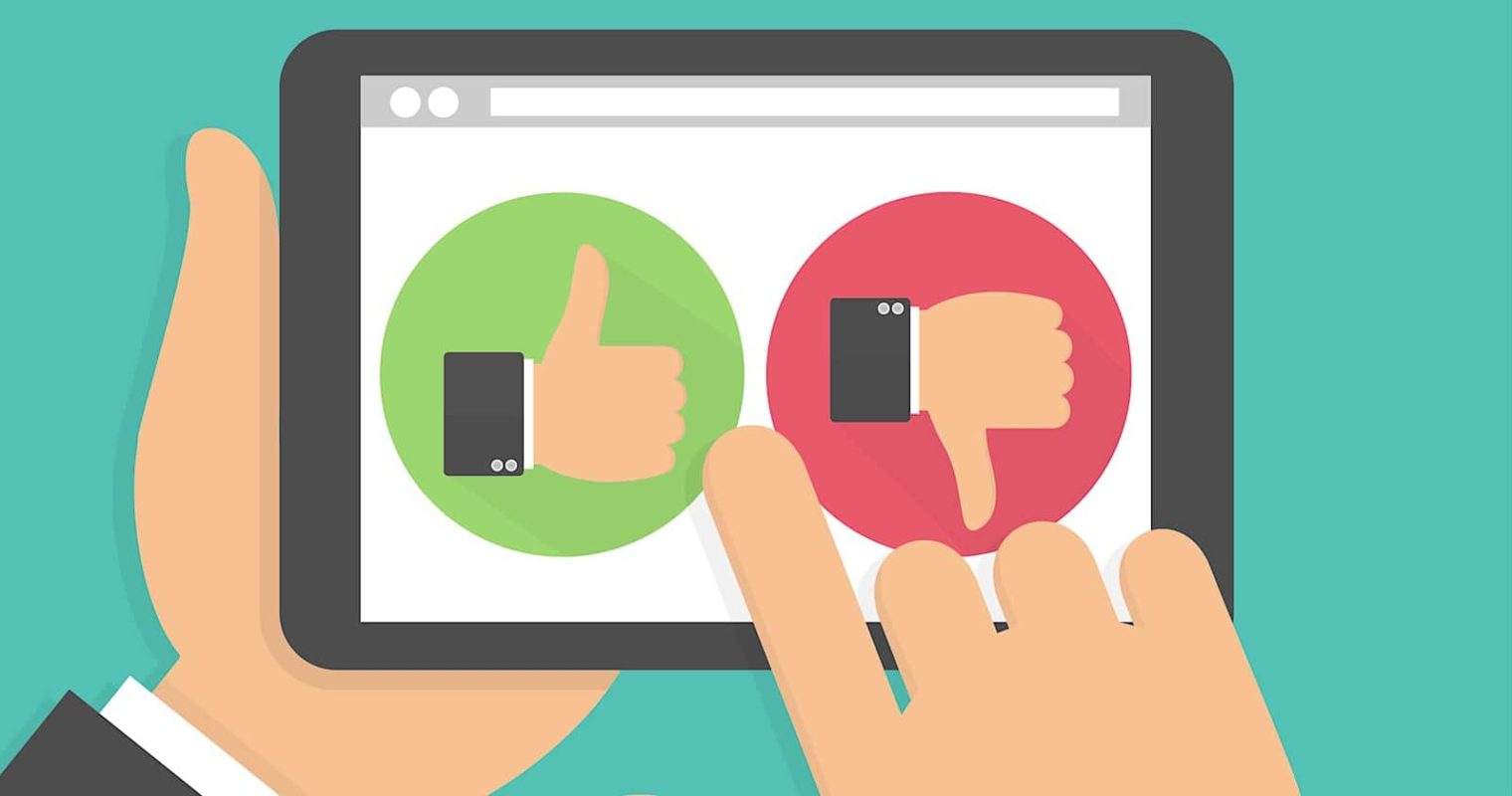 A writeup of the latest Gallup poll declares "Three in 10 Americans Think Pandemic Is Over in U.S."
Although a record-high 89% of Americans now say the coronavirus situation is improving, most are not yet ready to declare the pandemic over in the U.S. More than twice as many think the pandemic is not yet over (71%) than think it is over (29%). Republicans are far more likely than Democrats to say the pandemic is over, but significant differences also exist by gender, age and region of the country.
There's a whole lot more at the link but you get the idea.
Obviously, the partisan divergence continues to be the most interesting story: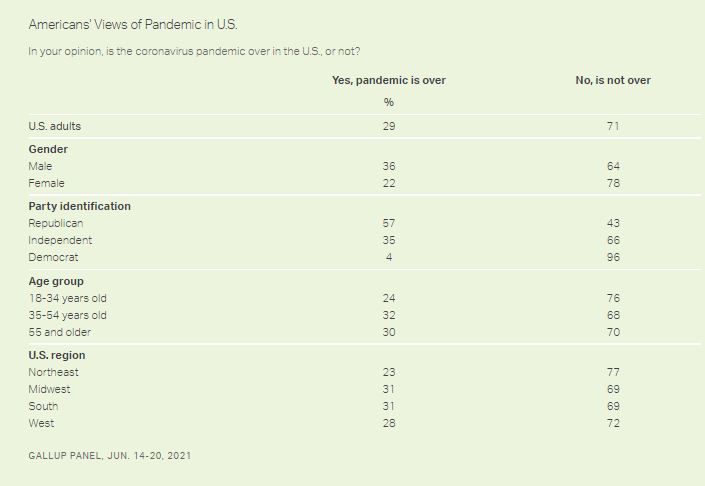 Democrats are almost universal in believing the pandemic an ongoing concern, while Independents are pretty much in line with the adult population and Republicans closer to one-thirds/two-thirds. (None of the other questions have a party breakdown, at least in the linked summary.) Presumably, this is a function of differing news sources as the regional and even age cohort differences are comparatively modest.
But it's also a function of how one interprets the question, which itself is likely influenced by question sequencing.
Objectively, the pandemic is far from over. Here is the Worldometers graph of daily new cases in the US: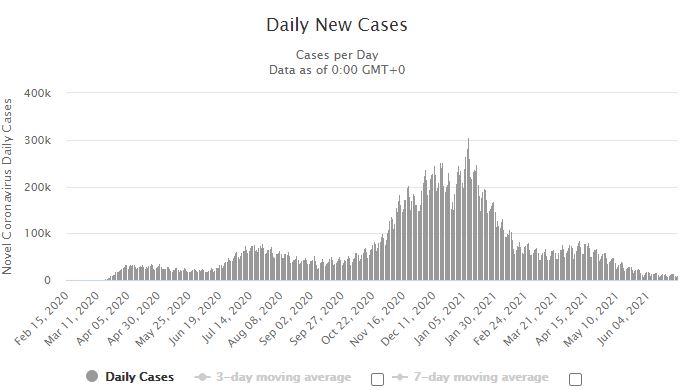 Clearly, there has been a massive improvement as more and more Americans get vaccinated. Still, we're tracking as many new daily cases as we were in early March 2020—just as we were starting to implement massive lockdowns across the country. Presumably, that's partly a function of better testing and tracking. Still, it's an ongoing concern.
Similarly, people are still dying from the disease: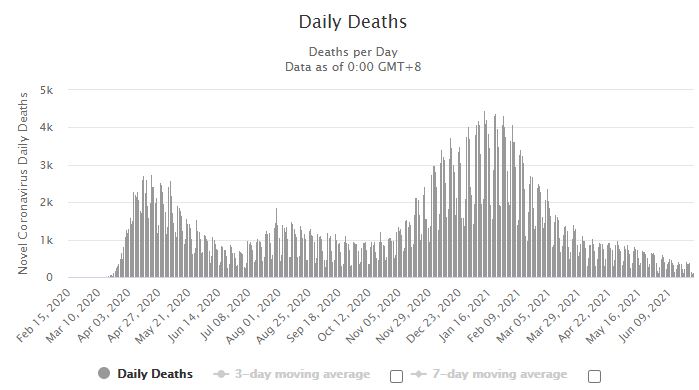 As with new cases, we've seen a major decrease as vaccinations happen. But we're still losing as many people a day to the disease as we were in March 2020.
These are objective facts and it's quite possible that the elite media are covering them—and the new Delta variant—more diligently than the infotainment venues that pander to Republicans. But it may simply be a matter of how one interprets the question:
With pandemic-related restrictions in most states now lifted, the amount of disruption Americans see in their everyday lives continues to decline. Less than half of U.S. adults, 46%, currently say their lives are affected "a great deal" or "a fair amount," but more, 54%, consider their lives to be "not much" or "not at all" disrupted.

Likewise, Americans are increasingly reporting a return to some semblance of normalcy in their lives. While 15% of U.S. adults say their life is "completely back to normal," 62% describe their life as "somewhat" but not completely normal, and 23% say it is "not yet back to normal." Moreover, the percentage of U.S. adults who report that normalcy has not been restored in their lives has shrunk by 11 percentage points since May.

In addition to the 15% of U.S. adults who say their lives are already completely back to normal, 46% think their lives will eventually be. However, 40% of Americans do not expect that their lives will ever return entirely to the normal that existed prior to the pandemic.
While I would certainly answer the topline question No, I'm more or less living a pre-pandemic life now. I've been back to the office since late July 2020 and those of us who are fully vaccinated—which was some 97 percent of us—stopped having to wear masks the workday after the CDC guideline change. That was just six weeks ago but it seems much longer now.
My 12-year-old got her second Pfizer dose last week, so she'll be "fully vaccinated" in a few more days. So, we're only waiting for my just-turned-10-year-old to become eligible. And Fairfax County Schools, which frustrated all of us with its absurd over-caution and refusal to open back up, looks be be opening back up 5 days a week and eliminating social distancing.
A surprising number of folks are still wearing masks in the stores here in the Northern Virginia suburbs of DC. I'm almost certain that the vast majority of them are fully vaccinated, given our high rates locally. So, it's really a cultural-psychological reluctance to get back to "normal." On our recent stint in the Outer Banks, it was pretty much the opposite: almost no one was masked indoors, despite relatively low vaccination rates. And, indeed, I suspect most of the mask wearers were tourists rather than locals.
So, in some sense, it really depends on what you mean by "Is the coronavirus pandemic over?" It's still spreading and killing unvaccinated people. But a huge chunk of the society is living as though that weren't the case.