Israel-Hamas War Update
The killing goes on.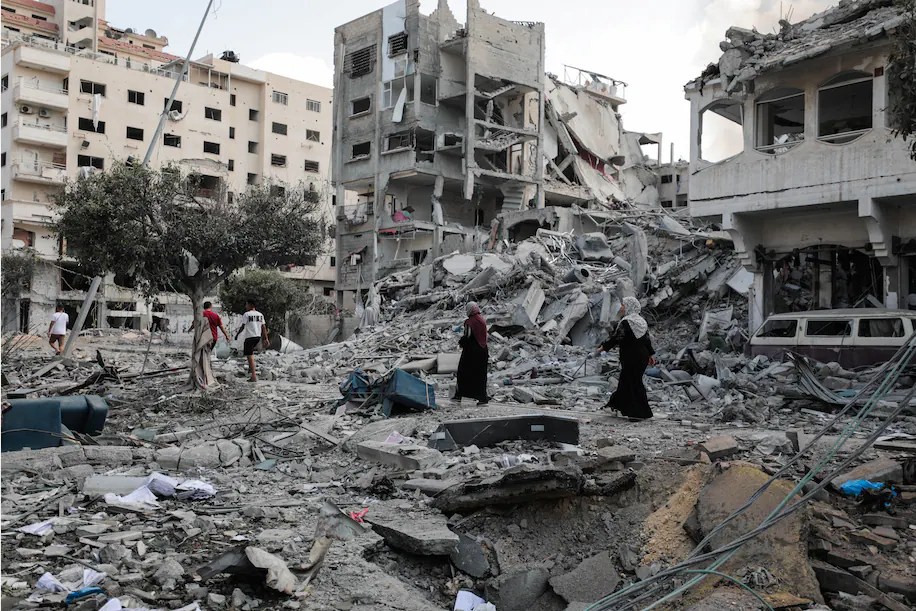 YahooNews ("Israel-Hamas conflict live updates: Death toll reaches 1,600, including 11 U.S. citizens"):
More than 1,600 people have been killed, including 11 Americans, since Hamas launched an unprecedented assault on Israel over the weekend, prompting Israeli Prime Minister Benjamin Netanyahu to declare war.

In a joint statement issued Monday evening, President Biden, along with French President Emmanuel Macron, German Chancellor Olaf Scholz, Italian Prime Minister Giorgia Meloni and U.K. Prime Minister Rishi Sunak, expressed "united support to the State of Israel" and "unequivocal condemnation of Hamas and its appalling acts of terrorism."

"We make clear that the terrorist actions of Hamas have no justification, no legitimacy, and must be universally condemned. There is never any justification for terrorism," read the joint statement. The leaders went on to pledge to "support Israel in its efforts to defend itself and its people against such atrocities."
Reuters ("Gathering its dead, Israel pounds Gaza with fiercest air strikes ever"):
Israel pounded the Gaza Strip on Tuesday with the fiercest air strikes in its 75-year conflict with the Palestinians, razing whole districts to dust despite a threat from Hamas militants to execute a captive for each home hit.

Across the barrier wall surrounding the strip, Israeli soldiers were collecting the last of the dead four days after Hamas gunmen rampaged through towns in by far the deadliest attack in Israel's history.

Israel has vowed to take "mighty revenge", calling up hundreds of thousands of reservists and placing Gaza, crowded home to 2.3 million people, under total siege.

Israel's embassy in Washington said the death toll from Hamas' weekend attacks had surpassed 1,000, dwarfing all modern Islamist attacks on the West bar 9/11.

The victims were overwhelmingly civilians, gunned down in homes, on streets or at a dance party. Scores of Israelis and some foreigners were captured and taken to Gaza as hostages, some paraded through the streets.

Gaza's health ministry said Israel's retaliatory strikes had killed at least 770 people and wounded more than 4,000. The air strikes, already the heaviest ever, intensified on Tuesday night, shaking the ground and pouring columns of smoke and flames into the morning sky.

The United Nations said more than 180,000 Gazans had been made homeless, many huddling on streets or in schools.

At the morgue in Gaza's Khan Younis hospital, bodies were laid on the ground on stretchers with names written on their bellies. Medics called for relatives to pick up bodies quickly because there was no more space for the dead.

A municipal building was hit while being used as an emergency shelter; survivors there spoke of many dead

[…]

U.N. High Commissioner for Human Rights Volker Turk, who denounced the Hamas attacks, said civilians had been harmed in Israeli strikes on tower blocks, schools and U.N. buildings.

"International humanitarian law is clear: the obligation to take constant care to spare the civilian population and civilian objects remains applicable throughout the attacks," he said.
NYT ("More foreign nationals are reported killed, kidnapped or missing in Israel."):
Nations worldwide were trying to clarify the situations of their citizens who were caught in the attacks by Palestinian fighters against Israel. At least 50 foreign nationals have been reported killed or kidnapped, and many others were still missing on Tuesday, as authorities warned it was increasingly likely that they had been taken hostage.

President Biden said on Monday evening that at least 11 U.S. citizens had been killed in Israel. An unknown number were still unaccounted for, Mr. Biden said, but he added that "it is likely that American citizens may be among those being held by Hamas."
At least 18 Thai nationals have been killed and 11 have been taken hostage, Thailand's foreign ministry said on Tuesday.
More than 10 British citizens are feared dead or missing after the attacks, the B.B.C. reported on Tuesday, citing an unnamed official, although the British government has yet to give any public figures. "The situation is fast-moving and complicated," James Cleverly, the U.K. foreign secretary, said on Tuesday. "A lot of the figures are yet to be fully confirmed and I don't want to speculate. A significant number of British-Israeli dual nationals have been involved."
Ten citizens of Nepal were killed in the attacks, Reuters reported.
Argentina's embassy in Israel said on Tuesday that seven Argentines had been killed and that 15 were still missing.
France has announced the deaths of four of its citizens in the attacks. The French Foreign Ministry said in a statement on Tuesday that 13 others were still missing and that some of them "have very probably been kidnapped."
Two citizens of Ukraine were among those killed, President Volodymyr Zelensky said on Sunday.
Shani Louk, a German-Israeli citizen, was abducted by Hamas militants while attending an open-air music festival, German officials said. The German federal prosecutor has launched an investigation into the killings and kidnapping of German nationals in Israel. German authorities have not released the number of their citizens believed to be victims of the Hamas attacks.
AP ("Under heavy bombing, Palestinians in Gaza move from place to place, only to discover nowhere is safe"):
Over 180,000 Palestinians in the Gaza Strip are packed into United Nations shelters as Israeli warplanes pound the tiny territory of 2.3 million people after their Hamas militant rulers launched an unprecedented weekend attack on Israel.

[…]

But residents say there is no real escape in Gaza, which has been under a suffocating 16-year blockade imposed by Israel and Egypt. When war breaks out, as it has four times since the Hamas militant group seized power in 2007, even United Nations facilities that are supposed to be safe zones risk becoming engulfed in the fighting. The U.N. said that an airstrike directly hit one of its shelters Sunday and damaged five other schools-turned-shelters on Monday. There was no immediate word of casualties.

[…]

But as the Israeli military went neighborhood to neighborhood with rapid and intensifying airstrikes, the heavy bombardments reached the heart of Gaza City, transforming the affluent neighborhood into an uninhabitable desert of craters. Rimal was also hit by Israeli airstrikes in Gaza's bloody 2021 war, but not to this extent.

[…]

The bombing in Rimal and the potential risks of sheltering in U.N. schools highlighted the desperate search by Gaza civilians for refuge, with the territory's safe spaces rapidly shrinking. There are no civilian bomb shelters in Gaza. Ahead of the Israeli military's warning to civilians on Monday that Rimal would be hit, families staggered into the streets with whatever belongings they could carry and without a destination.

In a briefing Tuesday, Israeli army spokesman Lt. Col. Richard Hecht suggested Palestinians should try to leave through the Gaza border crossing with Egypt — a seemingly impractical suggestion.

While Hamas officials operating the Gaza side of the Rafah crossing said Tuesday that Gazans who had registered in advance could cross into Egypt, the number of those allowed to travel has typically been small. That has led to backlogs and waiting times of days or weeks, even in calm times.
YahooNews, like many, is employing a live-blog style, making linkage challenging. But two graphics are telling.
First, the surely way behind casualty toll: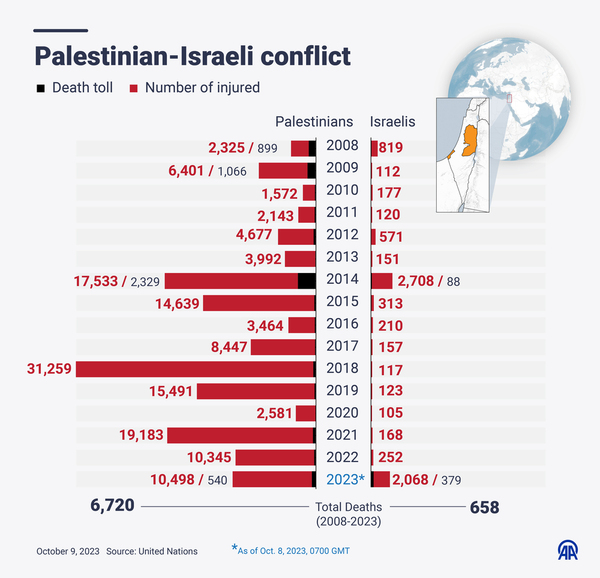 As to the sheltering plan for civilians: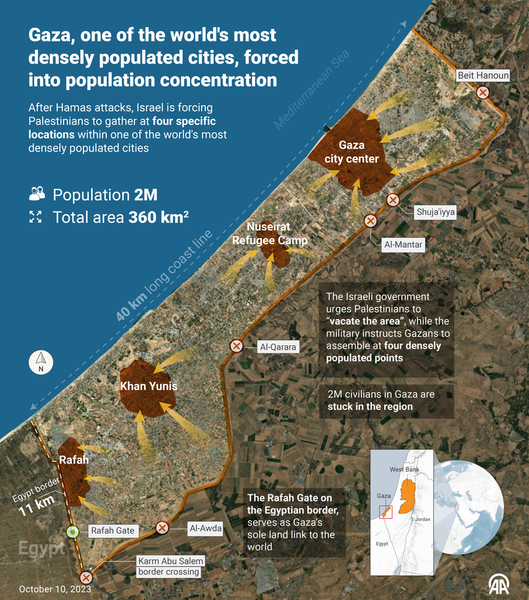 Having safe areas is likely the best one can hope for under the circumstances. But it's not at all clear how safe they are in practice.
And, it must be emphasized, this is a war, not a punitive raid. The Hamas-led attacks. on Israel continue.
NYT ("Israel says it killed 1,500 Palestinian fighters, but Hamas has many more in its ranks.")
The announcement by the Israeli military that it had killed about 1,500 Palestinian fighters since their incursion into southern Israel on Saturday is a blow to Hamas, but likely not a debilitating one, given its capabilities and the number of fighters it can summon.

Hamas, which is both a militant group and the de facto ruler of the Gaza Strip, does not provide details about its military capabilities. But outside estimates put its overall force in the tens of thousands, including some highly trained commandos and a larger number of fighters with varying capabilities.

In an interview on Wednesday, Ali Barakeh, a Beirut-based foreign relations official with Hamas, said that 2,000 of the group's fighters had participated in the initial attack on Israel on Saturday morning. Fighters from other armed Palestinian factions joined once the operation was underway, he said.
And, not at all surprisingly, the war is not contained to Gaza and the bordering areas inside Israel.
While all eyes are on Gaza, there has been a surge in violence in the Israeli-occupied West Bank and East Jerusalem. At least 19 Palestinians have been killed since Saturday, mainly in separate gun battles and confrontations with the Israeli military, according to the Palestinian Health Ministry. Hamas has been calling on Palestinians in the West Bank and East Jerusalem to "rise up" and "clash" with Israeli soldiers and settlers since the start of the assault on Saturday.
Rather clearly, the hostages are not deterring Israel. Nor, in the short term, are they being used as a bargaining chip. WaPo:
A Hamas spokesman announced no hostage negotiations are underway. "We will not exchange or negotiate … while under fire, during aggression and battle," said Abu Obaidah, nom de guerre of the spokesman for the Izzedine al-Qassam Brigade, the group's military wing. "The enemy should save its energy and prepare to pay the price." It's estimated that over 100 hostages are held in Gaza.
This tragedy is far from over.