It Depends on What the Meaning of 'Russiagate' Is
Blake Hounshell has doubts about whether Trump colluded with Moscow.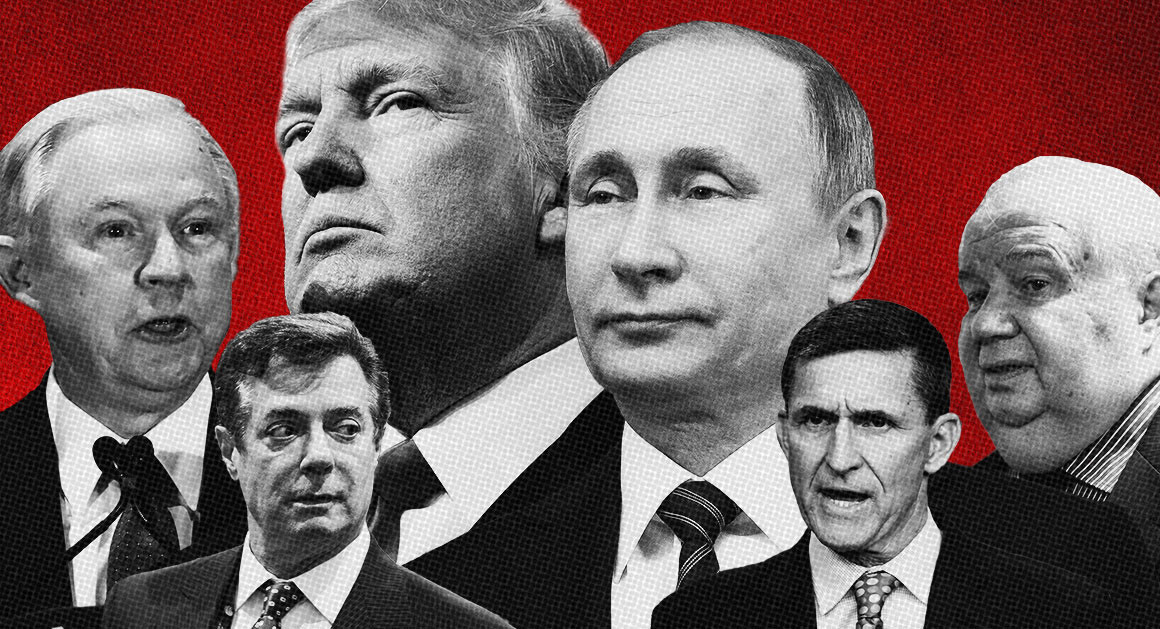 Blake Hounshell, editor in chief of POLITICO Magazine, has come out as a Russiagate skeptic. A qualified one, to be sure:
No, I'm not denying the voluminous evidence that Russia, at Kremlin strongman Vladimir Putin's personal direction, sought to meddle in the 2016 election, and that Donald Trump was clearly his man. The indictment on Friday of 13 Russians—and the incredible forensic detail in the 37-page complaint filed by Special Counsel Robert Mueller's team—ought to have convinced any reasonable person that the Russia investigation is definitely a somethingburger. But what kind of somethingburger is it?

[…]

Of course, Mueller has put some serious points on the board. In addition to the 13 Russians and three Russian organizations from Friday's indictments, we've also seen two indictments of Trump associates thus far—former Trump campaign chairman/manager Paul Manafort and his wingman Rick Gates—and two plea bargains, from sometime national security adviser Michael Flynn and volunteer campaign adviser George Papadapoulos. There is also other stuff hanging out there—most of all Donald Trump Jr.'s infamous meeting in Trump Tower, the one he enthusiastically scheduled after being told the Russians on offer had dirt on Hillary Clinton. Mueller's team has had nothing to say—yet?—about the hacked emails of the Democratic National Committee or Clinton campaign chairman John Podesta. And there is no indication, despite the professed optimism of White House lawyer Ty Cobb, that they are wrapping up anytime soon.

There are, of course, odd aspects of Trump's behavior that arouse suspicions. His obsequious praise of Putin. The aborted effort to roll back the old Russia sanctions, and the failure to enforce the new ones. His refusal to accept that Moscow meddled in the election, despite the conclusions of his own staff, the intelligence community and pretty much everyone looking at the evidence in good faith. Firing his FBI director and reportedly ordering the firing of the special counsel. His constant fulminations against the "Russia hoax." The fact that he hasn't directed any effort to safeguard the 2018 midterms. If Trump is guilty, he sure is acting like it.

And there is the fact Trump aides have repeatedly lied about the fact, and extent, of contact between campaign officials and Russia. If the Trump Tower meeting was as innocuous as Donald Jr. says it was, for instance, why the misleading claim that it was about "adoptions"?
So, what is he skeptical about?
I keep coming back the slapdash nature of Trump's 2016 operation, and the chaos and dysfunction that everyone who covered that campaign saw play out each day. Like the Trump White House, the Trump campaign was a viper's nest of incompetence and intrigue, with aides leaking viciously against one another almost daily. So much damaging information poured out of Trump Tower that it's hard to believe a conspiracy to collude with Moscow to win the election never went public. If there was such a conspiracy, it must have been a very closely guarded secret.

Then there's the Trump factor to consider. Here's a man who seems to share every thought that enters his head, almost as soon as he enters it. He loves nothing more than to brag about himself, and he's proven remarkably indiscreet in the phone calls he makes with "friends" during his Executive Time—friends who promptly share the contents of those conversations with D.C. reporters. If Trump had cooked up a scheme to provide some favor to Putin in exchange for his election, wouldn't he be tempted to boast about it to someone?
That's both reasonable and not exactly flattering of Trump or his team. Hounshell continues with several paragraphs noting the odd behavior of Flynn, Papadopoulos, and Carter Page–while noting that they'd only pled to lying to the FBI, not any actual collusion with Russia, much less Trump-ordered collusion.
He concludes,
There is, of course, plenty of public evidence that Trump was all too happy to collude with Putin. "Russia, if you're listening, I hope you're able to find the 30,000 emails that are missing," springs to mind, not to mention Trump's endless invocation of WikiLeaks in the closing weeks of the 2016 campaign. What's particularly eerie, too, is how Trump's divisive racial rhetoric and claims about how the election was going to be "rigged" in favor of Hillary Clinton echoes the messages described in Mueller's latest indictment. Not to mention the voluminous fodder Trump has given Mueller for a (very) hypothetical obstruction of justice case.

Mueller's team doesn't leak, and he's repeatedly surprised us, as he did again on Friday. But I'm still waiting for a smoking gun—and the special counsel hasn't shown us one yet, assuming he ever will.
I'm essentially where Hounshell is.
Clearly, Putin and his government worked to discredit Hillary Clinton and to undermine her campaign, if not to get Trump elected. (I still think they had no idea Trump could win and fully expected to have a damaged Clinton in the Oval Office.) And there are too many bizarre ties between pretty much everyone in Trump's inner circle with Russia. And, if Trump hasn't obstructed justice to a level where we'd impeach a President, he's certainly come perilously close to that line on a regular basis. But I've seen no reason to believe there was an actual conspiracy between Donald Trump, his campaign, and the Putin regime to influence the election. Indeed, my strong sense from the beginning is their interests simply coincided and Trump served as a useful idiot.
Of course—and I'm pretty sure Hounshell would agree—collusion with an adversarial power is surely not the baseline standard to which we ought to hold our Presidents. Nor, even, is chargeable obstruction of justice. Constantly playing into Putin's hands, stuffing his administration with people susceptible to  Russian pressure, and routinely interfering with a full and vigorous investigation into the now undeniable interference in our elections is simply unacceptable. And it doesn't matter if, as I think is the case, Trump's interference is motivated by a child-like peevishness over the inconvenience of it all rather than a cover-up of collusion. "Russiagate," therefore, is scandalous even if Mueller's investigation reveals nothing more than we already know.