Jake Tapper And Chris Wallace Demonstrate How To Cross-Examine A Trump Surrogate
Jake Tapper and Chris Wallace both put Administration surrogates through the ringer on their respective Sunday morning shows.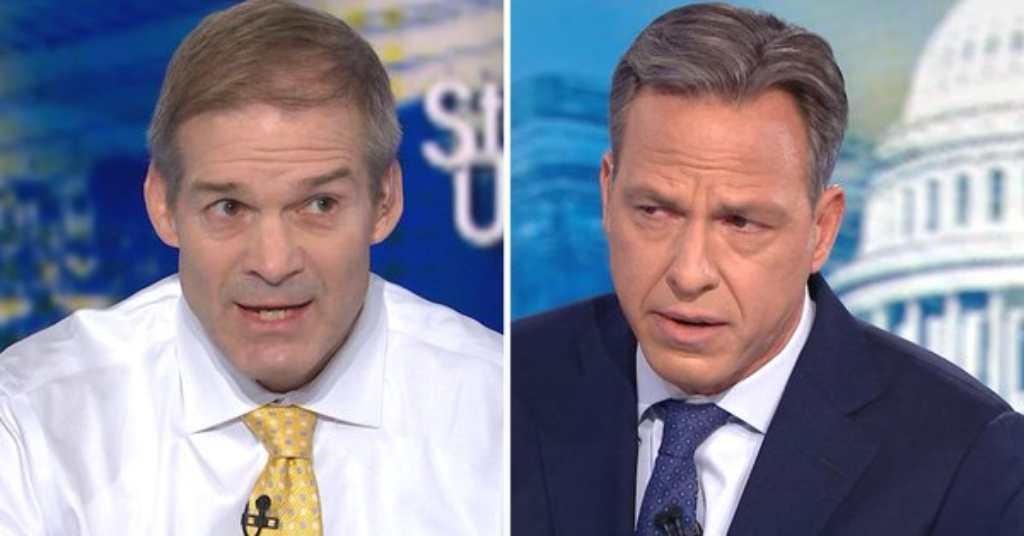 Yesterday on State of the Union, Jake Tapper interviewed Ohio Congressman Jim Jordan, who was on to defend the President amid all of last week's revelations. In the process, providing an object lesson in how to truly subject a Trump supporter to examination:
CNN's Jake Tapper fact-checked Rep. Jim Jordan in real time during an interview Sunday on "State of the Union" as the Ohio Republican defended President Trump amid an impeachment inquiry sparked in part by Trump's dealings with his Ukrainian counterpart.

Tapper pushed back on several fronts, including when Jordan repeated Trump's unfounded allegations about former Vice President Joe Biden's alleged wrongdoing in dealing with Ukraine while Biden's son Hunter Biden sat on a Ukrainian company's board.

"He's getting paid $50,000. And then when the company that's paying him that money is under investigation, guess what. Daddy comes running to the rescue, the vice president of United States come running," Jordan said.

"That's not what happened," Tapper responded, speaking over Jordan.

"Says fire — fire that prosecutor," Jordan continued.

"Sir, sir, that's not what happened. The European Union, the Obama administration, the International Monetary Fund, pro-clean government activists in Ukraine thought that the prosecutor was not prosecuting corruption," Tapper responded.

"Did Joe Biden tell him to fire the prosecutor?" Jordan asked.

"Because he wasn't going after corruption," Tapper responded. "He wasn't going after corruption. Do you understand what I'm saying? He wasn't going after corruption?"

Jordan also called the whistleblower who filed a complaint centered on a call in which Trump asked Ukrainian President Volodymyr Zelensky to investigate the Bidens a "bureaucrat who didn't like the president."

"We know he didn't like the president," Jordan, who sits on the House Oversight and Reform Committee, added.

"No, we don't know," Tapper replied.

The CNN host also pushed back on Jordan's claims regarding the whistleblower and his qualifications for determining the person's credibility.

"He had no firsthand knowledge. He heard something from someone who may have heard something from someone," Jordan said.

"No, no, his — his sources were firsthand sources," Tapper said.

"You know as well as I do that you do not need to have firsthand knowledge to be a whistleblower," Tapper added.

"Well, you don't now because they changed the form. You used to," Jordan said
Here's the video:
Elsewhere on television, Fox News Sunday host Chris Wallace took on Presidential adviser Stephen Miller:
Fox News' Chris Wallace tore into senior White House adviser Stephen Miller for refusing to directly answer his questions about President Donald Trump's dealings with Ukraine during a heated interview Sunday.

Miller appeared on "Fox News Sunday" to defend the president against a whistleblower complaint filed last month by a U.S. intelligence official that alleges the White House tried to cover up a July phone call between Trump and Ukrainian President Volodymyr Zelensky.

During the exchange, Trump repeatedly pressured Zelensky to investigate Joe Biden, a potential opponent against Trump in the 2020 election, according to the complaint.

"I've worked in the … federal government now for nearly three years ― I know what the Deep State looks like," Miller said, referencing a far-right conspiracy theory that bureaucrats are working within the government to undermine Tump.

"I know the difference between a whistleblower and a deep state operative," he continued. "This is a deep state operative, pure and simple. … This is about, do you want a democracy in this country or do you want a deep state?"

Wallace pushed back, noting that Acting Director of National Intelligence Joseph Maguire testified before the House Intelligence Committee on Thursday that the whistleblower, who has not been publicly identified, had "acted in good faith" and "followed the law."
Here's the video:
Congressional Democrats would do well to watch this because Tapper and Wallace did a better job than most Members of Congress are able to do in a committee hearing.