January 6 Committee Subpoenas Republican Leaders
An unprecedented manuever in response to unprecedented obstruction.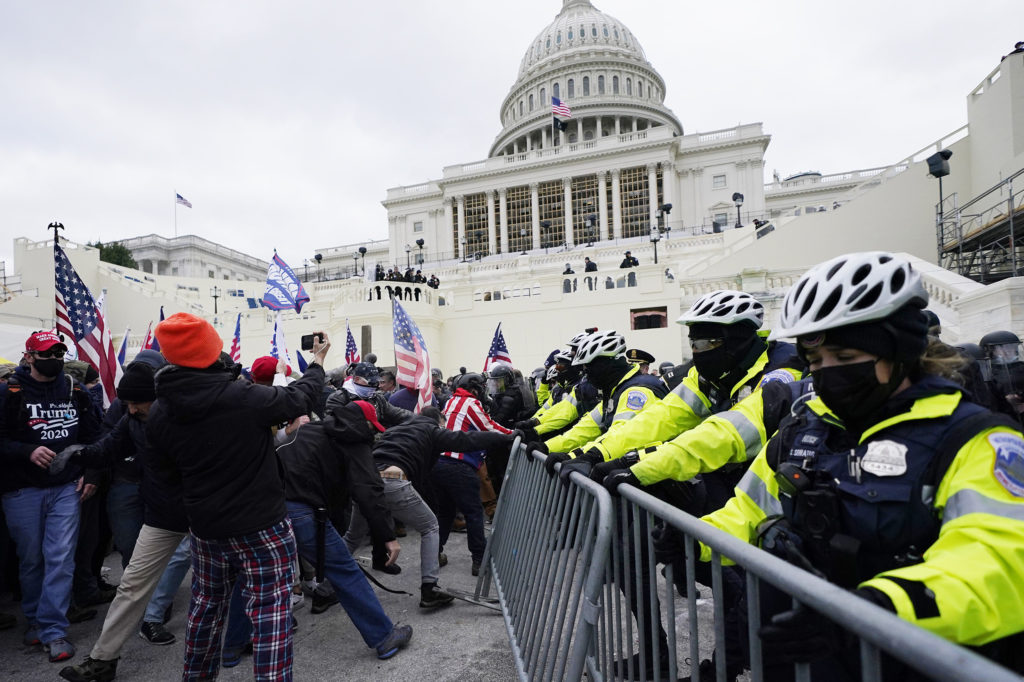 NBC News ("Jan. 6 committee subpoenas Kevin McCarthy, other Trump House allies"):
The committee investigating the Jan. 6 riot at the U.S. Capitol took the unprecedented step Thursday of issuing subpoenas to five Republican congressmen, including House Minority Leader Kevin McCarthy of California.

The Democratic-controlled committee previously had asked the congressmen, who also include Reps. Jim Jordan of Ohio, Scott Perry of Pennsylvania, Mo Brooks of Alabama and Andy Biggs of Arizona, to sit for voluntary interviews, but all had refused.

With the exception of ethics committee investigations, the subpoenas are believed to be the first congressional subpoenas to sitting members and will almost certainly be challenged in court.

The panel has said that all five congressmen, who are allies of former President Donald Trump, have information critical to its probe of the deadly riot by a mob of Trump supporters seeking to disrupt President Joe Biden's election victory.

"We urge our colleagues to comply with the law, do their patriotic duty, and cooperate with our investigation as hundreds of other witnesses have done," committee Chairman Bennie Thompson, D-Miss., said in a statement.

McCarthy told reporters Thursday that he hadn't yet seen the subpoena and said the panel is "not conducting a legitimate investigation. It seems as though they just want to go after their political opponents."
NPR ("In an unprecedented move, the Jan. 6 panel subpoenas McCarthy and other Republicans") adds:
All five had previously been asked to appear voluntarily and quickly refused. Now, their testimony is being compelled by month's end, a move most of them quickly slammed on Thursday.

[…]

The committee did not issue a subpoena for Texas Rep. Ronny Jackson, who also refused to testify voluntarily but said he was not part of documented text messages from extremist groups to provide him protection on Jan. 6.

[…]

There is little history of a congressional committee issuing subpoenas for members of Congress. The move now escalates the war between Republicans opposed to the investigation and the committee, which is comprised of seven Democrats and two Republicans appointed by Speaker Nancy Pelosi.

One of those committee Republicans, Vice Chair Liz Cheney of Wyoming, told NPR the panel faced a heavy decision to move forward with the subpoenas. Cheney was ousted as the No. 3 House Republican by McCarthy and other GOP members after she blamed Trump for the Jan. 6 attack.

"We asked these five individuals to come in and speak with us and they refused, and they have an obligation. They have critically important information about the attack that we need for the investigation," Cheney said. "It's a reflection of how important and serious the investigation is and how grave the attack on the Capitol was."

The panel's members have wrestled for months with the decision on whether to issue subpoenas for members and had signaled they may not want to set such a precedent. But Thompson said that thinking finally shifted for the panel.

"It's a process, and the process is clearly one that required debate, discussion," Thompson told NPR. "And ultimately, when they told us they were not coming, we issued the subpoena."
In a WaPo opinion piece ("Jan. 6 panel's subpoena of GOP members shows extent of Trump coverup") Paul Waldman and Greg Sargent argue,
It was inevitable that sooner or later, the House committee examining the events of Jan. 6, 2021, would collide with the Republican Party's attempt to cover up President Donald Trump's extraordinarily corrupt and possibly criminal effort to disrupt the peaceful transfer of power and remain in office illegitimately.

That now appears to have happened.

After unsuccessfully seeking voluntary testimony from key House Republicans — Minority Leader Kevin McCarthy (Calif.) and Reps. Mo Brooks (Ala.), Andy Biggs (Ariz.), Scott Perry (Pa.) and Jim Jordan (Ohio) — the committee has issued them subpoenas compelling them to appear for depositions at the end of the month.

They will probably refuse. The position Republicans have taken is that the entire investigation is illegitimate, and therefore they can refuse any and all cooperation with it.

Members of the select committee, however, are treating it as a given that they will cooperate, since this is a legitimate investigation run by the body they themselves belong to.
Both things can be true. Because there's no official Republican cooperation—the two "Republicans" on the committee were chosen by the Democratic Speaker and have all but been ousted from the GOP caucus—it's easy to portray this is a partisan struggle in which the Democratic leadership is going after the former Republican President and his allies. And, indeed, they are. At the same time, it's rather obvious that the crimes committed on that day were, at the very minimum, made more likely in the atmosphere Trump created and, quite likely, were intentionally egged on. "Political" though it may be, we have a right to know the extent of the GOP leadership's cooperation with both the rioting and the broader attempt to steal the election.
As to why these five, Waldman and Sargent give persuasive and succinct arguments as to why their testimony is necessary:
They add:
McCarthy's testimony might be most important of all. The subpoena of McCarthy suggests that the committee is bearing down hard on the question of whether Trump came to see the violence, as it unfolded, as a weapon that could help carry out the procedural coup he'd been attempting for weeks.

You can see this in the committee's previous letter to McCarthy requesting his testimony. It pointedly noted that McCarthy pleaded with Trump to call off the rioters as they threatened to break into his office.

Trump refused McCarthy's pleading, snarling: "Well, Kevin, I guess these people are more upset about the election than you are." As the committee noted, McCarthy's testimony about this call could shed much more light on Trump's "state of mind" as he said this.
It's a stain on the party that they're not actively cooperating with the investigation. As odious as Trump was, cooperating with him while he was in the White House was at least strategically and politically defensible. But it's really, really hard to rationalize supporting the subversion of our democratic system and the literal invasion of the Capitol building in which they all work. That they and their colleagues may well have been killed by the rioters were it not for the swift action of the Capitol Police should surely have changed their perspective. That they're doubling down is beyond shameful.
It seems, alas, that they will pay no political price for it. For reasons that Steven Taylor (especially) and I have been hammering at for the last several years, our system just isn't very representative. Most of these Representatives are in "safe" seats and, indeed, the only way they could reasonably lose them is to be seen as "soft" on the Democrats and get ousted in the GOP primaries.
As to the subpoenas, there's just too little precedent to go on. Theoretically, Congressional subpoenas are just as forceful as judicial ones. Practically, it will require the Biden Justice Department to arrest sitting Republican Members of Congress. The optics of that would be interesting, to say the least.