Jeb Bush Bucks His Party On Immigration, And He's Right
Many Republicans won't like Jeb Bush's recent comments about illegal immigration, but he's right.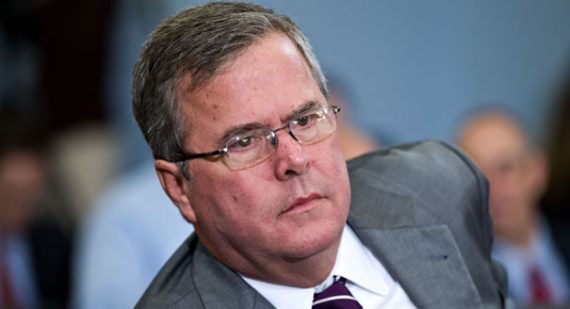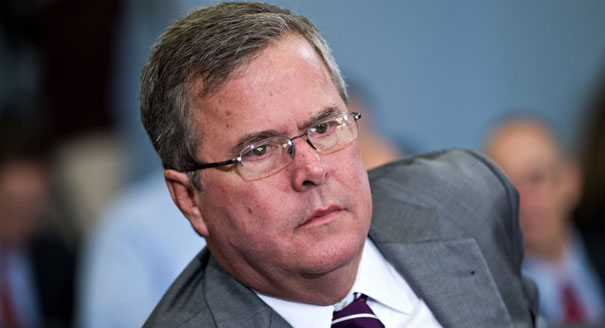 In addition to discussing the possibility of running for President more openly than he had in the past, Jeb Bush also spent his time this past weekend talking about immigration, and what he said probably isn't going to go over very well with the base of his party:
Jeb Bush, a potential Republican presidential candidate in 2016, said on Sunday that illegal immigrants who come to the United States to provide for their families are not committing a felony but an "act of love."

In comments at odds with the views of many in his party, Bush, the son of the 41st president and brother of the 43rd, said of the divisive immigration issue: "I think we need to kind of get beyond the harsh political rhetoric to a better place.

"I'm going to say this and it will be on tape and so be it," Bush said in an interview with Fox News host Shannon Bream in an event at the Texas presidential library of his father, George H.W. Bush.

"The way I look at this is someone who comes to our country because they couldn't come legally … and they crossed the border because they had no other means to work, to be able to provide for their family, yes, they broke the law, but it's not a felony.

"It's an act of love, it's an act of commitment to your family.

Bush, 61, added: "I honestly think that that is a different kind of crime. There should be a price paid, but it shouldn't rile people up that people are actually coming to this country to provide for their families."
Bush makes a very good point here. While his fellow Republicans tend to denounce all illegal immigrants as criminals, Bush points out, correctly, that in most cases the people who are coming to this country illegally aren't doing so because they want to break the law, but because they want a better life for themselves and their children. Many of them have done it in order to be reunited with family members. Whatever the reason, it seems harsh to refuse to recognize these facts given that they tend to point out the fact that it remains far too difficult for people to emigrate here legally to begin with. Indeed, one suspects that if many of the more restrictive provisions of our immigration laws were modified there'd be much less "illegal" immigration. Another relevant point, of course, is the fact that "illegal" immigration is hardly a new development in American history, the only thing that's changed significantly is that the immigrants now tend to come from Latin America instead of Europe.
Statements like this aren't really new for Bush, of course. He's long been a leading voice for immigration reform inside the GOP and, while he was Governor of Florida, maintained strong approval ratings among the state's Latino population notwithstanding the problems that his part has had with that demographic group in recent years. In both the run-up to and the aftermath of the 2012 Presidential election Bush, along with Marco Rubio who has long been a Bush political ally, was among the loudest voices warning the party that it was ignoring its problems with the Latino community at its peril. Bush has also pushed back against the general attitude of his party when it comes to immigration, which essentially seems to come down to making the border, specifically the southern border since Republicans don't seem to be too concerned about Canadians, even more militarized than it has already become in recent years. As Reason's Nick Gillespie notes, Bush's position is generally correct:
If the GOP faithful cannot understand, empathize, and deal with the 12 million or so illegals in the country—except to tell them to get the hell out, build a wall that would have made Erich Honecker proud, and mandate a worker verification system that will be a nightmare on tech and constitutional grounds—they will forever write off the votes not simply of Latinos but most Americans. A 2013 Reason-Rupe Poll found that 70 percent of people favored letting illegals stay and get on a path to citizenship (55 percent), gain legal residency (4 percent), or become guest workers (11 percent). Of course they do: Even people who feel threatened by newcomers recognize that immigration isn't simply inthe DNA of America, it is the DNA of America.

We've all heard the standard line: "I don't mind immigration, it's the illegal part of it I don't like." Each time a Republican says that without then explaining how they plan to expand legal immigration, you know that he is full of it on the immigration issue.

In fact, the Republicans are so full of it on this issue that they have come to embrace a nightmare mandatory program, E-Verify, that "turns work into a privilege and empowers the surveillance state." This comes after complaining (rightly!) about Obamacare's individual mandate and that law's reach into people's privacy.

At the same time, the Republicans have let a potent political issue to slip through their fingers.
That, of course, is typical for Republicans and we saw it unfold throughout 2013 as the Senate took up and ultimately passed an immigration reform package while the GOP controlled House of Representatives couldn't even manage to get committee hearings scheduled on a proposal of its own, in no small part because they didn't put forward any proposal at all. There has been some talk in recent months that we may yet see a push on immigration reform in the House, and there are certainly elements inside the GOP that are trying to make it happen. Ironically, this is an issue that seems to have united the business or "establishment" wing of the party and some elements of the evangelical community who have pushed for immigration reform much more in recent years than they have in the past. Given the fact that we're heading into an election year, though, it seems unlikely that we'll see anything of substance out of the House, at least not until well after the deadline for primary challenges has passed. If nothing is passed this year, then it seems unlikely that we'll see anything in the two years prior to the 2016 elections either since both parties will want to keep the issue alive for their own self-interested electoral purposes.  In other words, the GOP will likely do nothing about immigration and then wake up the day after the 2016 election and wonder yet again what went wrong.
As for Bush, if he is serious about running for President then it's interesting that he's phrasing the immigration issue in this manner at this time. He's a smart enough politician to know that his position on the issue is one that's going to be problematic for the GOP base to begin with. Statements like this that defend in some sense the people that hard right consider no better than common criminals is certainly an interesting strategy, although I'm not sure where he's going with it.