Jefferson Was Neither A Monster Nor A Saint
Vilifying Thomas Jefferson is as much as mistake as placing him on a pedestal.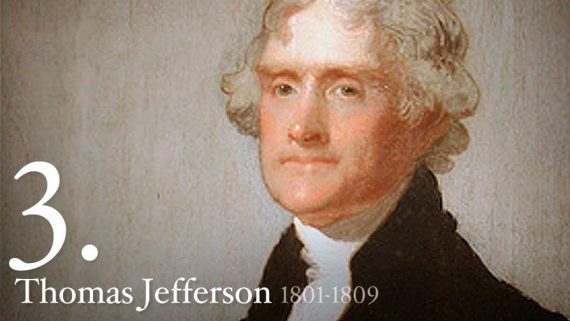 Over at The Volokh Conspiracy, David Post responds to Paul Finkelman's New York Times Op-Ed piece on Thomas Jefferson which James Joyner wrote about earlier today:
The truth is that few people in human history did more, over the course of a lifetime, to "place the road on the road to liberty for all" — and indeed, to eliminate human slavery from the civilized world — than Jefferson.  Don't take my word for it  - take Lincoln's (who was himself, of course,  one of those "few people").  "I am sustained by Mr. Jefferson" he said, in 1858.

The principles of Jefferson are the definitions and axioms of free society. And yet they are denied, and evaded, with no small show of success.  Some dashingly call them "glittering generalities"; another bluntly calls them "self evident lies"; and still others insidiously argue that they apply only to "superior races."  These expressions, differing in form, are identical in object and effect—the supplanting the principles of free government . . . We must repulse them, or they will subjugate us.

This is a world of compensations; and he who would be no slave, must consent to have no slave. Those who deny freedom to others, deserve it not for themselves; and, under a just God, can not long retain it.

All honor to Jefferson—to the man who, in the concrete pressure of a struggle for national independence by a single people, had the coolness, forecast, and capacity to introduce into a merely revolutionary document, an abstract truth, applicable to all men and all times, and so to embalm it there, that to-day, and in all coming days, it shall be a rebuke and a stumbling-block to the very harbingers of re-appearing tyranny and oppression.

That "abstract truth" being, of course, that all men were created equal, and that all had inalienable rights to life, to liberty, and to the pursuit of happiness.
Post continues:
Why is this so hard for people to see? Even if Jefferson had done nothing more than pen those words and get them inserted into the foundational document for the new country — and he did plenty more, see my paper here — declaring that principle to be a self-evident truth and at the foundation of any legitimate government was an act of political courage, not cowardice or hypocrisy, at a time when slavery was at the heart of the way of life and an economy across vast swaths of colonial America.  Maybe Prof. Finkelman would have come up with a way to more quickly eliminate the institution from the new republic than Jefferson did, one that would have eliminated the horrible bloodshed of the Civil War.  But nobody had such a plan, at the time – not Jefferson, not Washington, not Clay, not anyone.
There will always be something of a moral taint on our nation's founding generation simply because of the existence of slavery, and the fact that the Constitution was, in many ways, designed to protect that institution in the states where it existed while remaining silent on the question of whether it should be spread to any future territory that the United States might control. That last point would become a point of contention as early as 1820, before the last of the Founders had ever passed away, and would ultimately be one of the primary issues that sent nation hurtling out of control toward the bloodiest war in its history. At the same time, though, one cannot deny that they planted the seeds of liberty, both in our foundational document and in the Constitution, that would later grow to extend to far more Americans than any nation on Earth considered "free" back in 1776.
Finkelstein's column also ignores the fact that Jefferson himself recognized the problem that slavery presented for the future of the young United States. On more than one occasion, you'll find statements by him predicting that the nation would one day pay a terrible price for enslaving another race of men, Consider, for example, this passage from his Notes On The State Of Virginia:
For in a warm climate, no man will labour for himself who can make another labour for him. This is so true, that of the proprietors of slaves a very small proportion indeed are ever seen to labor. And can the liberties of a nation be thought secure when we have removed their only firm basis, a conviction in the minds of the people that these liberties are the gift of God? That they are not to be violated but with his wrath? Indeed I tremble for my country when I reflect that God is just: that his justice cannot sleep for ever . . . ."
Or this from his Autobiography:
"Nothing is more certainly written in the book of fate than that these people are to be free. Nor is it less certain that the two races, equally free, cannot live in the same government. Nature, habit, opinion has drawn indelible lines of distinction between them."
One can criticize Jefferson for his belief that blacks and whites could not live together in the same nation but, to be honest, this was a common belief at the time that was held not only by people in the slaveholding South but also in the North. In many cases, it was a belief based in the fear that a  freed slave population would take revenge on their former slaveholders but it was also based in the widely held belief at the time that blacks were inferior to whites. That's why, even up until the time of the Civil War, the idea of sending freed slaves back to Africa or elsewhere was still quite popular. Indeed it's how the nation of Liberia came into existence in the first place.
Reading Jefferson's words, though, I don't see the mind of a monster, but of someone who is clearly morally conflicted. Jefferson recognized the evil of slavery and the threat it posed to the nation. The fact that he still participated in it is grounds to call him a hypocrite, it's not ground to call him a monster. It's also worth nothing that Jefferson's attitude about slavery, which was largely shared by the Planter's Class to which he belonged, was far different from the attitude toward the institution that we'd see as the nation hurtled toward Civil War. By that time, slavery was seen as a moral good, the relationship between master and slave was seen to be part of God's will, and the preservation of slavery was seen as a fight to preserve, ironically, liberty. This bizarre attitude reaches its most strident form in Confederate Vice-President Alexander Stephens's Cornerstone Speech, which completely rejects the Declaration of Independence's idea of human equality and the Founder's disdain for slavery.
Finkelstein essentially argues that the legacy of Jefferson — and, presumably, Washington, Madison, and others along with him — should only be about slavery, and that the fact that he was, like pretty much all planters of  his day in the South, a slave owner should trump whatever contributions he made to the nation and the cause of liberty. This strikes me as incredibly short-sighted. One does not have to believe that Jefferson was a saint in order to appreciate his contributions. Indeed, I'd argue that Finkeltstein's version of the "monster" Jefferson is as misguided as the hagiography-based view of he and the other Founding Fathers that one often hears from many people on the right and which, indeed, was the prevalent version of history until historians started to take a more critical look at these men. Jefferson was not a perfect man, but then none of us are perfect, and it strikes me as mistaken to expect moral perfection from someone without first walking a mile or two in their shoes. Yes, Thomas Jefferson was a slave owner, but he also made great contributions to his country that we still live with and can, and should, appreciate, to this today. It's possible, I think, to acknowledge those achievements while at the same time acknowledging that Jefferson was not a perfect man.