Jo Cox, Member Of British Parliament, Murdered In Northern England, Possible 'Brexit' Connection
A freshman Member of Parliament was murdered today, and there may have been a political motive.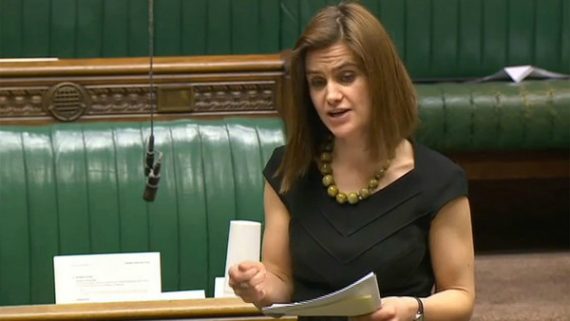 Jo Cox, a young Labour Party Member of Parliament serving her first term in office was shot and stabbed to death while meeting with constituents in northern England today, and there's at least some indication that it may be connected to the upcoming vote on whether the United Kingdom should remain in the European Union:
LONDON — A member of Parliament was gunned down outside a library in northern England as she was wrapping up a meeting with constituents on Thursday afternoon, a rare act of political violence in a nation that strictly regulates firearms.

The lawmaker, Jo Cox, 41, who was considered a rising star in the opposition Labour Party and was a passionate advocate for victims of the civil war in Syria, was shot in Birstall, a town about six miles southwest of the city of Leeds. A 77-year-old man was slightly injured in the attack.

A 52-year-old man was arrested in Ms. Cox's killing, and the police said they were not looking for any other suspects. No motive has been established, officials said.

Gun ownership in Britain has been tightly controlled since a 1996 massacre at a school in Scotland, and historians said it was the first time a sitting member of Parliament had been killed since 1990, when the Irish Republican Army assassinated a Conservative lawmaker, Ian Gow

The killing occurred one week before a referendum on whether Britain should leave the European Union, and both sides immediately halted campaigning out of respect for Ms. Cox.

"The death of Jo Cox is a tragedy," Prime Minister David Cameron of Britain wrote on Twitter, describing Ms. Cox as "a committed and caring M.P." and "a great star." He said, "It's right that we're suspending campaigning activity in this referendum."

Jeremy Corbyn, the leader of the Labour Party, wrote on Twitter: "The whole of the Labour family, and indeed the whole country, is in shock and grief at the horrific murder of Jo Cox."

Last week, she wrote on Twitter: "Immigration is a legitimate concern, but it's not a good reason to leave the E.U." On Wednesday, her husband, Brendan Cox, took part in a joust between prominent campaigners from both sides, an event nicknamed the Battle of the Thames.

Mr. Cox issued a statement on Thursday evening, saying: "Hate doesn't have a creed, race or religion, it is poisonous."

In Birstall, where the last census recorded nearly 17,000 residents, the police cordoned off the area around Market Street, where the attack took place.

The police were summoned at 12:53 p.m., and found Ms. Cox with severe injuries. She was taken by an air ambulance to Leeds General Infirmary, where paramedics tried to save her. A doctor pronounced her death at 1:48 p.m., Dee Collins, temporary chief constable of the West Yorkshire Police, said at a news conference.

Ms. Cox was shot while trying to intervene, he said. His account could not be independently verified.

News images showed the police tackling a man in a gray T-shirt and black pants after the attack, and officers searched a house in the area.

In a phone interview, Sanjeev Kumar, an employee at the Kwik Save store on Low Lane, near the library where Ms. Cox was meeting constituents, said he had seen the victim lying on the ground after her attacker fled.

"She was lying on the floor and two girls were helping her," Mr. Kumar said. "She was bleeding from the mouth and nose — the ambulance was on its way. She couldn't talk, or move, or do anything. It looked serious."

Mr. Kumar said the attack was a the sort of incident that "never, never happened here."

John Rattigan, who works at the hospital where Ms. Cox died, said in an interview over email that he was leaving work when "armed police officers burst through the doors followed by an ambulance crew and trolley with a patient who had a serious head injury."

He was stunned to learn that the patient was his local representative, and drove home in a state of shock.

"She was a Socialist, like myself, and always championed the cause of women, the disabled, immigrants, Syria, Palestine and other repressed groups," he said. "She was also a very popular visitor to local primary schools and joined-in classroom activities: making time to engage the young children."

Ms. Cox was elected to Parliament in May 2015 to represent Batley and Spen, a generally safe Labour seat. The constituency has a large number of retirees and a substantial population of South Asian origin.
While the police apparently aren't commenting on a possible motive at this time, The Guardian and other media outlets are reporting that at least one eyewitness heard the apparent suspect shouting "Britain First!," the name of a far-right British political party that also happens to be strongly in favor of leaving the European Union, both before the attack and while he was being taken into custody after the attack while other witnesses described the attack as originating when Cox became involved between the suspect and another man:
Graeme Howard, 38, who lives in nearby Bond Street, told the Guardian he heard the man shout "Britain first" before the shooting and during the arrest.

"I heard the shot and I ran outside and saw some ladies from the cafe running out with towels," he said. "There was loads of screaming and shouting and the police officers showed up.

"He was shouting 'Britain first' when he was doing it and being arrested. He was pinned down by two police officers and she was taken away in an ambulance."

Other witnesses said the attack was launched after the MP became involved in an altercation involving two men near where she held her weekly surgery. A Labour source confirmed Cox was shot and stabbed after she had concluded the drop-in session for constituents at about 1pm.

The shopkeeper in a greengrocer opposite Birstall library, Golden D'Licious, told the Guardian that he believed the attacker had been waiting for the MP outside the library.

"I was inside the shop and all I heard was a scream and then the gunshot," he said, without giving his name. "I went out and everyone was dispersing. I couldn't see because it happened behind a car."

Terry Flynn-Edwards, who runs the Divine hair studio opposite the scene of the attack, said a man from the dry cleaners had tried to stop the assault. She said: "She walked out of the library with her PA and he was waiting for her. He stabbed her first and this guy tried to stop him and then he shot her."

But one witness, Hithem Ben Abdallah, 56, who was in the cafe next door to the library shortly after 1pm, said the MP was involved in an altercation between two arguing men.

He told the Press Association a man in a baseball cap "suddenly pulled a gun from his bag" and after a brief scuffle with another man the MP became involved.

He added: "He was fighting with her and wrestling with her and then the gun went off twice and then she fell between two cars and I came and saw her bleeding on the floor."

Clarke Rothwell, another witness, told BBC News there was a direct altercation between Cox and a man carrying a gun, who "purposefully" targeted her.

"He shot this lady and then shot her again," he said. "He leant down. Someone was wrestling with him and he was wielding a knife and lunging at her. Three times she was shot. People were trying to help her.
The Telegraph, meanwhile, describes the suspect as a "loner" with an apparent interest in far-right politics:
The man being held in connection with the death of MP Jo Cox has been named as Thomas Mair, who was described as a "loner" with a history of mental health problems who had previously subscribed to a far-right magazine.

Mair, 52, who was arrested by armed officers shortly after the attack, had spoken about receiving "psychotherapy and medication", and was described by his younger brother as having "a history of mental illness".

Despite being born in Kilmarnock, Scotland, a decade-old website posting identified Mair as a subscriber to S. A. Patriot, a South African magazine that was published by the pro-apartheid group, the White Rhino Club.

The club describes the magazine's editorial stance as being against "multi-cultural societies" and "expansionist Islam". A blog post attributed to the group, dated January 2006, described Mair as "one of the earliest subscribers and supporters of S. A. Patriot."

Mair, whose home is a small, semi-detached house on the Field Head council estate, in Birstall, is said to have lived in the property for 40 years.

Neighbours said that he lived with his grandmother, until she died twenty years ago, and had never had any full-time employment.

(…)

Kathleen Cooke, 62, said: "I am really shocked. He walked past my house this morning and said hello like he always does. He was wearing a grey T shirt and his white baseball cap like he always does and he was carrying a small rucksack.

"He is just a quiet bloke who keeps himself to himself. "He is very helpful and he helps local people with their gardens. There is one neighbour who is a bit frail and he keeps her garden tidy. He has helped me cut my hedge a couple of times.

"He has lived here for 40 years and has never been in any trouble and has never caused any trouble. He sometimes used to shout at the local kids if they played too near his house but that is fairly normal.

"I don't think he belonged to any political party and I never heard him express any views about Europe or anything like that. To us, he was just Tommy, a local bloke we all knew.

"He did not have a job but I think he went down to the Job Centre to help people on the computer from time to time – I think it was something he had to do to get his dole money."
There will likely be more information on Mair and his possible motivations in the coming days, of course, and as is always the case with events such as this it is prudent not to jump to conclusions about any of that until it's confirmed by authorities or other evidence. If it's true that he shouted "Britain First!" prior to the attack, of course, then it does lead one to conclude that this was a politically-based attack that in at least some way may be connected to the Brexit vote. Additionally, any time a political figure such as Cox is attacked like this the assumption that there may have been a political motive is one that cannot be idly dismissed, especially given the fact that the Great Britain is currently locked in a contentious battle that will go a long way toward deciding the future of the United Kingdom.
In many ways, this attack reminds one of the January 2011 attack on former Congresswoman Gabrielle Giffords while she too was meeting with constituents in the type of meeting very similar to what Cox was engaged in at the time she was attacked. In the immediate aftermath of the Giffords attack, there were efforts by several political groups to ascribe the actions of her attacker, Jared Lee Loughner, to one political movement or another. In the end, though, it became clear that Loughner was a severely mentally ill person who never got the treatment he needed and that his psychosis was so severe that he was initially deemed mentally unfit to stand trial. It was only after more than a year of treatment and medication that he was able to participate in his own defense, at which point he plead guilty and began serving a sentence that will keep him in prison for the rest of his life. Whether that is the situation with Mair, or whether he in fact had a political motive related to the current Europe debate in Great Britain is something authorities are no doubt examining closely.
Whatever the motivation, though, Cox's death is a tragedy all around. She was only 41 years old and serving her first term in Parliament, but by all accounts had a promising political career ahead of her. She was also the mother of two small children, both under ten. On some level, it doesn't matter why she was murdered.