Joe Biden: Bin Laden Raid Was "Most Audacious Plan" In 500 Years
Joe Biden got a little braggadocious last night.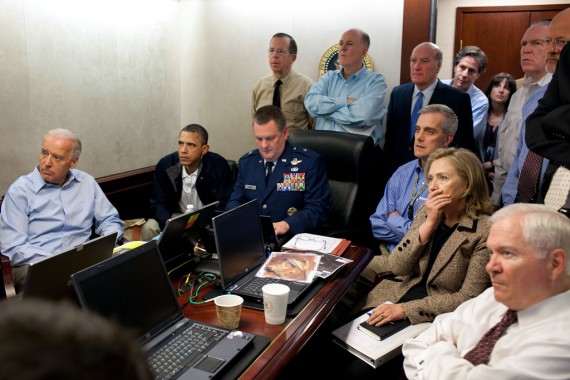 During a fundraising event last night, Vice-President Biden made some rather odd statements about the raid the ended with the death of Osama Bin Laden:
Vice President Joseph Biden on Monday night upped the ante around the already quite-dramatic assassination of Osama bin Laden.

From the pool report of Biden's comments during a fundraising event in New Jersey come these quotes.

You can go back 500 years. You cannot find a more audacious plan. Never knowing for certain. We never had more than a 48 percent probability that he was there.

Do any one of you have a doubt that if that raid failed that this guy would be a one-term president?

This guy is willing to do the right thing and risk losing.
Oh really? The most audacious plan in half a millennium? Just in the century that ended a mere 12 years ago, I can think of numbers examples of "audacious" military plans that were, if anything, far riskier and far more filled with the dangerous consequences of failure than the bin Laden raid. D-Day and Inchon come to mind most immediately, but there are plenty of others. And if you're going to make your frame of reference 500 years then certainly one can find other examples from history. At the very least, one has to say that the Vice-President is guilty of some extreme exaggeration here.
Daniel Foster agrees:
Arguably, Operation Desert Storm-with pre-invasion coalition casualties projected into the thousands and fears of a protracted maneuver war and the deployment chemical/biological weapons-was more audacious. Unarguably, the Inchon landing and the breakout of the Pusan perimeter were.

In World War II alone: Overlord. The British commando raids. The miracle at Dunkirk. Okinawa. Jimmy friggin Doolittle.

Five hundred years is a long time. From Patton to Napoleon, John Paul Jones to Sir Francis Drake. I'm sure all you history buffs out there can think of another battle plan at least in the running to be more audacious than Operation Geronimo.
As Foster points out, one of those plans may well have been the decision of a certain General leading the ragtag army of a nation-in-waiting across a river in the dead of winter to surprise a contingent of the most popular Army on the planet at the time. Now there's a President (to be) putting his culjones on the line.
As for the "one term President" part, Bruce McQuain raises an excellent point:
Two points.  "This guy" didn't risk anything.  My guess is had the raid failed, we'd never have heard about it in terms of an attempt to get 'bin Laden'.  In fact, we'd likely have only heard of it as an attempt to get a "high level" al Qaeda operative, if that.  And, there was no real decision to be made and most Americans know it.  The only bad choice he could have made was to not go after him, learn later he was there and have that information go public.
Precisely, and Biden also makes the rather unfortunate mistake of equating Obama's decision to authorize the raid, a wise one for which I said last May he deserved credit and still does, with the courage it actually took to carry out the raid. There is, I think, something unseemly about making something like this so nakedly political. Yes, a President gets credit and will receive political benefits for military and foreign policy successes that occur during his term, even when all they really do is approve the plans drafted and carried out by others. But, to make the politics of the operation this political, and to exaggerate both the risks and rewards in the way that Biden did in these remarks strikes me as inappropriate.
Of course, perhaps we could just chalk this up to Joe Biden being Joe Biden. After all, he does have a tendency to let things slip.