Joe Biden Inches Closer To Clinton In New Poll
Vice-President Biden continues to rise in the polls even though he has yet to actually enter the race for President.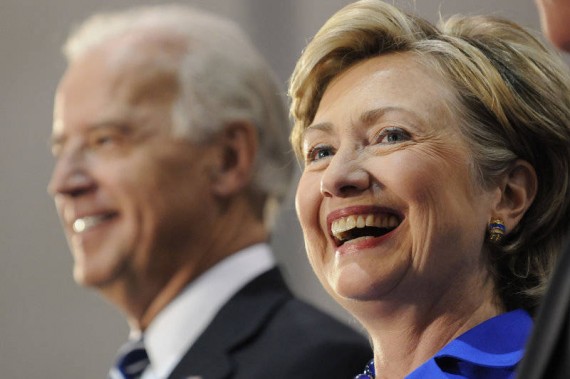 A new poll shows Vice-President Biden surging among Democratic voters to the point where he now draws nearly as much support as Vermont Senator Bernie Sanders:
Vice President Joe Biden surged in a new national Bloomberg Politics poll of Democratic voters and independent voters leaning toward the Democratic Party released Wednesday morning, even though he has not announced his intentions for the presidency.

Hillary Clinton earned a plurality of 33 percent, followed by Biden at 25 percent and independent Vermont Sen. Bernie Sanders at 24 percent. Other candidates are polling within the margin of error.

Biden led the field in terms of net favorability, polling at 80 percent to 14 percent, compared with Clinton's 70 percent to 25 percent and Sanders' 56 percent to 9 percent. More than a third of Democrats and Democratic leaners (35 percent) are not sure what they think of Sanders.

Of the candidates currently in the race, Democratic voters are most skeptical about realistically seeing Donald Trump as president — just 29 percent said yes, while 69 percent said they could not envision the billionaire businessman in the Oval Office. By comparison, 47 percent said they could realistically see Clinton as president, but 52 percent said they could not.

A plurality of voters said they want Biden to run, at 47 percent, while 37 percent want the veep to stay out and 15 percent are not sure.
This poll comes on the heels of a CNN/ORC poll released earlier this week that showed Biden rising to 22% after spending much of the summer garnering roughly 15% to 17% in the polls he was included in over the summer. Unlike that poll, though, this Bloomberg poll has some particularly bad news for Hillary Clinton in that it shows her support down to 33%, lower than it has been in other recent polls. Whether this means that things are getting particularly bad for Clinton now or that the Bloomberg poll is an outlier remains to be seen, though. Given the fact that all of the other recent polling had Clinton above 40% at the very least, the most logical conclusion to reach is that we're looking at some of an anomaly here. If it's not an anomaly, then Clinton looks to be in far worse shape than any of the recent polling has indicated.
Even if this poll is considered something of an outlier, it's likely to cause the speculation about Biden's intentions to intensify even more than it already has. Nationally, the Vice President now stands at 21.8%, just slightly behind Bernie Sanders, while Clinton has seen her average drop from a high of 62.4% as recently as late June to 41.8% today. Obviously, the numbers the Vice-President is seeing here aren't necessarily a reflection of what the race for the Democratic nomination would be like if he got into the race. Just like Clinton had very high approval numbers during the time that she was essentially detached from partisan politics as Secretary of State, Biden is enjoying a surge of popularity tied very much to the fact that he is outside of the race right now. Additionally, for the past two months or more he has been getting nothing by very good press, largely due to sympathy over the loss of his son but also simply due to all the speculation about whether or not he might enter the race. If he does run, these numbers are obviously going to drop at some point and his political future will depend on how well he is able to campaign against both Clinton and Sanders going forward. Given Biden's history as a campaigner on the national stage, it's likely that things won't go very well for him if he does get in the race.
Despite those caveats, though, these latest numbers are likely yet another factor that will play into the Vice-President's decision. As I said on Monday, the time for him to make that decision are dwindling, though, and if we don't hear from him by the time October starts it will be safe to assume that he's not running.