Joe Biden, John McCain, And The State Of American Politics
Former Vice-President Biden's eulogy for his friend John McCain is a lesson in what has gone wrong with American politics.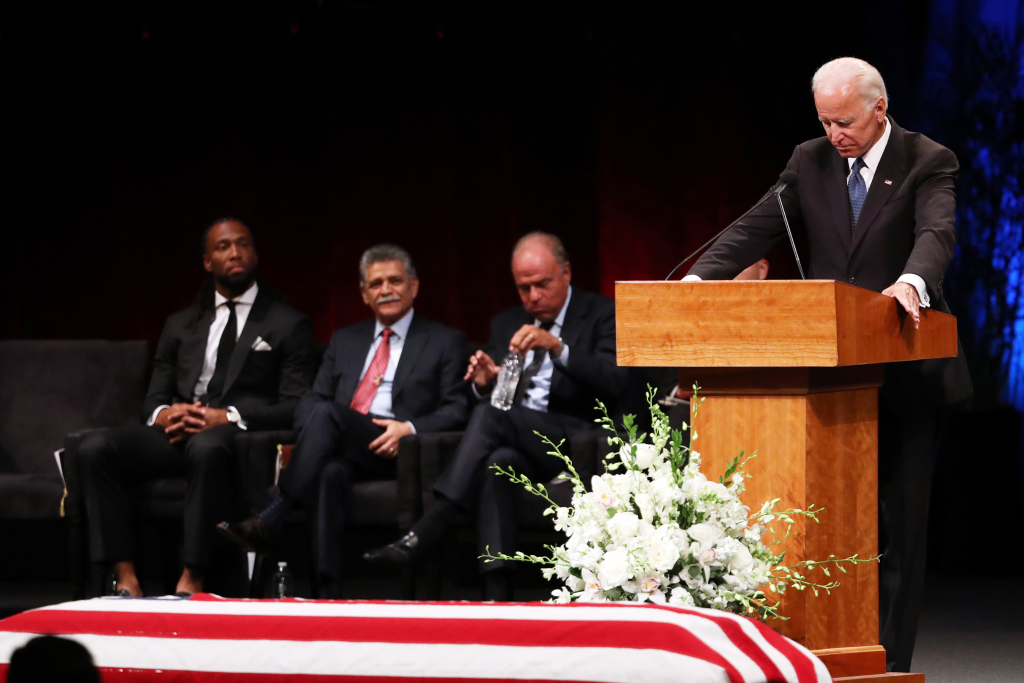 Yesterday afternoon, Arizona said farewell to Senator John McCain for the last time and, as expected, the high point of the service was the thirty-minute long eulogy that former Vice-President Joe Biden delivered for his friend:
In a tribute that capped days of mourning in Arizona for John McCain, former Vice President Joe Biden said the senator exemplified values that will endure his passing.

Eulogizing his friend, with whom he traveled the world and on whom he leaned in times of personal pain, Biden spoke of the "McCain code," values forged during his days in the Navy and lived every day afterward. Values that Biden said will endure.

With his voice rising inside the cavernous North Phoenix Baptist Church, Biden rejected the notion that McCain reflects the end of an era.

"Things have changed so much in America, they look at him as if John came from another age because he lived by a different code, an ancient, antiquated code where honor, courage, character, integrity, duty mattered," Biden said.

"The truth is John's code was ageless, is ageless. It wasn't about politics with John. You could disagree on substance," Biden added. "It was about the underlying values that animated everything John did."

Biden said most of those who knew him will miss McCain's character, but for the McCain family, they have lost the man in their lives.

For them, Biden spoke not just as  a Washington colleague, but someone who has lost a loved one to cancer. Biden's son, Beau, died of a similar brain cancer in 2015 at age 46.

"For that, there is no balm but time," he said. "Time and your memories of a life lived well, lived fully."

McCain's funeral drew 24 members of the U.S. Senate and more than 3,000 others whose lives he touched.
You can read the text of Biden's eulogy here, and watch the video below:
Jennifer Rubin comments on Biden's words:
Like the man who delivered it, former vice president Joe Biden's eulogy for Sen. John McCain was funny, open and self-deprecating. Beyond that, his words were nearly operatic in their emotional arc. Biden spoke to McCain's family, drawing on the well of his own sorrow following the untimely death of his son, Beau. "I promise you, I promise you," he repeated that there will be a time when a smile rather than a tear comes first in recalling your departed loved one. When that happens, he counseled, "you know you're going to make it." His description of the searing pain that envelops one in mourning would bring tears and knowing nods to anyone who has lost a dearly loved one. "It's like being sucked into a black hole inside your chest, and it's frightening," he said. And you knew he spoke from experience.

He also provided the comfort and candor only someone who has known great loss can impart. "There's nothing anyone can say or do to ease the pain right now. But I pray, I pray you take some comfort knowing that because you shared John with all of us your whole life, the world now shares with you the ache of John's death."

Biden traced his and McCain's careers and shared some escapades, but when he got to explaining why McCain's death has moved the entire country, his eulogy took flight. Biden restated the animating belief that sustained McCain in his prison cell in Hanoi and guided him his entire life. The Arizona senator, said Biden, "was neither selfish or self-serving. John understood that America, first and foremost, was an idea . . . organized around, not tribe, but ideals."

Beyond that, however, Biden distilled the essence of McCain and his model of optimism. "John didn't believe that America's future and fate rested on heroes," Biden said, adding that McCain "understood what I hope we all remember: Heroes didn't build this country; ordinary people given half a chance are capable of doing extraordinary things — extraordinary things." And that unflinching optimism in Americans' inherent decency, ingenuity, diligence and willingness to sacrifice made us believe in those things, too.

Biden is right. Americans want to believe in that America, where goodness, kindness, respect and honor are self-evident, and that those values are what make us great. McCain, in one sense, was the true populist. We do not believe in a strongman or any one man to solve our problems. We do not run from challenges or turn a deaf ear toward suffering. It was McCain's conviction that helped many of us believe, especially during the long winter of this presidency, that his code, what Biden called the "McCain code," can endure. We want to be better, and McCain helped us believe that was possible.
Over at CNN, Chris Cillizza comments that Biden's eulogy is an object lesson in what's wrong with American politics today:
The prevailing "value" of modern politics is partisanship: You are good if you are on my team. You are not just bad, but morally bankrupt, if you are on the other side. You are real if you are on my team and fake if you aren't. Anything the captain of my team says can be justified (and agreed with) because, well, they're the captain of my team. Anything the other team's captain says is wrong, by default, because they're the captain of the other team. There's no reason to listen to people on the other team. Or make friends with them. Or even be seen with them. They aren't on my team. Why would I do that?

President Donald Trump is the walking, talking epitome of the sanctification of partisanship over all our other, real, values. (Yes, the irony is not lost on me — and should not be lost on you — that the modern patron saint of partisanship is someone who has been, literally, a Democrat, an independent and a Republican all within the last decade or so.) This is a man who has declared, repeatedly, that the mainstream media is the "enemy of the people." A man who said his Democratic opponent in the 2016 election should be jailed. A man who has called elected officials of his own party who disagreed with him "incompetent," "weak and ineffective" and "so bad," among many other things. A man who, while McCain was home in Arizona fighting the brain cancer that eventually killed him, would use the story of McCain voting against health care repeal legislation to symbolize the Arizona senator's alleged backstabbing. ("One senator decided to put the thumb down," Trump would say in his standard stump speech. "That was not a good thing.")

To be clear: Trump doesn't take this if-you-aren't-with-me-you're-against-me view out of any sort of principles. After all, he made his living in the private sector as a deal-maker, someone who always saw compromise as possible — even in the darkest of situations. And as I noted above, Trump has been all over the map in terms of his personal politics. This is not a man wedded to a certain, unwavering view of what's right in the world.

Trump has elevated pure, unstinting partisanship into a virtue because it works for him politically. The Republican base was mad as hell at its elected leaders who they believed were all too willing to compromise on core principles. And not just compromise, but compromise badly; conservatives have long believed that Democrats always got the best of Republicans when it came to the sort of last-minute deal-making that Congress made a habit of producing. Compromise as capitulation was a notion within conservative circles before Trump, but he seized the idea and turned it into gospel truth. Even being seen with a member of the opposite party has become enough to draw a Republican incumbent a primary challenge from someone in their home state, insisting that the elected official has "gone Washington" or "come down with Potomac fever" or some other claptrap like that.
Rubin and Cillizza both make excellent points here.
Senator McCain's passing and the ceremony surrounding what will ultimately be his burial on Sunday on the grounds of the United States Naval Academy in Annapolis are receiving coverage that is ordinarily reserved for the death of a President, an office that McCain tried to run for twice only to see his chances cut short by George W. Bush and Barack Obama, who will, fittingly, delivery eulogies at the service to be held Saturday at Washington National Cathedral that will be held the day after McCain lies in repose under the dome of the Capitol Building where he worked from 1982 until his death last Saturday. For much of that time, McCain found a way to develop friendships across the aisle with men like Ted Kennedy, who died nine years to the day before McCain from the same form of cancer, and the former Vice-President, whose son died from that cancer three years ago. That started in an era when such cross-aisle friendships were common in the House and the Senate, but that's changed. Biden himself spoke to that in the eulogy when he related a story about how both he and McCain were approached by the leadership of their respective party caucuses and told that it "didn't look good" that they were seen on the floor of the Senate sitting together and being friendly. At that point, it was apparent that American politics was entering a different, and darker age. And we find ourselves there today.
Despite this pessimism, and the obvious issues created by the current occupant of the Oval Office and his enablers on Capitol Hill and in the political culture in general, Biden's eulogy and the life of John McCain stand as a reminder that it doesn't have to be this way. We don't have to hate each other over what are often minor political disagreements. We don't have to lock ourselves into ideological bubbles where we get our news, analysis, and opinion only from sources that reinforce what we believe in. And we don't have to accept binary choices from the two major parties just because certain candidates were able to rack up the support of party insiders to win a nomination or an election.
Much like Cillizza, I'm not naive enough to believe that John McCain's, Biden's eulogy yesterday, or the eulogies that will be delivered tomorrow by former Presidents George W. Bush and Barack Obama are going to immediately change our politics, our political culture, or our culture generally. It took a long time for the factors that have led us to where we are today to have their impact, and it's going to take time and willingness on the part of he American people to dig ourselves out of the situation we find ourselves in. However, as I said on the day that President Trump was inaugurated, I'm still confident that we'll find a way out of this. It won't be easy because, as Cillizza notes, " It's easier to retreat into partisan camps and surround yourself with people, TV talkers and the like who tell you that you're right (about everything) and those who disagree with you are your enemies, villains to be vanquished." However, we've survived worse than this and I think we'll survive this too. In any case, as I've said previously, we will either find a way out of it, or we will sink deeper into the abyss.