Joe Diffie Dead from Coronavirus
The 1990s country star is dead at 61.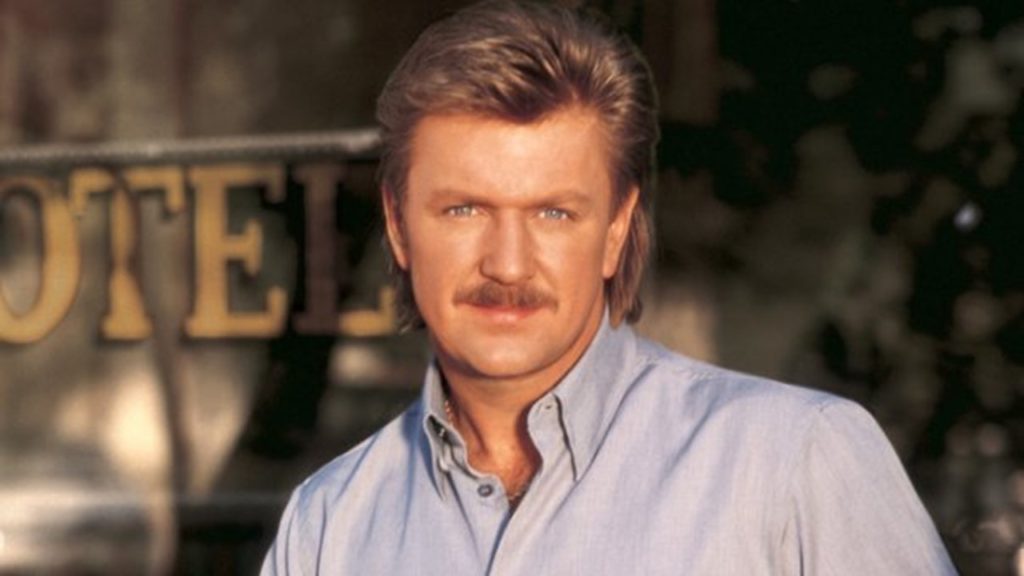 Joe Diffie, a breakout star of the 1990s country renaissance, has been claimed by the pandemic. He was only 61.
Rolling Stone ("Joe Diffie, Nineties Country's 'Pickup Man,' Dead at 61 From Coronavirus"):
Joe Diffie, a consistent country-music hitmaker throughout the Nineties, died Sunday due to complications related to COVID-19. His publicist confirmed the death to Rolling Stone. Diffie was 61.

With a traditional-leaning voice that drew comparisons to George Jones, Diffie populated his records with honky-tonk ballads and lighthearted novelty tunes, earning the Oklahoma native five Number One singles in the first half of the Nineties. These began with his debut release, the deeply moving "Home," followed by "If the Devil Danced (In Empty Pockets)," "Third Rock From the Sun," "Pickup Man," and "Bigger Than the Beatles." In all, Diffie charted 18 Top Ten singles, with the majority reaching the Top Five, including the 1993 radio staples "Prop Me Up Beside the Jukebox (If I Die)" and "John Deere Green."

The singer was famously name-checked, as were a number of his best-known songs, in Jason Aldean's 2013 single "1994." "There are plenty of singers in this town, but not many with a range like his," Diffie's fellow Opry star Vince Gill told People magazine in 1993.

Joseph Logan Diffie was born in Tulsa and raised in the tiny community of Velma, Oklahoma. In the intervening years, the Diffie family lived in San Antonio, Washington state, and Wisconsin. His father, who held jobs as a teacher, rancher, truck driver, and welder, had musical tastes that ran more toward traditional country, but Diffie learned about harmony singing by working in gospel and bluegrass groups, including, respectively, Higher Purpose and Special Edition. Diffie also played bars, VFW halls, and honky-tonks as a solo act in Duncan, Oklahoma, where he lived with his wife and children while working in a local foundry. He also partnered with his father to run a small recording studio.

After the closing of the foundry and the dissolution of his first marriage, Diffie relocated to Nashville in 1986, implementing a five-year plan to make it in the music business. There, he took a job with the Gibson guitar company and also began singing on countless demos and writing songs. In 1988, country legend Hank Thompson cut the Diffie composition "Love on the Rocks." In 1989, Diffie co-wrote and sang backing vocals on Holly Dunn's Top Five single "There Goes My Heart Again."

Signed to Epic Records, Diffie released his debut LP, A Thousand Winding Roads, in 1990. The album produced his inaugural hit, "Home," which set a record by becoming the first debut single to reach the top of the country charts on all three trade publications at the time: Billboard, Gavin, and Radio & Records. Opening for acts including George Strait and Steve Wariner, Diffie continued his hit streak with six Top Five singles in a row, one of which, 1992's somber "Ships That Don't Come In," would likely have gone to Number One but for its use of the word "bitch" in the lyrics.

In 1993, the year he was inducted into the Grand Ole Opry, Diffie released the platinum-selling LP Honky-Tonk Attitude, followed by 1994's Third Rock From the Sun, which was also certified platinum. Following moves to Monument and Broken Bow Records, Diffie signed with the Rounder label, returning to his bluegrass roots with Homecoming. In 1998, he won a Grammy award for Best Country Collaboration With Vocals for the all-star recording "Same Old Train" with Merle Haggard, Clint Black, Emmylou Harris, and more.

In 2013, Diffie and two of his country contemporaries, Aaron Tippin and Sammy Kershaw, teamed for the collaborative album All in the Same Boat. In July 2019, he released the honky-tonk tune "As Long as There's a Bar," and in November issued his first-ever vinyl LP, Joe, Joe, Joe Diffie, featuring updated versions of 11 of his hits and a cover of the Stevie Ray Vaughan tune "Pride and Joy."

Representative of his workingman persona, Diffie took a no-nonsense approach to his craft. "I just like the songs themselves," he told Rolling Stone in 2019. "Finding songs I really liked and that I related to. Really, it's not any more complicated than that."
Billboard ("'Pickup Man' & More: Joe Diffie's Biggest Billboard Hits"):
Diffie tallied 35 entries on the Hot Country Songs survey from 1990 through 2004, with the bulk released on Epic Records. Of those, 17 hit the top 10, with five rising to No. 1, beginning with his debut single "Home," which led the list dated Nov. 10, 1990.

"There's a lot of potential in this guy. I love his voice," Rick Stevens, then-program director of KRRV Alexandria, La., mused of Diffie in the Billboard issue dated Aug. 4, 1990. Said John Saville, then-music director of WWYZ Hartford, Conn., "If you like George Strait, Clint Black and Merle Haggard, you're gonna love Joe Diffie. He has the best elements of everybody."
WaPo ("Joe Diffie, country hitmaker of the 1990s, dies at 61") and NYT ("Joe Diffie, Grammy-Winning Country Music Star, Dies at 61") both ran the AP story:
Joe Diffie, a country singer who had a string of hits in the 1990s with chart-topping ballads and honky-tonk singles like "Home" and "Pickup Man," died on Sunday in Nashville. He was 61.

He announced on Friday that he had contracted the coronavirus, becoming the first country star to go public with such a diagnosis. His publicist, Scott Adkins, confirmed his death.

Mr. Diffie was a member of the Grand Ole Opry for more than 25 years. His hits included "Honky Tonk Attitude," "Prop Me Up Beside the Jukebox (If I Die)," "Bigger Than the Beatles" and "If the Devil Danced (In Empty Pockets)."

[…]

"Joe was a real true honky-tonk hero to every country artist alive today," the singer John Rich said in a statement. "No one sang our music better than he did."

The singer Deana Carter said she was "shell shocked" by the news and had hoped to perform again with Mr. Diffie this year. "He was a powerhouse that stopped people in their tracks, both on and offstage," she said in a statement.
As of this writing, there have been 34,022 confirmed deaths from COVID-19, 2,489 of them Americans. Diffie is the first of them that I knew, at least vicariously. He almost certainly won't be the last.
I grew up on country and western music, as it was known then, because that's what my parents listened to. While I never abandoned it entirely, I mostly listened to album rock and Top 40 starting with our return from Germany in 1979.
The hiatus lasted almost exactly a decade, as 1989 marked a renaissance in country music, with Garth Brooks, Alan Jackson, Travis Tritt, Clint Black, Lorie Morgan, Suzy Bogguss, and Mary Chapin Carpenter all hitting the charts for the first time. Diffie was among many greats that debuted the following year.
He was best remembered for novelty songs, with "John Deere Green" being his most requested. I preferred his ballads, with "Ships That Don't Come In" my favorite. (I didn't recall the use of the word "bitch" being an issue at the time but should point out that he used it as a synonym for "complain," not as a gendered slur.)
I drifted away from radio, even the satellite version, somewhere in the mid-2000s and haven't bought more than a handful of albums since. I listen to a lot of music via various streaming services but really haven't kept up with the current scene other than by happenstance. While I like some current country and pop, I prefer the likes of Jason Isbell and Warren Haynes these days. And, of course, I still listen to a lot of the old stuff.
My most recent reminder of Diffie before seeing the news of his passing yesterday afternoon was his June 2018 appearance on the Marty & McGee show. His appearance starts around 19:20.