Joe Lieberman: Hey, Let's Go To War In Syria Too!
Senator Joe Lieberman said today that we should intervene in Syria using the same rationale we did for Libya. Because, you know, what's the big deal about a fourth war?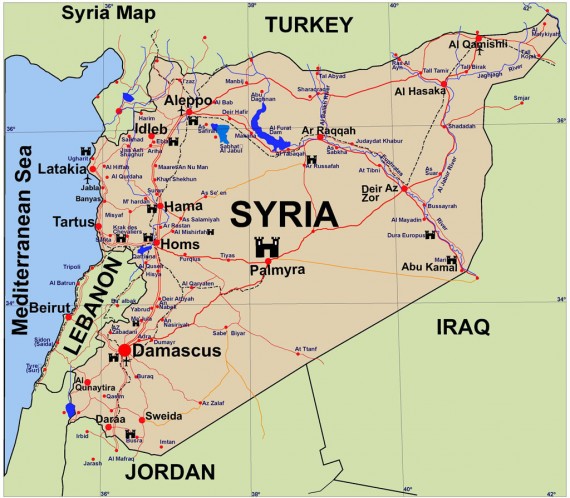 This morning on Fox News Channel, Joe Lieberman became the first U.S. politician to back military action in Syria in response to the government's violent reaction to ongoing protests:
Senate Homeland Security chairman Joe Lieberman (I-Conn.) said the U.S. should intervene to help Syrian protestors if officials there turn weapons on the public as took place in Libya on Fox News Sunday.

Lieberman told host Chris Wallace that if Syrian President Bashar al-Assad begins to slaughter his own people he could face an international coalition willing to implement a no-fly zone as they have done in Libya.

Lieberman said he would support U.S. intervention "if Assad does what Qaddafi was doing, which is to threaten to go house to house and kill anyone who's not on his side."
Video:
The part of Lieberman's comments that I think are most troublesome are these:
"There's a precedent now that the world community has set in Libya and it's the right one," Lieberman said. "We're not going to stand by and allow this Assad to slaughter his people like his father did years ago and in doing so we're being consistent with our American values and we're also on the side of the Arab people who want a better chance for a decent life,
That's the real problem with the Libyan intervention. Aside from the unknown consequences are sure to follow the replacement of Muammar Gaddafi by a rebel coalition that includes elements allied with al Qaeda who were killing Americans in Iraq a few short years ago, it establishes a precedent for intervention in purely internal matters whenever the powers-that-be in the United Nations Security Council decide that civilians need to be "protected." It strikes me as a policy that is just as likely to erode the credibility of the United Nations as enhance it, with smaller nations coming to realize that they will essentially be at the mercy of the morality policy in the Security Council, as long as Russia and China decide to sit on the sidelines and abstain rather than exercising their veto.
As for Lieberman's suggestion itself, intervening in Syria would be even more insane than the Libya intervention. For one thing, it would be a far more difficult logistical matter given the fact that Syria has only limited access to the sea and that any effective no-fly zone would require violating the airspace of nations like Lebanon and Jordan, both of whom would be likely to want to stay out of this particular fight. For another, the Syrian military is far more effective than the Libyan military. It wouldn't be such an easy cakewalk.
Additionally, as Ed Morrissey notes, Lieberman's suggestion that we should engage in missions like this because the Arab's are in favor of it makes no sense whatsoever:
So … what is the strategy here, exactly? We should attack nations at the behest of the Arab League rather than by considering our own national interests? We should conduct a war against all brutal Arab dictatorships?
Because of its location, its ties to terrorism and its influence over the political affairs of Lebanon, we arguably have more interest in the political future of Syria than we do Libya. That doesn't mean, however, that we need to go in there with guns blazing without first considering if military action is really the proper way to advance our interests in this case. If it sets off a wider war, which is a distinct possibility in this particular, case, then I think it's pretty clear the answer is no. In any case, though, the only relevant consideration in deciding how to proceed is what is in the national interest of the United States, not what the United Nations or the Arab League wants us to do for them. If they want to act, let them do it themselves.