Joe Paterno Obituary Cartoon Do-Over
Rob Tornoe has revised his Joe Paterno-Bear Bryant cartoon in light of the Freeh Report.
Rob Tornoe's Philadelphia Inquirer cartoon depicting Bear Bryant welcoming Joe Paterno to Heaven went viral back in January.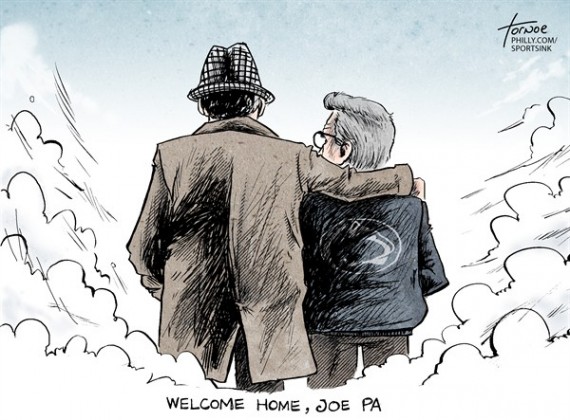 Now, after the conviction of Jerry Sandusky and the damning report from Louis Freeh showing Paterno's role in enabling the unspeakable crimes against children, Tornoe wants a do-over:
The cartoon was enormously popular, and spread across Facebook like a wildfire. My inbox was stuffed with thank you notes and warm wishes from Penn State alums across the country. Someone even printed it out and put it on display next to Paterno's statue as a tribute. And you know something – I was wrong.

With the release of the Freeh report, it's clear to anyone but his kids that Paterno, along with other top Penn State officials, covered up the child sex abuse allegations against assistant football coach Jerry Sandusky out of fear of bad publicity.

Covered up child rape. For more than a decade. So it wouldn't harm the football team. I'm not a religious person, but this man doesn't belong in heaven.

So I have the opportunity not too many cartoonists are afforded – to redress my mistake, to call myself out for taking part in a pity party for someone who decided that a child's well being was only valuable if they were wearing his team's football uniform.

So like Mitt Romney and Bain, I've retroactively updated my obituary cartoon and redrawn it to expel Paterno from paradise and send him plummeting downward. Like Sandusky in prison, Paterno is now in a place that knows how to deal with people who allow children to be raped.
Here's the revised version: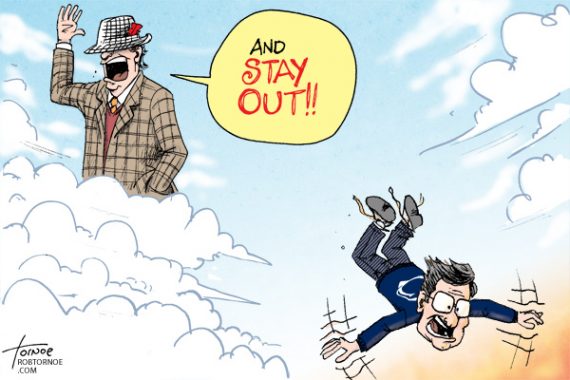 It's certainly a more appropriate sentiment in light of new evidence. It would have seemed mighty harsh, though, the day after Paterno's death.