John Kerry Outsources American Foreign Policy To James Taylor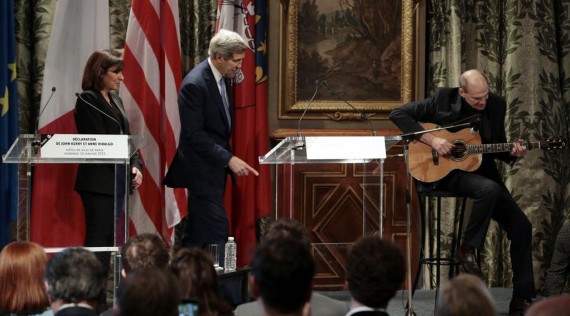 With some still criticizing the Administration for not sending a higher-ranking officials to Sunday's unity rally in Paris, Secretary of State John Kerry decided it might be a good idea to stop by Paris on the way home from India. And, to show our French friends that America stands beside them in the fight against terrorism, he brought along a special guest:
Secretary of State John Kerry, the highest-ranking U.S. official to visit France since Islamic militant attacks in Paris left 17 dead, met with French Foreign Minister Laurent Fabius and French President Francois Hollande to offer condolences this morning.

Kerry, who said he was in France "to share a big hug with Paris," is also set to lay wreaths at the sites of the two attacks, a State Department official said. Kerry and Hollande embraced as they met in the courtyard of the presidential palace.

"The American people watched you and your team lead with great elegance and grace, and we watched the people of France come together with great sense of purpose and unity," Kerry said. "It was a great lesson to the world."

Kerry, who is making his 19th visit to Paris since becoming secretary of state, arrived in Paris on Thursday evening and will be joined by American singer James Taylor, a longtime friend, who will perform a song in tribute to victims of the attacks that killed 17 people.
When I first saw this reported on Twitter this morning, I had to look twice because I was convinced my brain was playing tricks on me. But, no, it's real:
Don't worry about those terrorist cells, Europe. We're sending James Taylor to show you how much we care!
The one thing I'd point out is that The Simpsons did it first.