John King's Question To Newt Gingrich Was Fair, And Newt's Past Is Fair Game
Getting to the heart of last night's moment of kabuki theater.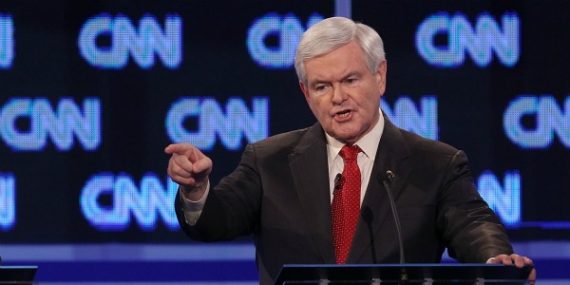 In my wrap-up of last night's debate this morning, I took note of the moment that not only set the tone for the entire event but also may end up being the reason that Newt Gingrich wins the South Carolina primary. I'm referring, of course, to the first five minutes or so of the debate when CNN's moderator John King asked Newt Gingrich about the allegations that had become news just that afternoon arising out of the ABC News interview of his second wife Marianne. Gingrich's response, of course, is brought down the house and has caused many on the right to rally behind him over the past twenty-four hours.
Much of the focus has been on the question of whether it was even appropriate to ask the question. Predictably, how one feels about this question depends at least in part on which candidate one happens to be supporting in the primary, but even some writers about the practice of journalism have taken to criticizing King for leading the debate off with such a salacious question. Roy Peter Clark, for example, lists a number of reasons why he thinks King was wrong and Gingrich was right, including these:
1.  Political power is a seductive business. There is plenty of evidence — from all political parties — that hotshot politicians routinely cheat on their spouses. It's not important news.

2. The fact that men (or women) cheat on their wives does not mean they can't lead us to peace and prosperity.

3. We all know that cheaters are likely to be hypocrites, preaching the sanctity of marriage, while playing the beast with two backs on the side. Still not important news.

4. Political leaders not known for cheating on their wives (take Nixon or Carter) do not necessarily become great presidents.
Clark goes on to say that King could have raised the question later in the debate, a point I made myself this morning. Perhaps if he'd done so it would have blunted some of the emotional resonance of Gingrich's reply. After all, asking about this issue at the 73rd minute doesn't necessarily evoke the same emotional outburst as asking it right off the bat. For his part, King said last night that he made the decision to lead with the allegations by Gingrich's ex-wife because they were the most prominent news story of the day:
King, who seemed defensive during Gingrich's onslaught, took full responsibility for the question.

"This is one of those damned if you do, damned if you don't," he said during an interview with CNN's Anderson Cooper after the debate. "It was my judgment, my decision, and mine alone. If we're going to deal with it, let's deal with it upfront, let's not try to sneak it into the middle of the debate somewhere."

King elaborated on that decision later in a conversation with POLITICO. "My old AP training is, you deal with the lead of the day upfront first," he said. "I respect anybody who disagrees, but we made our decision."

"[Newt's] criticism of the media is his right," King continued. "He has the same First Amendment we do. It's a tactic he's used throughout the debate season."

Asked how long the confrontation would remain a subject of debate in the media, King said he didn't know. "That's not for me to decide," he said.

Gingrich did not appear angry when he was also interviewed by Cooper, telling him: "I thought it was a great debate. I thought John King did a great job."
King also said in another interview that after the debate he had a pleasant conversation with Newt and Callista Gingrich, and that he understood that Gingrich was doing what he had to do to "win the room."
That last comment is perhaps the most important point to take away from this entire incident. Gingrich clearly knew that this issue would come up during the debate at some point, there's no way that it wouldn't really. For most of the day, the media had been talking about what his ex-wife was going to say, and then when ABC leaked the preview video showing her talking about Gingrich's request to have an "open marriage." The story was going to hang over the debate stage like a giant pink elephant until it came up. More importantly, the Gingrich campaign spent the better part of the day on Thursday pushing back against the story and releasing a letter from Gingrich's daughters calling on ABC to not air an interview that they contended was making false allegations. The campaign also apparently gave ABC statements from Gingrich friends disputing the allegations that Marianne Gingrich made in the preview video. In other words, this had become a campaign story.
More to the point, it is fairly obvious that Gingrich's answer, including the anger he showed that got the crowd so riled up was planned. Obviously, Gingrich could not have anticipated when King would ask the question, but he knew the question would be asked and he had a response ready to go. It's no different than the second Reagan-Mondale debate in 1984 when, after a disastrous debate performance that caused many to wonder if he was up to the task of being President at his age, President Reagan came back with a response didn't really answer the question but nonetheless ended the controversy once and for all. It was a political masterstroke, but it was also obviously a line that Reagan or his advisers had come up with during debate preparation. It worked, just like Gingrich's confrontation with John King may end up working out for Gingrich.
So, let's not pretend that what we saw on television last night was some kind of spontaneous display of bravado. It was a cold, calculated political maneuver by Gingrich designed to avoid his being forced to answer embarrassing questions about his past.
One can argue, perhaps, over whether or not it was appropriate for King to ask this kind of question at the top of the debate. The more I think about it, the less convinced I am that my initial opinion about it being an inappropriate question to lead the debate off with may not be correct. The question was going to be asked. King knew it, Newt knew it, everyone else in the room knew it if they had given it any thought. Why delay the inevitable? In either case, I'm not sure that it matters all that much if the question was asked at 8:05pm or at 9:45pm.
More importantly, Gingrich's past is a perfectly fair issue to ask him about, and cover as part of a Presidential campaign. This is a man who presided over the impeachment and prosecution of a President on "charges" that, in the end, had little to do with anything other than the fact that he had an affair with another woman. At the same time he was doing that, he was having an affair with a House Staffer while married to the woman who had had been having an affair with while still married to his first wife. After he left office, Gingrich spent much time opining on issues of morality and telling people that they have no right to get married just because they happen to be of the same gender. If, as the social conservatives in the GOP told us constantly during the Clinton Era, "character matters," then does not the character of a man who once told his ex-wife that it didn't matter if he actually lived up to the virtues he proclaimed in public life matter when he asks Americans to elect him President of the United States matter as well?
Gingrich did an excellent job of playing the victim last night, and his attack on the media will play well with a Republican base schooled on the rhetoric of Rush Limbaugh and Sean Hannity, and taught at the knee of Sarah "Lamestream Media" Palin. His response was, as I said, politically masterfully. But the question that was asked of him was completely fair and relevant.
Peter Wehner sums up the whole affair quite well:
It was quite revealing to me that Mr. Gingrich, in his answer, didn't show any contrition or remorse. Instead, he reacted with indignant self-righteousness. So think about this: Mr. Gingrich, a candidate for the presidency, is enraged because the press interviewed his ex-wife and, in the process, has drawn attention to his own infidelity and mistreatment of his ex-wife, which no one disputes. And in all of this the injured party isn't Marianne Gingrich but rather Newt Gingrich. The offending party isn't the former speaker; it's the press for daring to raise this matter.
And that is exactly how Gingrich wanted it to work out.
Photo via CNN