John Lennon, Closet Republican?
While his best-known solo effort was "anti-religious, anti-nationalistic, anti-conventional, [and] anti-capitalistic," John Lennon became a Reagan Republican a few years later, his assistant claims.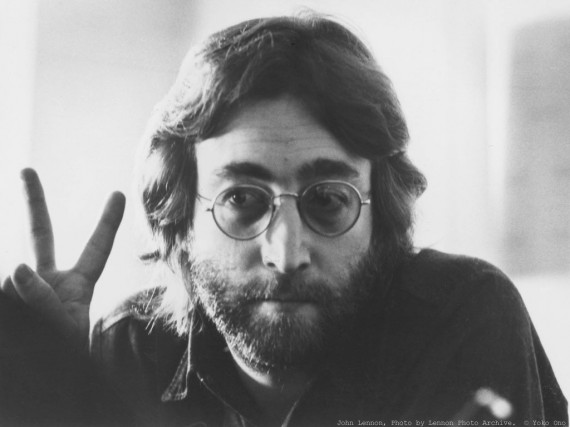 While his best-known solo effort was "anti-religious, anti-nationalistic, anti-conventional, [and] anti-capitalistic," John Lennon became a Reagan Republican a few years later, his assistant claims.
WENN ("Lennon was a closet Republican: Assistant"):
John Lennon was a closet Republican, who felt a little embarrassed by his former radicalism, at the time of his death – according to the tragic Beatles star's last personal assistant.

Fred Seaman worked alongside the music legend from 1979 to Lennon's death at the end of 1980 and he reveals the star was a Ronald Reagan fan who enjoyed arguing with left-wing radicals who reminded him of his former self.

In new documentary Beatles Stories, Seaman tells filmmaker Seth Swirsky Lennon wasn't the peace-loving militant fans thought he was while he was his assistant.

He says, "John, basically, made it very clear that if he were an American he would vote for Reagan because he was really sour on (Democrat) Jimmy Carter. He'd met Reagan back, I think, in the 70s at some sporting event… Reagan was the guy who had ordered the National Guard, I believe, to go after the young (peace) demonstrators in Berkeley, so I think that John maybe forgot about that… He did express support for Reagan, which shocked me.

"I also saw John embark in some really brutal arguments with my uncle, who's an old-time communist… He enjoyed really provoking my uncle… Maybe he was being provocative… but it was pretty obvious to me he had moved away from his earlier radicalism.

"He was a very different person back in 1979 and 80 than he'd been when he wrote Imagine. By 1979 he looked back on that guy and was embarrassed by that guy's naivete."
These stories are a bit frustrating, in that they're almost impossible to corroborate or refute.  But the story is plausible. Lennon had a flexible, inquisitive mind and was constantly exposing himself to new ideas. Lennon was 31 when he wrote "Imagine" and had just celebrated his 40th birthday when he was gunned down. And the 1970s was not a good decade for Western liberalism, which had become bloated in both Lennon's native England and his adopted homeland. Margaret Thatcher had just come to power in the UK and Reagan had just gotten elected–although not yet inaugurated and having the chance to disappoint the dreamers–when Lennon was murdered.
Then again, it's not as if he stopped writing songs in 1971.  His "Double Fantasy" album was recorded in August and September 1980 and released on November 17th, two weeks before his death. Few of the songs are overly political–he was more interested in Yoko and their son, Sean, who were the subject of numerous tracks on the album.  But, while not overtly ideological, it's hard to see "Watching the Wheels" and its extolling of dropping out of the rat race and becoming content with one's everyday life as encapsulating the Republican spirit.
Does it really matter?
Not really. Lennon has been dead more than three decades now–nearly as long as he lived and almost twice the time he was famous.  His legacy as a musician stands on its own. Those who look to artists to validate their political philosophy are apt to be disappointed at any rate.
More interestingly, perhaps, is whether this impacts the legacy of "Imagine." If, in fact, the artist had come to reject the premises of his anthem, does it tarnish it? Likely not. After all, Karl Marx had moved well past "Communist Manifesto" in his thinking by the time of his death and it nonetheless became the touchstone a Communist movement that bastardized its message. Art stands on its own, subjected to the interpretation of others, once the artist has created it.
UPDATE: Commenter Michael Reynolds points out that Seaman confessed in 2002 to "stealing hundreds of the late Beatle's personal photographs and letters." Additionally, it's worth noting that Seamon, who only worked for Lennon for about a year, published a book (The Last Days of John Lennon) in 1992 that was considered unremarkable at the time. It's odd, indeed, that he'd have kept this nugget to himself at the time, much less for an additional 19 years.
Alas, while an interesting discussion topic, Seaman's belated word for it is a pretty thin basis. Apologies for not doing a cursory check into his past before posting.
via Andrew Sullivan