Jon Huntsman, Sr.: I'm Not Reid's Source, But Romney Really Needs To Release His Tax Returns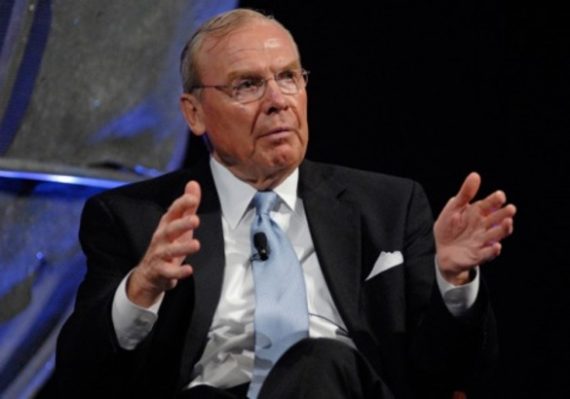 Late yesterday, several people in the blogosphere began to speculate that Harry Reid's supposed source for his claims about Mitt Romney's taxes was Jon Huntsman, Sr, the father of former Presidential candidate Jon Huntsman, Jr. The speculation was based mostly on a comment that one of Reid's aides had made, and later withdrew, that the source was "a Republican." When I read it, it sounded like silly speculation to me because I cannot conceive of any plausible circumstances under which an investor in Bain would have access to Romney's tax returns.
In any event, Huntsman Sr. spoke today to Greg Sargent today and said he wasn't the source, but he also said that Romney needs to release more tax returns:
The internet is alive with speculation that the secret source Harry Reid claims to have on Mitt Romney's tax returns is major Utah industrialist Jon Huntsman Sr. He is the founder of Hunstman Corporation and the father of the former GOP presidential candidate — and the speculation is based on the fact that his profile fits with much of what we publicly know about Reid's presumed confidante.

But I just got off the phone with Huntsman, and he confirmed to me that he is not Reid's source.

However, in a move that could be significant, Huntsman forcefully called on Romney to release his tax returns. This matters, because Huntsman is a longtime backer of Romney — he has long been close to Romney; he supported his early campaigns; he was the national finance chairman of Romney's 2008 presidential campaign; and he has raised a lot of money for him over the years. (He backed his own son in the latest GOP primary.)

"I feel very badly that Mitt won't release his taxes and won't be fair with the American people," Huntsman told me. In a reference to Romney's father, who pioneered the release of returns as a presidential candidate, Huntsman said: "I loved George. He always said, pay your taxes for at least 10 or 12 years."

"Mr. Romney ought to square with the American people and release his taxes like any other candidate," Huntsman said. "I've supported Mitt all along. I wish him well. But I do think he should release his income taxes."
The Romney campaign thinks that they can continue to ignore the tax return issue. Clearly, they cannot.