Jon Stewart Leaving Daily Show
Jon Stewart is stepping down as the host of Comedy Central's "The Daily Show" after sixteen years.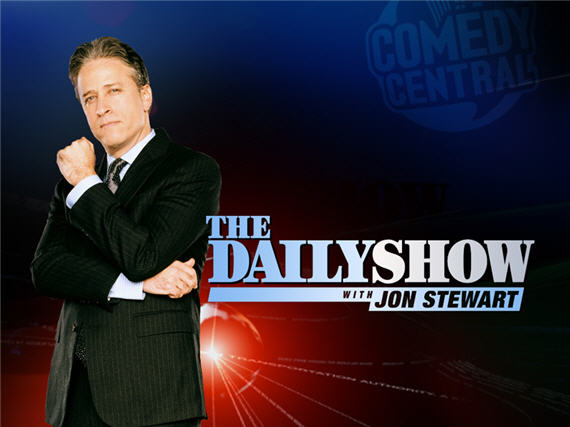 Jon Stewart is stepping down as the host of Comedy Central's "The Daily Show" after sixteen years.
AV Club ("Jon Stewart says he's leaving The Daily Show"):
Ending one of the most venerable and trusted careers in making a complete mockery of the news, Jon Stewart has announced that he is stepping down as host of The Daily Show. According to sources who were there (some of whom are alreadypassing word along on social media), Stewart let the news slip at the taping of today's episode, telling those in the audience that he's retiring. No word yet on when exactly he's leaving, whether this means he's ending his time in the anchor chair to focus on being a Serious Movie Director now, or just how much this is Brian Williams' fault. Presumably all of this information will be revealed in time—and delivered by Stewart himself tonight on your television. We'll update when we have more.

UPDATE: Comedy Central just sent out this official statement confirming the news, and saying that Stewart will remain with The Daily Show until the end of the year. It also says that the show will "endure for years to come," suggesting that it won't end with Stewart.
POLITICO ("Jon Stewart leaving The Daily Show"):
Jon Stewart, the host of Comedy Central's 'The Daily Show,' will step down later this year, the president of the network confirmed in a statement to POLITICO on Tuesday.

"For the better part of the last two decades, I have had the incredible honor and privilege of working with Jon Stewart. His comedic brilliance is second to none," Michele Ganeless, President of Comedy Central, said in a statement.

"Jon has been at the heart of Comedy Central, championing and nurturing the best talent in the industry, in front of and behind the camera," Ganeless continued. "Through his unique voice and vision, 'The Daily Show' has become a cultural touchstone for millions of fans and an unparalleled platform for political comedy that will endure for years to come."

"Jon will remain at the helm of 'The Daily Show' until later this year," she wrote. "He is a comic genius, generous with his time and talent, and will always be a part of the Comedy Central family."
All good things must come to an end, I suppose, but I'm not sure why in this case. Stewart isn't Johnny Carson, who hosted "The Tonight Show" for thirty years, but then nobody well ever be that again; the audience is just too fragmented. Carson arguably retired too early—he was in his early 60s and lived another thirteen years–but Stewart is only 52 and it's hard to imagine where he'll go to have a bigger impact.
His protege, Stephen Colbert, moved on a few months ago but did so to take over "Late Night" from David Letterman. But "Tonight" already has a new host and one who's younger than Stewart. I suppose there's always making movies but, if "Rosewood" is any indication, that's a step down.
Colbert's slot has been taken over by Larry Wilmore, who I loved on "The Daily Show," but thus far "The Nightly Show" has failed to live up to my lofty expectations. It's not particularly funny and, while it tackles genuinely important issues, it does so poorly, using guest that aren't particularly famous and, more importantly, offer no especial expertise on said issues. And, as I've already noted, don't compensate by being particularly funny.
Regardless, I wish Stewart well in whatever it is he does next. He seems like a genuinely good guy and he's certainly very talented. I'll miss DVRing his show and watching it the next day.