Jon Stewart vs. Stephen Colbert
Jon Stewart has made the transition into the post-Bush era much more effectively than his protege, Stephen Colbert.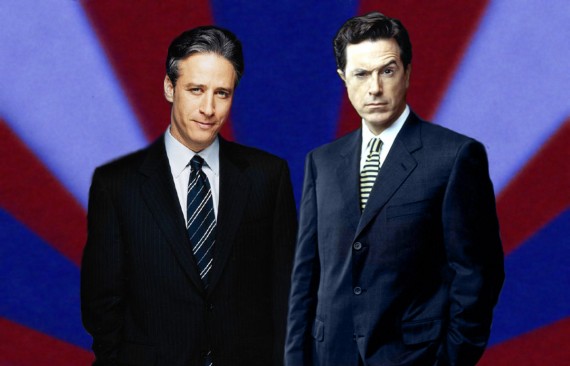 Joy McCann embeds these clips which most of you have likely seen by now of Jon Stewart and Stephen Colbert announcing their "competing" rallies in Washington on October 30:
She observes,
It's a clever premise, but Stephen Colbert makes me sad: I saw every episode of Strangers with Candy (both the great TV series and the regrettable movie): Colbert is a funny, funny guy. And yet, the arrangement with Stewart seems to be that Colbert has to operate in the voice of that snarky character he plays on The Colbert Report. It ties him down like Gulliver, and he just isn't funny as "that guy."
While I wouldn't go quite that far, I agree with Joy's basic premise.
During the last couple years of the Bush administration, I found Colbert's show much funnier than Stewart's.   The faux Bill O'Reilly character was perfect for the time, providing both pretty sharp satire and yet enough warmth to make the jokes appealing to those, like myself, who voted for Bush and supported many of his policies.
There have been plenty of great moments on the show since, most notably his Operation Iraqi Stephen stint and his support for the U.S. Olympic Speedskating Team.  But, there, he largely stepped outside the confines of his character and just used his enormous improvisational talents and likability to good affect.
Stewart, meanwhile, has truly elevated his performance during the Obama administration.   After a few awkward weeks of mostly making the show about the mess that the Republicans have left him, he's been arguably Obama's most effective critic.    While obviously supporting the president's agenda, he's been merciless about dubious claims, absurd policies, and a general lack of leadership.  Not always needing to be "in character" — or even funny — he's able to bring the full force of his talents to bear in dissecting the news.
Of course, the Republicans continue to give Stewart plenty of fodder.   And he's able to hammer them with full force, skewering some of the nonsense coming from the GOP leadership and the Tea Parties, because of the intellectual honesty with which he goes after his own party.