Journalists As Opposition Researchers
Jonathan Chait makes an astute observation about the media's role in meme generation.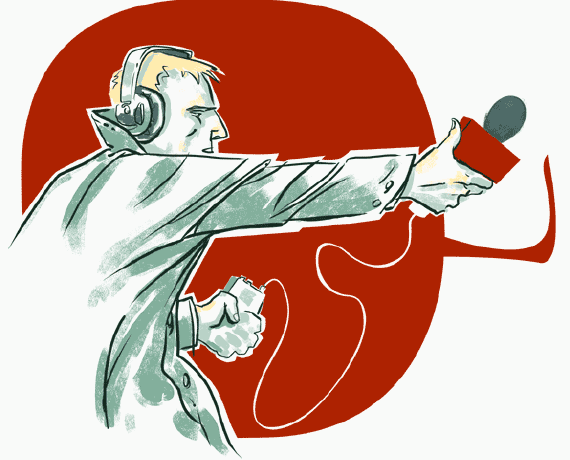 Jonathan Chait makes an astute observation: "Journalists Are Becoming Oppo Researchers and It Needs to Stop."
Friday was not a great day for political journalism. The story driving campaign news was that President Obama said "the private sector is doing fine," which he meant in the same basic way that I did this week when I was slowly recovering from a horrendous head cold and told people I was "fine," but which Republicans seized on as if to suggest he meant "ideal." But what set me off (on an extended Twitter rant, in fact) was actually not that story but a Buzzfeed article headlined "Mitt Romney Struggles To Identify A Donut." They're sort of the same thing.

The story is a short video clip of Romney pointing at a plate of delicious-looking doughnuts and saying, "Can you see that one of those chocolate, um, uh, chocolate goodies finds its way to our ride?" He was almost certainly not struggling to identify a doughnut. Maybe he was looking for a more specific word to identify the subgenre of doughnut he was pointing at. Maybe he was trying to come up with a more general term than doughnut, and he settled on "goodies." In any case, I am nearly certain Romney was not unfamiliar with doughnuts.

Did Buzzfeed think Romney didn't know what a doughnut was? I would also guess the answer is: almost certainly not. Rather, Buzzfeed was engaged in a kind of meta judgment. Somebody else — liberal bloggers, Democrats, an MSNBC host — would use the video to make the case that Romney didn't know what a doughnut was. Romney, as we all know, is extremely wealthy and often out of touch with the realities of middle-class existence, so it could be claimedthat he couldn't identify a doughnut, and it would become another piece of evidence for what we all know to be true about Romney, and surely is true, even though it is not actually evidence of anything.

It's obviously true that political campaigns will take their opponents' statements out of context. That is probably unavoidable. The key step I'm focusing on here is when the journalist internalizes the work of the oppo researcher. Perhaps, in the end, the dumbest, least fair, most context-free interpretation of the line will ultimately prevail. But when journalists assume this will happen and make no effort to fight against that process, we go from merely reporting on the stupidity of politics to becoming accomplices of it.
The incentives are powerfully in the opposite direction, alas.
With the proliferation of media outlets and rise of aggregators and social media, fewer and fewer of us are consuming information in the way we did even a few years ago. As recently as 2004 or so, I read newspapers, watched specific television news and news commentary programs, and visited individual websites on a daily basis. Now, though, I consume my news in individual servings based on links that pop up on a couple of aggregation sites, my curated Twitter feeds, and my Google Reader feed. Indeed, Chait's piece appears in New York magazine. I read perhaps half a dozen stories from that site a month–all via referral links. I don't think I've ever intentionally visited the site otherwise.
While I'm more tech forward than most–certainly, most people of my generation–most under-60s are following a similar path.
What this means is that fewer and fewer loyal readers/viewers exist. In the old days, people just watched CBS Evening News and read the New York Times every day and read a few magazines every month. Consequentially, editors and producers could simply decide what news their audience ought to be aware of and craft it according to their own sensibility in terms of style, substance, and spin. Now, though, the impetus is on creating a clever headline or otherwise creating a meme that will get passed on through Twitter, Facebook, or other ways. That's particularly the case for startups like Buzzfeed, who have zero built-in readers.
In turn, most of us in the commentariat race to jump on these memes early in order to put our spin on them. In the case of OTB, the spin is usually some version of "this meme is horseshit" or this "Outrage of the Day isn't actually outrageous." But just acknowledging the meme helps perpetuate it.
There's no obvious way out of this cycle. To simply ignore most of these stories is not only disadvantageous from a business standpoint–like it or not, they drive substantial traffic–but contributes to the disinformation. Once the story has gone viral, a large number of people will believe it to be true, either because it confirms their pre-existing prejudice or because they only see the headline and don't bother to read the story. Just as campaigns have no real alternative but to respond to their opponent's distortions, pundits have little choice but to weigh in.