July Jobs Report Shows Solid Jobs Growth Continuing
The July Jobs Report was largely a continuation of the good news from June, but the question is how long that can last.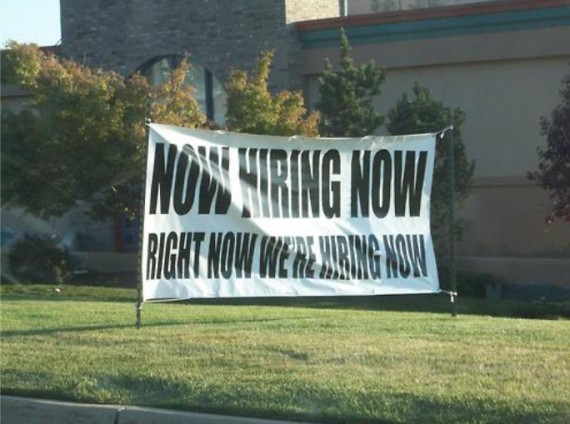 After the June Jobs Report showed the employment market bouncing back after lackluster reports in April and May, the question hanging over the economy was what the July report might indicate. An early report from payroll processor ADP, along with consensus economic forecasts, seemed to indicate that we should expect an unimpressive middle of the road report that indicated neither a strong market for jobs nor continued weakening. Instead, the morning brought the pleasant surprise of another strong month, which has implications for both Federal Reserve policy going forward and the election:
Total nonfarm payroll employment rose by 255,000 in July, and the unemployment rate was unchanged at 4.9 percent, the U.S. Bureau of Labor Statistics reported today. Job gains occurred in professional and business services, health care, and financial activities. Employment in mining continued to trend down.

The unemployment rate held at 4.9 percent in July, and the number of unemployed persons was essentially unchanged at 7.8 million. Both measures have shown little movement, on
net, since August of last year. (See table A-1.)

Among the major worker groups, unemployment rates in July were little changed for adult men (4.6 percent), adult women (4.3 percent), teenagers (15.6 percent), Whites, (4.3
percent), Blacks (8.4 percent), Asians (3.8 percent), and Hispanics (5.4 percent). (See tables A-1, A-2, and A-3.)

In July, the number of persons unemployed less than 5 weeks decreased by 258,000. At 2.0 million, the number of long-term unemployed (those jobless for 27 weeks or more)
was about unchanged over the month and accounted for 26.6 percent of the unemployed. (See table A-12.)

Both the labor force participation rate, at 62.8 percent, and the employment-population ratio, at 59.7 percent, changed little in July. (See table A-1.) The number of persons employed part time for economic reasons (sometimes referred to as involuntary part-time workers) was little changed at 5.9 million in July. These individuals, who would have preferred full-time employment, were working part time because their hours had been cut back or because they were unable to find a full-time job. (See table A-8.)

(…)

Total nonfarm payroll employment rose by 255,000 in July. Job gains occurred in professional and business services, health care, and financial activities. Mining employment continued to trend down. (See table B-1.)

Professional and business services added 70,000 jobs in July and has added 550,000 jobs over the past 12 months. Within the industry, employment rose by 37,000 in professional and technical services in July, led by computer systems design and related services (+8,000) and architectural and engineering services (+7,000). Employment in management and technical consulting services continued to trend up (+6,000).

In July, health care employment increased by 43,000, with gains in ambulatory health care services (+19,000), hospitals (+17,000), and nursing and residential care facilities (+7,000). Over the past 12 months, health care has added 477,000 jobs.

Employment in financial activities rose by 18,000 in July and has risen by 162,000 over the year.

Employment in leisure and hospitality continued to trend up in July (+45,000). Employment in food services and drinking places changed little in July (+21,000); this industry has
added an average of 18,000 jobs per month thus far this year, compared with an average monthly gain of 30,000 in 2015.

Government employment edged up in July (+38,000).

Employment in mining continued to trend down over the month (-6,000). Since reaching a peak in September 2014, employment in this industry has fallen by 220,000, or 26 percent.

Employment in other major industries, including construction, manufacturing, wholesale trade, retail trade, and information, showed little or no change over the month.
The Bureau of Labor Statistics also reported upward revisions to May's abysmal numbers from +11,000 to +24,000 while June's numbers were revised upward from +287,000 to +292,000, for a total net revision of +18,000 over those two months Over the past three months, job gains have averaged just over 190,000 per month, a slight improvement over the trend last month. Since the start of the year, the economy has created some 1,302,000 new jobs for an average of 186,000 jobs per month for the past seven months. Looking deeper into the report, there were no significant changes in the long-term unemployment or labor force participation rates, and the fact that the top-line unemployment figure remained unchanged suggests that there remains significant slack in the labor force in the form of more people looking for work than there are jobs available. On the brighter side, there were small upticks in average hourly wages and hours worked, but it's not a major change for either figure. Nonetheless, based solely on the job creation numbers, this is a solid report that most importantly comes on the heels of an equally solid report last month. It's not entirely ideal, of course. That would require numbers above 300,000 new jobs and more on a sustained basis in order to make up for the fact that the jobs recovery from the Great Recession has been mediocre to put it mildly. Nonetheless, a quarter million new jobs is nothing to turn up one's nose at, and if we are headed into a sustained period of job creation like this that would be a good thing.
The reality, of course, is that we've got precisely zero reason to believe that this two month trend can or will be sustained. There have been several points over the past seven years where we've gone one, two, or even three months of strong jobs reports only to see the employment market fall back into a far less robust period for a sustained period of time. In part, this appears to be because employers are discovering ways to increase productivity at their current levels of employment, which means that they don't need to bring on new workers to meet increased demand. Additionally, there appears to be a reluctance on the part of business owners to expend resources on business expansion, which isn't entirely unsurprising given the relative weakness of the recovery and the level of uncertainly that see-sawing economic reports over the course of seven years can create. Absent belief that the demand will be there, businesses are not going to expand and, absent that expansion there's not going to be an explosion in new hiring any time soon.
Notwithstanding the caveats, The New York Times is quite giddy about today's report, while also looking ahead at the possible impact of the news on both Federal Reserve policy and the election:
The American economy roared ahead last month, as employers added 255,000 jobs, a bigger-than-expected gain that suggests the country's growth rate may be more robust than thought just two months ago.

The Labor Department report for July had been eagerly anticipated on Wall Street, in Washington and on the campaign trail after conflicting signals in recent months about the economy's trajectory.

Hiring in May was much weaker than what economists had expected, while a big rebound in June similarly caught the experts off-guard. July's data suggests an economy that is gaining momentum after a spring slowdown.

"This will be a validator," said Michael Gapen, chief United States economist at Barclays, in an interview before the release of the data. "Another solid gain in July would suggest that May's numbers were an aberration."

The unemployment rate was flat at 4.9 percent. Economists had been expecting a gain of about 180,000 jobs, with a fall in the unemployment rate to 4.8 percent.

June's gain was revised upward by 5,000 jobs, and May by 13,000. The combination of better gains in the spring and July's jump in hiring suggest that the Federal Reserve may take a fresh look at raising interest rates when it meets in September.

The Fed said in July, after the most recent meeting of its policy-making committee, that the economy was growing more strongly and there were fewer clouds on the horizon, suggesting it was giving greater consideration to rate increases later this year.

The strength of job growth in July is likely to reinforce that assessment. But it still may not be sufficient for the Fed to raise rates in September.

The July jobs data is certain to reverberate not only for policy makers at the Fed, but also for Hillary Clinton and Donald J. Trump as November's presidential election draws closer.

Tepid data released last week for second-quarter growth offered an opening for Republicans to question Democratic arguments that the recovery was delivering meaningful gains for most Americans.

Although the Labor Department will release three more months' worth of monthly hiring data before voters go to the polls on Nov. 8, the buoyant picture presented for July comes at a moment in the campaign when polls are in flux.

Indeed, there was ammunition for both candidates in Friday's report.

The labor force participation rate ticked up by 0.1 percentage point, compared with 62.7 percent in June.

Although that is an improvement from late last year, the proportion of Americans who are working remains close to lows last seen in the late 1970s. That only underscores how many workers remain on the economic sidelines as the recovery enters its eighth year.

On the other hand, wages are showing signs of life, with average hourly earnings rising 0.3 percent in July, bringing the 12-month gain to 2.6 percent. As the unemployment rate has fallen, some employers have been forced to raise salaries to retain their best workers and attract new ones.
As I've said before, Republicans and Democrats will make of this report whatever they can to help their arguments regarding the state of the economy. In the end, though, what will decide that particular debate in the minds of most voters isn't going to be the latest unemployment or Gross Domestic Product report, but how they perceive their own economic condition and futures. If they're optimistic, then this is likely to help incumbent candidates and the incumbent party in the Presidential election. If they are more negative, and there are certainly reasons for many people at various levels of the economy to be pessimistic, it's likely to inure to the benefit of opposition candidates. How that plays out over the next three months is anyone's guess.