An All-Around Bad Jobs Report For May
The May Jobs Report was bad all-around. The question is whether this will come to be seen as an anomaly or the beginning of a worrisome trend.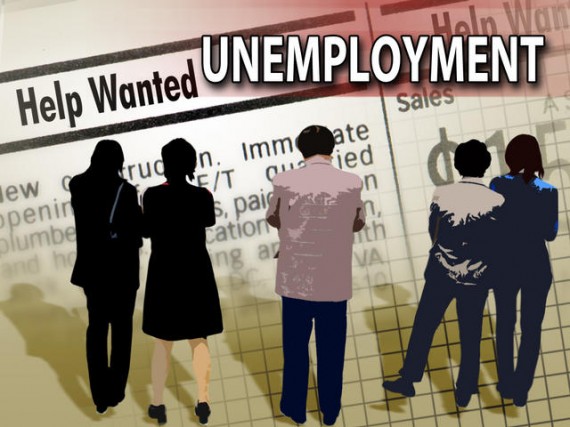 In what may be an indication that the weakness we saw in April was not an anomaly, the Jobs Report in May shows the employment market falling off a cliff, raising questions of just how strong the economy actually is:
The unemployment rate declined by 0.3 percentage point to 4.7 percent in May, and nonfarm payroll employment changed little (+38,000), the U.S. Bureau of Labor Statistics reported today. Employment increased in health care. Mining continued to lose jobs, and employment in information decreased due to a strike.

In May, the unemployment rate declined by 0.3 percentage point to 4.7 percent, and the number of unemployed persons declined by 484,000 to 7.4 million. Both measures had shown little movement from August to April. (See table A-1.)

Among the major worker groups, the unemployment rates for adult men (4.3 percent), adult women (4.2 percent), Whites (4.1 percent), and Hispanics (5.6 percent) declined in May. The rates for teenagers (16.0 percent), Blacks (8.2 percent), and Asians (4.1 percent) showed little or no change. (See tables A-1, A-2, and A-3.)

The number of long-term unemployed (those jobless for 27 weeks or more) declined by 178,000 to 1.9 million in May. These individuals accounted for 25.1 percent of the unemployed. The number of persons unemployed less than 5 weeks decreased by 338,000 to 2.2 million. (See table A-12.)

(…)

Total nonfarm payroll employment changed little in May (+38,000). Job growth occurred in health care. Mining continued to lose jobs, and a strike resulted in job losses in information. (See table B-1.)

Health care added 46,000 jobs in May, with increases occurring in ambulatory health care services (+24,000), hospitals (+17,000), and nursing care facilities (+5,000). Over the year, health care employment has increased by 487,000.

In May, mining employment continued to decline (-10,000). Since reaching a peak in September 2014, mining has lost 207,000 jobs. Support activities for mining accounted for three-fourths of the jobs lost during this period, including 6,000 in May.

Employment in information declined by 34,000 in May. About 35,000 workers in the telecommunications industry were on strike and not on company payrolls during the survey reference period.

Within manufacturing, employment in durable goods declined by 18,000 in May, with job losses of 7,000 in machinery and 3,000 in furniture and related products.

Employment in professional and business services changed little in May (+10,000), after increasing by 55,000 in April. Within the industry, professional and technical services added 26,000 jobs in May, in line with average monthly gains over the prior 12 months. Employment in temporary help services was little changed over the month (-21,000) but is down by 64,000 thus far this year.

Employment in other major industries, including construction, wholesale trade, retail trade, transportation and warehousing, financial activities, leisure and hospitality, and government, changed little over the month.
In addition to the bad news reflected in the fact that only 38,000 new jobs were created nationwide last month, the Bureau of Labor Statistics also reported significant downward revisions for both March and April that seem to demonstrate that the jobs market was far weaker than the initial reporting indicated. March's net jobs creation number for March was revised downward from +200,000 to +186,000, and the number for April was revised downward from +1 60,000 to +123 ,000, for a total two month downward revision of 59,000 jobs. This pushed the average job creation for the past three months to a weak +116,000 jobs. Since the beginning of the year, and including revisions through today's report, the BLS has reported that some  748, 000 new jobs have been created, for an average +149,600 net jobs created over the past five months. To the extent that there was any good news in this months report, it lies in the fact that hourly earnings continued to increase, but that's largely good news only for those who actually have a job. The report also showed that the Labor Force Participation rate fell again in May and that this number continues to fluctuate around lows unseen since the early days of the Reagan Administration when the economy was suffering from the inflation-powered recession that marked much of the final years of the 1970s. It was likely because of this seeming decrease in the number of people looking for a job that the top-line Unemployment Rate fell to  4.7%, a number that would be far more impressive if it weren't accompanied by such pathetic jobs creation numbers and the news that some 458,000 people had left the jobs market over the course of just one month.
It's worth noting that the reporting period included in this report coincided with a strike against Verizon that was settled just the other day. It's apparent, however that this strike was at best only marginally responsible for a report like this. The strike involved just 35,000 workers, which amounts to less than 10% of the drop in the number of people participating in the job market. At best, it's possible that the strike accounts for a good portion of the loss of 34,000 jobs in the information technology sector, but it doesn't explain the broad-based losses in other parts of the economy. Additionally, the fact that today's report also included nearly half a million people who gave up looking for work over the course of the month and downward revisions of 59,000 for the two months prior to May when there was no strike would suggest that its impact was minimal at best.
The New York Times reporting concentrates on the impact that today's report is likely to have on Federal Reserve policy:
The government reported on Friday that employers added just 38,000 workers in May, a troubling sign that the economic recovery may have stalled, at least temporarily, and a sharp slowdown in hiring that is expected to push back a decision by the Federal Reserve to raise interest rates.

Despite the anemic job gains, the official unemployment rate, which is based on a separate survey of households, fell to its lowest point in nearly a decade, 4.7 percent from 5 percent in April. But the decline was primarily a result of Americans dropping out of the labor force rather than finding new jobs.

"Boy, this is ugly," said Diane Swonk, an independent economist in Chicago. "The losses were deeper and more broad-based than we expected, and with the downward revision to previous months, it puts the Fed back on pause."

"The only good news is that wages held," Ms. Swonk said. Average hourly earnings were up again, 0.2 percent for the month, for a gain of 2.5 percent for the year, continuing to rise at a faster pace than in recent years.

The weakness in May's job totals were somewhat exaggerated because they reflected the Labor Department classification of more than 35,000 strikingVerizon workers as unemployed. With those employees now back on the job, the missing strikers should be added back in next month's report.

While Friday's report is only a snapshot of the economy and the jobs engine could rev up again, it has sputtered this spring, with the Labor Department shrinking its estimate of March and April's employment totals by 59,000 since the initial reports. The average monthly gain for the last three months was just 116,000 jobs.

While subject to further revision as well, May's figures were the lowest monthly growth since September 2010.

(…)

The Fed's policy-making committee has its next three meetings scheduled for mid-June, late July and September.

Lael Brainard, a Fed governor and an ally of Ms. Yellen's, described the May report as "sobering" in a speech on Friday afternoon.

Ms. Brainard said the weak job growth was a reminder that the strength of the recovery should not be taken for granted, and said she did not see clear evidence the economy had rebounded from a weak winter.

"Recent economic developments have been mixed, and important downside risks remain," Ms. Brainard, who has pushed for the Fed to move slowly in raising interest rates, said at the Council on Foreign Relations in Washington. "In this environment, prudent risk management implies there is a benefit to waiting for additional data."

Aside from the sluggish job creation, the labor force participation rate declined for the second month in a row, to 62.6 percent, and the number of people working part time for economic reasons rose sharply.

Investors wrote off the chances of a June rate increase after the latest release. The probability of a June increase, as implied by asset prices, fell from 21 percent to 6 percent in early trading, according to CME Group. The probability of a rate rise by September fell from about two-thirds, but remained at roughly 50/50 either way.

With the summer stretching ahead, the sentiment on Wall Street could perhaps be best summed up by the Tempos' 1959 hit, "See You in September."

Still, unless there are further signs of fresh economic weakness, most economists expect at least one rate increase before the end of the year. The unemployment rate, which the Fed regards as a key indicator, has finally dropped to where it was before the Great Recession began in late 2007.

Apart from the jobs figures, there are several encouraging economic signs, including a surge in home construction and hardy consumer spending. The pace of economic growth for the first three months of the year was a mere 0.8 percent; most analysts expect that it will pick up to about 2.5 percent in the second quarter.

As for the number of people applying for unemployment insurance, the underlying trend has been encouraging, with jobless claims in recent weeks at their lowest levels since the 1970s.

"To be clear, there is no evidence the economy is slowing into recession," said Steve Blitz, chief economist of M Science, a research firm.

Some Fed officials have also suggested they are reluctant to raise rates until after Britain holds a referendum later this month on its membership in the European Union. But that concern, too, may soon be in the rearview mirror.
This report, combined with other recent economic data that seems to show the economy weakening, likely indicates that we will not see a rate increase out of the Federal Reserve coming out of its June meeting. Additionally, unless the June Jobs Report and subsequent data shows a significant turnaround from what certainly seems like the trend toward a slowing economy it's unlikely we'll see a rate hike in July or August either. That would push the Fed's decision on rate hikes into September, just when the Presidential campaign is reaching its height. At that point, there's likely to be at least some subtle pressure through the media from Democrats for the Fed to hold off on a rate hike out of fear that any such increase could have a negative impact heading into Election Day. Whether the Fed would respond to such pressure is unclear, but it's certainly the case that the Board of Governors reads the newspapers and would be well aware of the political controversy that would ensue if they chose to take action of any kind after Labor Day. What all this means, then, is that we could go through all of 2016 without seeing any follow-up on the Feds decision to raise rates in December, a fact which by itself raises the question of whether or not they should have raised rates to begin with.
New York's Annie Lowery, meanwhile, argues that Democrats should be worried that May's numbers represent a trend that could shape the General Election in a way that makes in difficult for them to run on the message of continuing the Obama agenda:
Granted, this is just one bad jobs report. Granted, it is coming during one of the better years of the recovery. And granted, the economy is arguably healthier right now than it has been at any other point since the Great Recession hit. Even so, this bad jobs report could not be coming at a worse time for Democrats — and a few bad jobs reports like this one could even tip the election to the Orange Man.

Here's the thing. When Americans are making up their minds about who to vote for, the economy tends to have a huge influence. But voters tend to care most about change in the economy in the year of the election rather than the absolute state of the economy itself. You can see it in this great Nate Silver excavation of the relationship between the economy and voting patterns. Indicators including the change in nonfarm payrolls, change in the unemployment rate, and the ISM manufacturing index — which asks purchasing and supply executives whether things are getting better or worse — tend to predict presidential elections pretty well. The unemployment rate, on the other hand, does n

"One thing this evidence is fairly definitive upon," Silver writes, "is that the rate of change is what counts. Americans will give a fair amount of credit to a president in an economy that is still below its full productive capacity provided that it seems to be getting better."

What we have in this jobs report and other recent government data dumps is an indication not that things are bad, but that they might be getting worse.

(…)

[T]here are headwinds out there, Brexit and the threat of a Fed rate hike chief among them. And on top of that, we are getting pretty close to full employment — meaning the economy could be perfectly healthy, but jobs growth could slow down, and the unemployment rate could stop falling. But you try to fit "The economy is nearing full employment and therefore we should not expect the kind of declines in the unemployment rate we have seen recently" on a bumper sticker, or make that argument during a stump speech.

No, Democrats should be very worried about this jobs report and the coming ones: No matter how good the economy is, it will be hard for Hillary Clinton to make her case to uncertain voters if it feels like the recovery is deteriorating.
This is merely another way of saying something that I've been saying for months now, namely that the state of the economy will be playing a significant role in the election going forward, and perhaps a more significant role than the doubts and controversies surrounding the major party candidates themselves. More often than not, voters tend base the decision of who they will vote for on both the state of the economy as a whole an their perception of their individual economic condition. If the perception is that the economy is going well and that they have reasons to be hopeful for the future, that is likely to play to the advantage of incumbents at all levels and the incumbent party in particular. For Democrats this means emphasizing the good news while generally speaking it means pointing out the extent to which the Obama Administration has failed to create the kind of robust economic growth we typically see after a recession. This is likely to be most apparent at the top of the ballot. If the statistics start getting worse, then that is going to make Hillary Clinton's job much more difficult notwithstanding the fact that she is running against a wildly unpopular candidate. Donald Trump, meanwhile, is likely to be helped in spreading his criticism of the President's management of the economy by reports such as this. For this reason, the jobs reports we see over the next five months are going to be highly important in determining which direction the race takes. This is still very much a race that trends in favor of Secretary Clinton, but if the perception grows that the economy is getting worse and the jobs market is deteriorating that argument is going to be much harder to make.