April Jobs Report Disappoints After Three Months Of Positive News
After starting off the year strong, the jobs market seems to have taken a rest in April.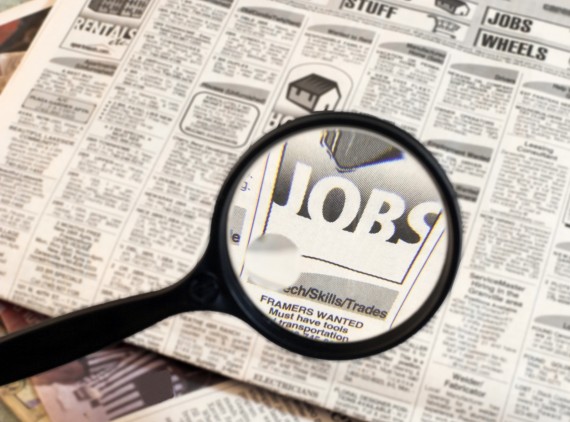 After several months of good news in the form of reports of strong jobs gains accompanied by at least semi-decent wage growth, the jobs market seemed to take a break in April, but it's unclear if this is a temporary respite or a sign of trouble ahead:
Total nonfarm payroll employment increased by 160,000 in April, and the unemployment  rate was unchanged at 5.0 percent, the U.S. Bureau of Labor Statistics reported today. Job gains occurred in professional and business services, health care, and financial activities. Job losses continued in mining.

In April, the unemployment rate held at 5.0 percent, and the number of unemployed persons was little changed at 7.9 million. Both measures have shown little movement since August. (See table A-1.)

Among the major worker groups, the unemployment rate for Hispanics increased to 6.1 percent in April, while the rates for adult men (4.6 percent), adult women (4.5 percent), teenagers (16.0 percent), Whites (4.3 percent), Blacks (8.8 percent), and Asians (3.8 percent) showed little or no change. (See tables A-1, A-2, and A-3.)

The number of long-term unemployed (those jobless for 27 weeks or more) declined by 150,000 to 2.1 million in April. These individuals accounted for 25.7 percent of the unemployed. (See table A-12.)

In April, the labor force participation rate decreased to 62.8 percent, and the employment-population ratio edged down to 59.7 percent. (See table A-1.)

(…)

Total nonfarm payroll employment increased by 160,000 in April. Over the prior 12 months, employment growth had averaged 232,000 per month. In April, employment gains occurred in professional and business services, health care, and financial activities, while mining continued to lose jobs. (See table B-1.)

Professional and business services added 65,000 jobs in April. The industry added an average of 51,000 jobs per month over the prior 12 months. In April, job gains occurred in management and technical consulting services (+21,000) and in computer systems design and related services (+7,000).

In April, health care employment rose by 44,000, with most of the increase occurring in hospitals (+23,000) and ambulatory health care services (+19,000). Over the year, health care employment has increased by 502,000.

Employment in financial activities rose by 20,000 in April, with credit intermediation and related activities (+8,000) contributing to the gain. Financial activities has added 160,000 jobs over the past 12 months.

Mining employment continued to decline in April (-7,000). Since reaching a peak in September 2014, employment in mining has decreased by 191,000, with more than three-quarters of the loss in support activities for mining.

Employment in other major industries, including construction, manufacturing, wholesale trade, retail trade, transportation and warehousing, information, leisure and hospitality, and government, showed little or no change over
the month.
Adding to the relatively somber tone of the April report, the Bureau of Labor Statistics reported that the net jobs figure for February had been revised downward from +245,000 to +233,000 while the change for March was revised downward from +215,000 to +208,000, a combined decline of 19,000 which puts the average job creation figure for the past three months at +200,000. On the positive side of the ledger, the average workweek increased slightly for the month as did average hourly wages, a trend that has been ongoing since the start of the year after a long period of stagnation for both numbers. Additionally, long term unemployment declined slightly yet again while the labor force participation rate decreased slightly, two seemingly contradictory signals about what might be happening with those people who have been out of work for a long period of time.
The New York Times characterizes the report as signs of an at least temporary slowdown:
After months of gravity-defying gains, the American jobs machine cooled in April, as employers took their cue from other signs that economic growth was slowing by easing up on new hiring.

The 160,000 increase in payrolls in April reported by the Labor Department on Friday came after the best two-year stretch for the job market since the tech-fueled boom of the late 1990s.

The unemployment rate, which is tied to a separate survey of households, stayed at 5 percent.

While a downshift, the still-healthy pace of hiring contrasts with other economic signals that have been decidedly mixed recently. Late last month, for example, the government reported that the economy barely expanded in the first quarter.

But most experts say the steady gains in the labor market in recent months are a more reliable sign, suggesting that the economy should continue to expand for the rest of 2016, with the pace picking up modestly from the stagnant opening period.

"This isn't a sign of real weakness," Diane Swonk, an independent economist in Chicago, said of Friday's report. "The quality of the jobs improved but the quantity did not," she added, pointing to a strong gain of 67,000 jobs in the business and professional services category.

Mostly white-collar, the health of this sector explains why wage growth was also robust.

The 0.3 percentage point rise in average hourly earnings was the most positive sign of the economy's trajectory in Friday's report.

Until a nascent pickup recently, wages had been a sore point throughout the nearly seven-year-old recovery, barely rising in real terms despite the big drop in the unemployment rate.

The change in earnings in April, which was in line with Wall Street's expectations, suggested that the upward tick in wages wasn't a fluke. Over the last 12 months, wages are up 2.5 percent, well ahead of the pace of inflation.

When roughly 40,000 Verizon workers went on strike last month, it was right in the middle of the week that government number crunchers analyze to gauge the strength of the job market. That may have had a modest impact on the numbers reported by the Labor Department.

"The good news is that we are re-engaging people who've been on the sidelines," Ms. Swonk said. "The question is how far we can go."

That question is also being pondered by Janet L. Yellen, the chairwoman of the Federal Reserve. Though the central bank kept rates steady when policy makers met last month, some economists argue they could move at their June meeting.

But with inflation still very subdued and more dovish officials worried that another rate increase could choke off growth, other experts argue that any tightening in monetary policy will not happen until later in the year.
In addition to what it might mean for future Federal Reserve policy, of course, economic statistics such as these are likely to have a significant impact on the election season going forward, especially now that we are more or less officially heading into what promises to be one of the most intense General Election campaigns in quite some time. Democrats will seek to emphasize the good news of a record of continued job gains, while Republicans will cite the the fact that we are hardly at a rate of job growth that indicates a healthy economy. Which side ends up benefiting the most from economic news such as this will depend in the end both on where the economy heads between now and November and how the voting public feels about their own personal economic security. To a large degree, for example, Donald Trump's campaign has been built on speaking to a sense of economic insecurity among middle class Americans that has been around since long before the Great Recession, and news such as this tends to play into that narrative quite well. Democrats, on the other hand, have built their 2016 campaign largely around the message of continuing the successes of the Obama Administration, meaning that any perception that the economy may be turning sour could work against them. In the end, I tend to doubt that even a recession, which is unlikely, would be enough to lead to a Trump victory over Clinton in November, but the state of the economy could have a real impact on down ballot races where the GOP will be fighting to preserve its Senate majority. As is the case every four years, these numbers will be worth paying attention to over the next six months.